One gag gift we wouldn't ever want to receive? A glass that "surprises" drinkers with the message "you've just been roofied" when they reach the end of their beverage. Etsy seller ThatGlassStore, which specializes in custom sandblast etching, stirred up some ire on Facebook after a user noticed the item for sale.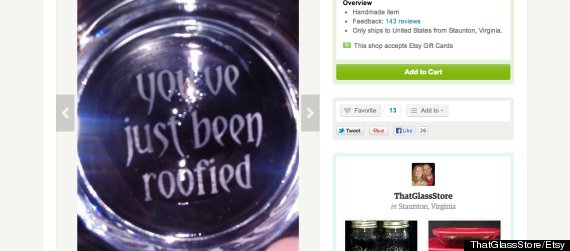 This glass holds a suprise for the unexpected person drinking from it. When they tip up the glass and get to the bottom the message reads "You've Just Been Roofied" You can have any variation we have listed or make up your own.
This makes a great gift for the person who has everything. All of our glass is sandblasted for a deep professional etch that will last forever.
Etsy user Emily noticed the glass and sent the sellers, Rickell and Charles Robbins, a message. She shared that message and the response with The Huffington Post: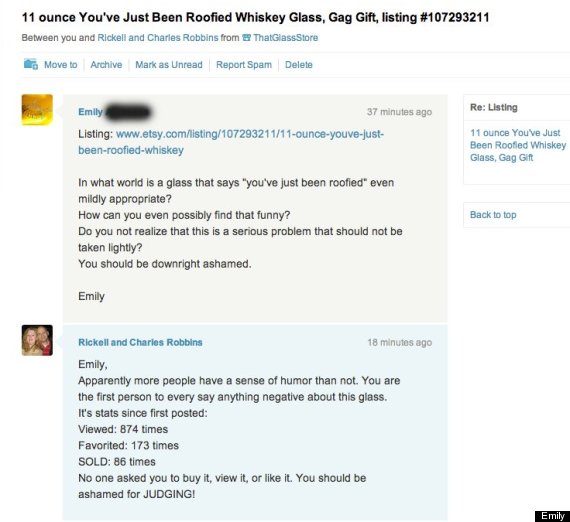 Charles Robbins told The Huffington Post that this was the first complaint they had received about the glass in over a year of it being listed. After receiving Emily's message, they decided to reevaluate the listing, remove the "you've just been roofied" photo and change the name of the glass -- though still sell the product -- because, as the Robbins communicated to both HuffPost and Emily: "we are not hateful or hurtful people and if this glass offends one person or hurts one person that is one too many."
However, this morning The Huffington Post received a follow-up message indicating that the Robbins had decided to reactivate the original listing despite the couple of complaints. "My wife is thoroughly irritated that people can't see this for what it is...a gag, a joke," wrote Charles Robbins. "It's ok for stores like cafepress and spencers to sell similar items and no one thinks anything of it. It doesn't promote rape, it doesn't promote anything. If people don't like it voice their opinion, this is America and we have a right to voice ours."
Personally, we'd much rather see these DrinkSavvy glasses -- which actually detect when certain date rape drugs have been put into a drink -- being sold on Etsy than ones that make light of sexual assault.
What do you think of the "You've Been Roofied" glass? Let us know in the comments!
Etsy had not returned our request for comment at the time of publication.
Calling all HuffPost superfans!
Sign up for membership to become a founding member and help shape HuffPost's next chapter
BEFORE YOU GO
PHOTO GALLERY
6 Ridiculous Products That Make Women Less "Gross"