Theatrical experiences come in all shapes, sizes, and forms. From painfully intimate monologues to Cirque du Soleil extravaganzas, from giddy sex farces to searing family tragedies, live theater offers a remarkably versatile platform for examining mankind in all its glory as well as its many frailties.
One reason why it's so difficult to label any production as the year's "best" is that there are so many parameters which may set it aside from the competition.
One show might be a star vehicle while another relies on the work of a tightly-knit ensemble.
One show might rely on extensive scenic effects and digital mapping while another may simply let the actors speak the playwright's words in a minimalist setting.
One show might require a lot of period costumes while another is performed in modern dress.
One show might have incidental music -- or a fully-sung musical score -- while another may be filled with pregnant pauses and awkward silences.
When one particular production stands head and shoulders above many others, it's a sure sign that its individual elements have created a synergy that raises the theatrical experience to another level. I often think of magical moments in theater and opera when it feels as if the air in the auditorium has been hovering over the audience, protecting the performers from being interrupted while making it possible for those in attendance to remain acutely focused on what is happening onstage.
In 1965, I attended a riveting matinee of a 20th anniversary production of The Glass Menagerie in which Maureen Stapleton brought a rare fragility to Amanda Wingfield. Exquisitely directed by George Keathley (with George Grizzard as Tom, Piper Laurie as Laura, and Pat Hingle as the Gentleman Caller), the Tennessee Williams play was transformed into an unforgettable experience whose memory I have cherished for a half century.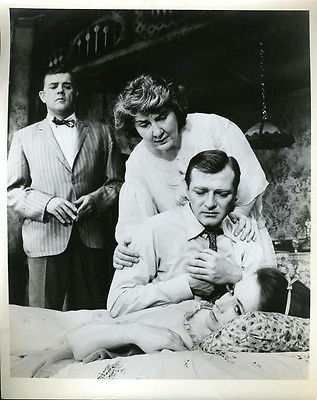 Pat Hingle, Maureen Stapleton, George Grizzard, and
Piper Laurie in the 1965 revival of The Glass Menagerie
While I have enjoyed many such experiences over the years, the nature of live theater is perversely ethereal (and in some ways as intensely personal as an orgasm). If everything comes together to create a moment of theatrical magic, it's a privileged artistic experience to savor. It's also the kind of experience which is extremely difficult to explain to anyone who didn't share it.
Two productions new to San Francisco had that special aura about them. One was a piece of dance theater that attempted to retell an ancient Greek drama written by Sophocles in approximately 441 BC. The other was a contemporary drama which brilliantly demonstrated what happens when superb writing, directing, and acting combine to elevate a script into a miraculously poignant and deeply fulfilling theatrical event.
The Shotgun Players recently unveiled a new adaptation of Antigone based on Anne Carson's 2012 book, Antigonick. Co-directed by Mark Jackson and Hope Mohr, Antigonick is a dance theater piece wherein the ensemble pushes the boundaries of storytelling while working on a simple, yet highly effective unit set designed by Nina Ball and lit by Stephanie Buchner. Theodore J.H. Hulsker's exceptional sound design helped to create an other-worldly atmosphere which captured the searing tragedy of Antigone's predicament while showing the hopelessness of her situation.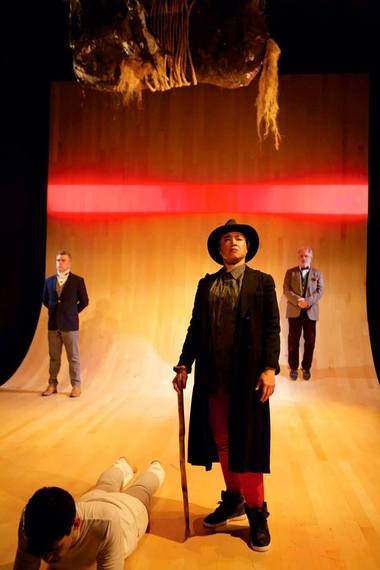 Rami Margron as Teiresias in Antigonick
(Photo by: Pak Han)
Shotgun's heavily symbolic production featured dancer Parker Murphy as Nick (as in "Nick of Time"), a silent figure who brings a ghostly presence to the proceedings.
Parker Murphy as Nick in Antigonick (Photo by: Pak Han)
In the following clip, co-directors Mark Jackson and Hope Mohr explain the evolution of their production of Antigonick and the challenges it presented to their ensemble.
In their co-directors' note, Jackson and Mohr write:
"When we say we need to give ourselves space to deal with something, often we're saying we need time. As a poet, Carson understands that a perfectly coherent narrative order simply cannot contain the chaos of the human experience. Antigonick is full of interruption, ambiguity, and collage. Exquisitely spare and energetically compact, Antigonick offers a challenge and an invitation. It's no longer possible to coast on expectation. It's no longer easy to separate heroes from villains. Carson carves out a bit of space and time for us to consider alternative possibilities."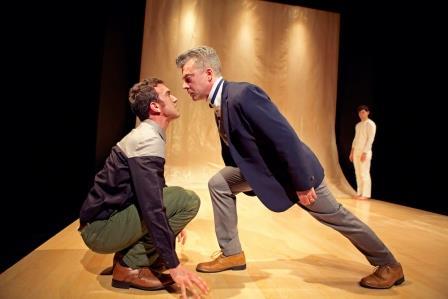 Kenny Toll and Kevin Clark in Antigonick (Photo by: Pak Han)
"Working on Antigonick has led us to think a great deal about integrity. If we measure a person's integrity by the extent to which she puts her body on the line for her ideals, then of course Antigone wins our sympathy. But isn't Kreon also throwing himself on the fire by wearing the new title of king (a title he never wanted) and trying to create order in the wake of a chaotic war he never supported? Aren't the Antigones and Kreons of the world similar in their narrow-minded courage? Most of us are more like Ismene, Haimon, Eruydike, or the Messenger -- teetering somewhere between the poles of Antigone and Kreon's extremes. Who is right? Who suffers more? Is it so easy to say?"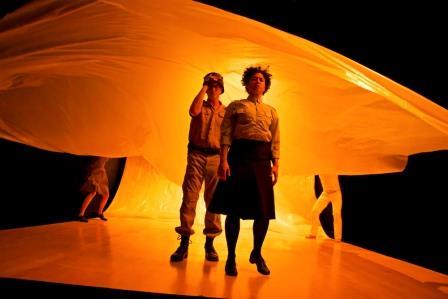 Kenny Toll and Rami Margron in Antigonick (Photo by: Pak Han)
Without doubt, Shotgun's ensemble delivered a powerful performance which challenged the audience, making full use of each actor's versatility and commitment to an artistic vision. Rami Margron doubled as Antigone and the blind prophet, Teiresias, while Kevin Clarke's Kreon closed the evening with an increasingly desperate attempt to physically climb the set's curved rear wall. Monique Jenkinson was magnificently on fire as both Ismene and Eurydike.
In supporting roles, Kenny Toll portrayed Haimon, a guard, and a messenger while David Sinaiko embodied the chorus. Parker Murphy's wordless contribution as Nick was often riveting.
It's extremely rare to leave a theater haunted by a new play, yet that's exactly how I felt following the opening night performance of Sister Play at the Magic Theatre. Written and directed by John Kolvenbach, the experience was right up there with some of the best performances I've seen of works by Tennessee Williams and Edward Albee -- and that ain't chopped liver, folks!
Presented as part of a rolling world premiere with the Harbor Stage Company in Wellfleet, Massachusetts, Sister Play takes place in the Cape Cod home of a family's deceased father. Kolvenbach's dramedy involves the deceased writer's two daughters, one daughter's husband, and a mysterious stranger whose presence is uplifting, provocative, and brings a surprisingly spiritual component to the proceedings.
Sister Play begins as Malcolm (Anthony Fusco) enters his late father-in-law's home, talking to himself in the manner one might expect from a writer who lives in his head. As he muses on the amount of mold in both the house and his life, he is joined by his wife, Anna (Lisa Brescia), and her rebellious younger sister, Lilly (Jessi Campbell).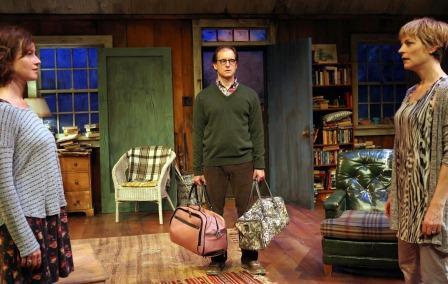 Lilly (Jessi Campbell), Malcolm (Anthony Fusco), and Anna
(Lisa Brescia) in a scene from Sister Play (Photo by: Jennifer Reiley)
To suggest that Anna is a frighteningly neurotic control freak (and overprotective monster of an older sister) might be understating the situation. At a very early stage of her life, Anna was forced to take on the responsibility of raising Lilly and protecting her younger sister from a wildly impulsive streak. Even though Lilly has had one bad experience after another with a series of men, Anna is still operating as the kind of fierce tiger mother who tells her obviously adult and sexually adventurous sister to "Go to your room!"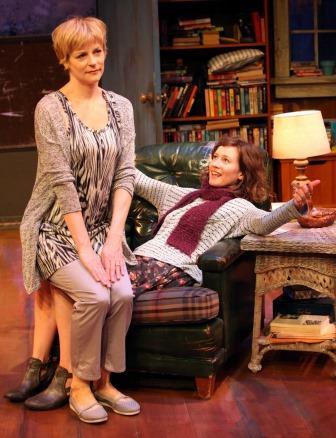 Anna (Lisa Brescia) and her younger sister, Lilly (Jessi Campbell)
in a scene from Sister Play (Photo by: Jennifer Reiley)
It doesn't take long for Anna to get on her kid sister's nerves. When Lilly (who does not have a driver's license) insists on taking the car out for a late night spin, Anna's control issues quickly begin to boil. After Lilly returns home with William Casy (Patrick Kelly Jones), a homeless hitchhiker she has picked up by the side of a road, Anna goes into a protective attack mode that borders on a psychotic episode. At one point, Anna's behavior becomes so outrageous that Lilly instructs her to "go into the kitchen and count to a million."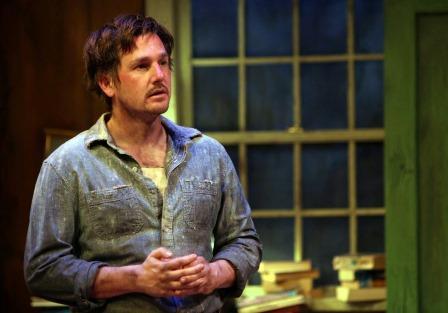 Patrick Kelly Jones as the mysterious and itinerant
William Casy in Sister Play (Photo by: Jennifer Reiley)
Although the older/younger sister dynamic is well established, it's no surprise that Lilly wishes Anna would relax her talons and let Lilly live her own life. Meanwhile, in an exquisite soliloquy, Malcolm explains the surprising benefits (as opposed to the risks) of being caught in the sibling rivalry between two highly emotional women.
Kolvenbach gives each of his characters a beautiful solo in which they can speak to the audience, to themselves, or to the ghost of their dead father. By far, the most mysterious and complex character is the hitchhiker Lilly dragged home -- a well-intentioned vagrant from Texas who lacks any of the financial or emotional security shared by Anna, Malcolm, and Lilly. An actor who has given Bay area audiences numerous memories of stunning performances, Jones creates a tender, romantic, and almost other-worldly loner whose confusing presence and impressive intellect simultaneously threaten Anna, charm Malcolm, and excite Lilly.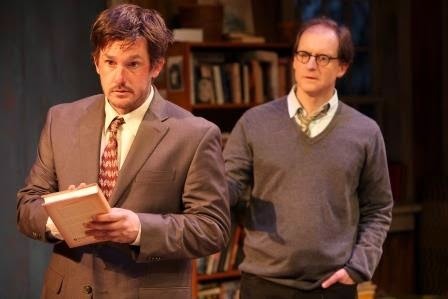 William (Patrick Kelly Jones) and Malcolm (Anthony Fusco)
in a scene from Sister Play (Photo by: Jennifer Reiley)

Working on Erik Flatmo's unit set (with lighting design by Jeff Rowlings and sound design by Sara Huddleston), Kolvenbach has staged his drama with an acute sensitivity to his characters' quirks and weaknesses. The bravura performances by Lisa Brescia and Patrick Kelly Jones are neatly complemented by the quieter work of Anthony Fusco (spot on, as always) and Jessi Campbell.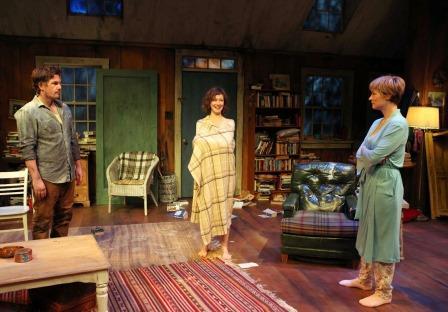 Patrick Kelly Jones (William), Jessi Campbell (Lilly), and Lisa Brescia
(Anna) in a scene from Sister Play (Photo by: Jennifer Reiley)
Sister Play is a beautiful, beautiful work which will hold up well as the years pass by, enchanting and haunting audiences through each theatrical season with its freshness, mystery, and rare vitality.
Calling all HuffPost superfans!
Sign up for membership to become a founding member and help shape HuffPost's next chapter