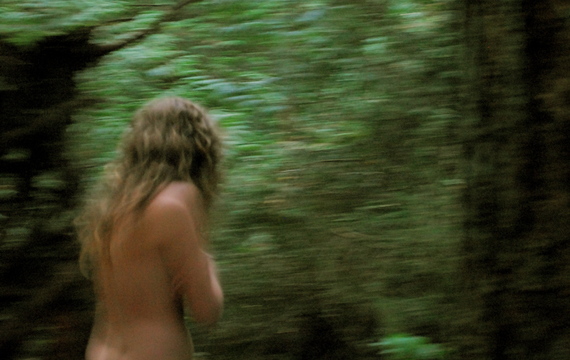 We all know themed 5ks are all the rage these days, but have you ever ran a 5k totally butt naked? Just outside of the Pacific Northwest city of Spokane, Washington, a nudist ranch has hosted a nude 5k race every summer since 1984.
I recently registered for this race as a way of pushing past my fear and limiting beliefs. Tony Robbins does it through getting people to walk over hot coals, so why can't I do it through running naked with 300 of my closest new nudie friends?
As the special day quickly approaches, these thoughts have crossed my mind more than once (and I'm sure you can relate if you've ever run a naked race):
"I'm going to practice running naked on my treadmill. Maybe the chaffing won't be so bad."
"... it buuuuuuurns. I should have used Body Glide."
"OH.MY.GOD. Why is my butt making that sound when I run? Can I make it stop?! What if I skip? Will that be any better? NOOOOO!!!!"
"If I try really hard, I wonder if I can lose enough weight before the event so that my butt doesn't make that flapping sound?"
"Are there scientifically proven exercises to firm and shut my butt the f#$k up?"
"Maybe everyone will wear earbuds and listen to music instead of the round of applause coming from my ass with each stride."
"Do other people's butts makes this much noise?"
"If I hold my boobs for the first mile and hold my butt cheeks for the second mile, maybe by the third mile I won't have any bruises."
"I wonder what brand of sunscreen the nudists are wearing this year?"
"I have absolutely nothing to wipe this sweat off... I'll just pretend I'm swimming in the ocean. No worries."
"I hope I don't pee a little bit by accident."
"Thank goodness I'm not on my period this week!"
"What's that smell? I took a shower this morning. Maybe I should run with a bottle of perfume or a bar of soap just in case that smell comes back for race day."
"Would it look natural if I used concealer and contouring makeup on my trouble areas?"
"It's gonna be so awkward if someone I know is there. I'll never be able to see them in clothes ever again."
"Will my husband still find me attractive after seeing me run naked?"
"I should spend some extra time this morning shaving every little hair off of my body. Just in case."
"Maybe I should bring some gin to the race so that I can take a shot or two before I strip down. Liquid courage, right?"
"Why did Instagram remove my naked 5k training selfies? Not fair!"
"I hope I'll look okay in my race photos..."
"If I wear sunglasses, they won't know I'm naked..."
"I hope my running shoes don't make me look fat."
"I could always wear a paper bag over my head to conceal my shame if it comes down to it."
"I shoulda got that full-body tattoo."
"If I wear my hair down, I can cover up part of my boobs or maybe just one."
"Wait. This is a family-friendly event? I don't want to traumatize innocent children with my body!"
"Will there be a group orgy at the finish line?"
"Why am I doing this again? Can I just say I did it and not do it?"
... and the most important thought, "Will I love myself more or less after I finish this? Will this prove to me that my body is just fine (as is)?"