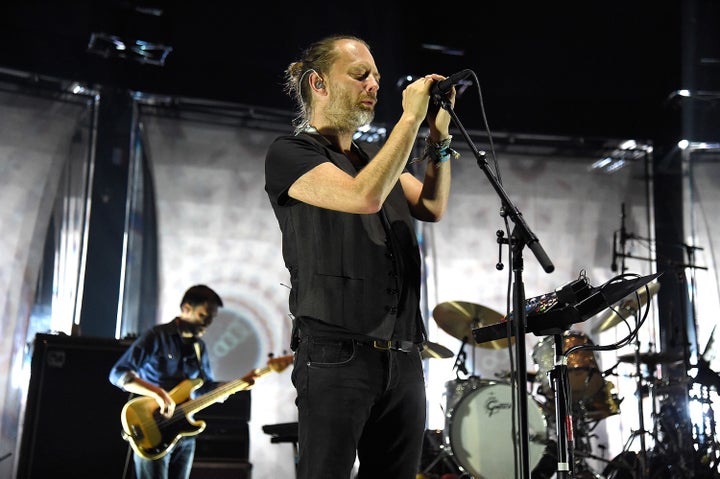 Radiohead's Thom Yorke is known for breaking with convention. And in a recent mix that aired on BBC, Yorke tried yet another different direction — a compilation meant to put listeners to sleep. 
"Herein I enclose a mix for bedtime," he says in the beginning of the mix. "If you're still awake by the end of it, I've done something wrong. Night night. Lights out."
Thirty minutes of ambient, mellow music follow. The mix includes tracks from Luke Abbott, Laurie Spiegel, James Holden and William Winant ― and a version of Radiohead's own "Bloom," Billboard reported.
"I spend a lot of time listening and writing music while half asleep ― music that evolves quietly and slowly like the weather, like nature, machinery bending time," Yorke explains, introducing the music in a robotic voice.
But will it actually help you sleep?
White noise ― non-repetitive ambient sound that doesn't rouse emotion ― helps some people sleep by drowning out other disruptive sounds that might keep us awake (like snoring or outside traffic), experts say. 
Research has also suggested that so long as music has a slow enough tempo (approximately 60 to 80 beats per minute), it actually does helps people release stress and fall asleep.
Yorke's mix was aired on Phil Taggart's BBC Radio 1 show last week. Taggart features a "Bedtime Mix" every Sunday night, always curated by a different artist with music they fall asleep to. 
Listen to the complete 30-minute mix below to see if it helps you drift off to dreamland.
Sarah DiGiulio is The Huffington Post's sleep reporter. You can contact her at sarah.digiulio@huffingtonpost.com.
REAL LIFE. REAL NEWS. REAL VOICES.
Help us tell more of the stories that matter from voices that too often remain unheard.
BEFORE YOU GO
PHOTO GALLERY
1990s Rockers You Didn't Know Were Latino