Yoga is supposed to make you feel like a zen flower child. After an hour-long stretch session, all you should have to do is drink matcha soy lattes and set your intensions for the day.
In reality, your post-Shavasana cool is often wrecked by the impossible task of neatly packing up your mat. The sweaty thing usually escapes its rolled-up shape, collapsing in your arms and making you feel anything but serene.
The remedy for this yoga mishap is YoYo Mat, the world's first self-rolling yoga mat. It's the slap bracelet of exercise.
Did you see that? When you're done working out, all you have to do is flip the YoYo Mat over and it will roll up on its own. Like magic.
Fitness enthusiast Aaron Thornton came up with the idea after dealing with his own mat frustrations, and observing fellow classmates experience the same. "I watched lady next to me to me put shoes on the corner of her mat to keep them down," he told HuffPost. His product solves that dilemma, too. Each mat is made with a bi-stable steel spring band -- the same material used in slap bracelets (don't you wish you thought of this?) -- which causes only one side of the mat to roll up. The side on which you work out stays flat when you click it into place.
"The mat will never roll up on you," Thornton said. "You have to flip the mat in order to trigger it."
The YoYo Mat is made from a biodegradable closed cell material, which does not absorb sweat or germs. According to Thornton, nothing can penetrate the mat, so all you need to do is clean its surface in order to sanitize it. This is different from standard yoga mats, which are porous and need to be washed all the way through to be properly cleaned (some suggest tossing them in the washing machine) .
YoYo Mats are a good solution for yoga studios, too: Shared studio yoga mats are positively covered in strangers' germs. Even if the mats are cleaned between uses, stacking can spread bacteria. The YoYo Mat, by contrast, only touches itself when it's rolled up. When the mat is wiped down and rolled back up, there's no risk of infection by mats that are still dirty.
YoYo Mat has already exceeded its Kickstarter pledge of $50,000. Thornton says he hopes to reach $150,000 in its remaining days so that the mat can be offered in another color.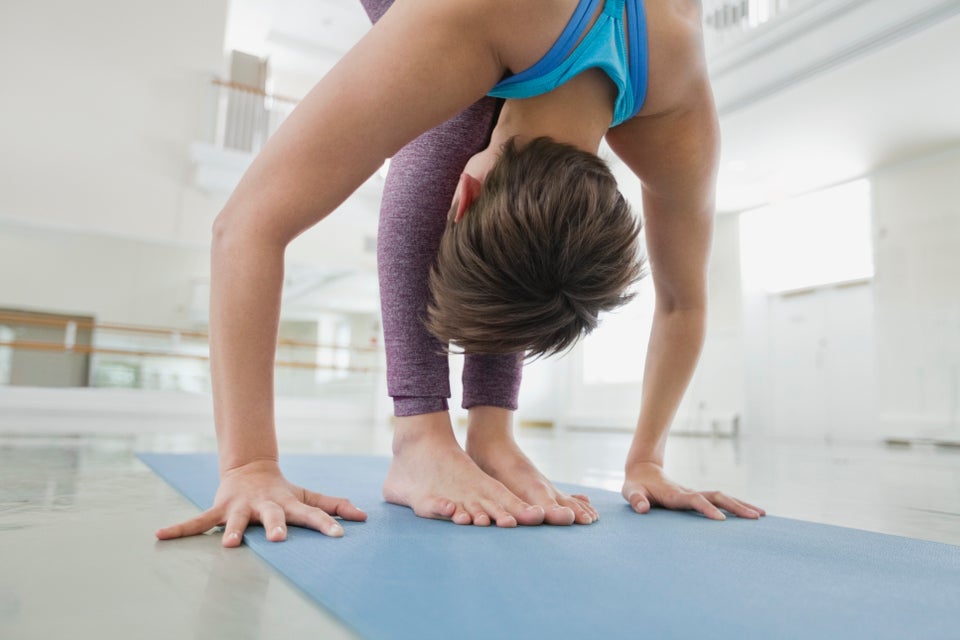 10 Of The Best Yoga Poses For Sleep