An Yves Saint Laurent advertisement was banned by UK authorities after they determined the fashion brand's ad irresponsibly featured a model who appeared dangerously thin.
The ad shows model Kiki Willems, 18, sprawled on the floor with her chest exposed and legs shadowed in a way that accentuates her already slender figure. After a consumer who spotted the ad in Elle UK magazine complained to the Advertising Standards Authority, the ASA concluded Wednesday that the ad may not appear again in its current form, and detailed its concern with the model's appearance.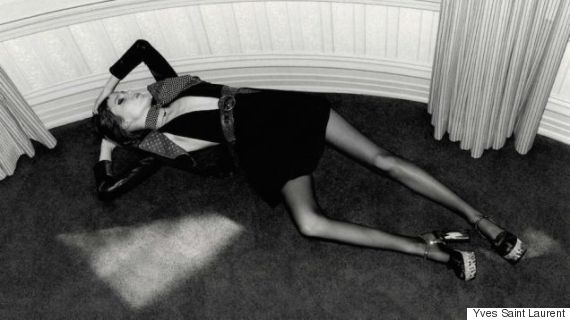 "The ASA considered that the model's pose and the particular lighting effect in the ad drew particular focus to the model's chest, where her rib cage was visible and appeared prominent, and to her legs, where her thighs and knees appeared a similar width, and which looked very thin, particularly in light of her positioning and the contrast between the narrowness of her legs and her platform shoes," the ASA wrote in its ruling. "We therefore considered that the model appeared unhealthily underweight in the image and concluded that the ad was irresponsible."
YSL did not immediately return The Huffington Post's request for comment, but indicated to the ASA that it did not agree with the complainant's view.
The Be Real Campaign, a UK organization dedicated to body confidence, condemned YSL for promoting unrealistic beauty standards.
"This is a prime example of advertisers selecting models based on the outdated premise that the only way to sell products is by presenting an idealised view of the female body," campaign head Samantha Arditti wrote in a press release Wednesday. "We need media, advertisers and publishers to use images that show a diverse range of models to reflect what we really look like so we can feel more confident about who we are, which in turn will not only lead to a healthier attitude to our bodies but a society that values health above appearance."