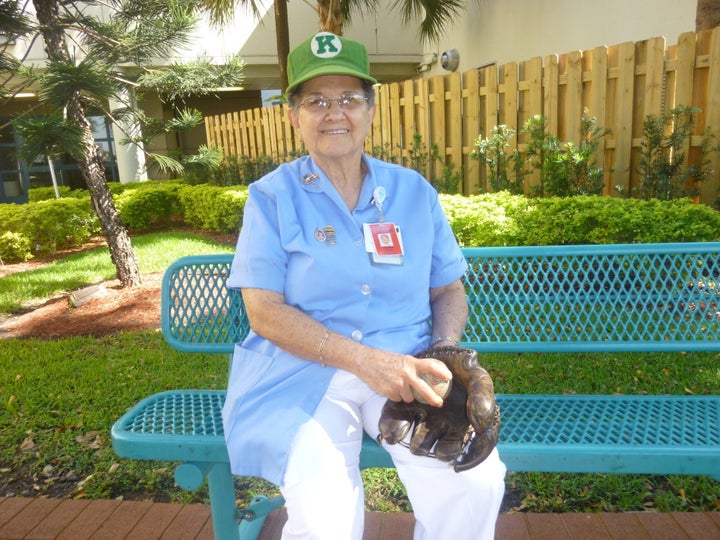 Three years ago, when Ysora Kinney took her place at the pitcher's mound to throw out a first pitch for the Florida Marlins, a staffer asked the septuagenarian if she'd like to stand closer to home plate.
She scoffed and threw it right in the strike zone.
"She keeps telling me, it's nothing big," said friend and boss Marivel Ramirez. "Yes, it is."
Kinney was born Isora del Castillo in Regla, Cuba, where baseball was king. Her father played shortstop and her brother was a pitcher.
"My dad used to play ball, and I used to go to the practice with him," she explained.
Kinney joined the Cuban girls baseball team, the Cubanas, in 1947. At just 15, she left home for the first time and traveled Latin America until 1948. A local rum factory owner sponsored her to join the American league the next year; the league was 5 years old by then, formed when all the male baseball players were drafted during the war.
With an adventurous spirit, she was off: "I wasn't afraid of anything," she said.
Kinney first played third base with the Chicago Colleens, whose players were forbidden to smoke or drink, and they practiced and worked out for hours every day. She remembers how players' legs would get scratched when sliding into base since the women all had to wear skirts. During practice, the bus driver -- whom she pities for having had to listen to a gaggle of girls laughing and talking for hours -- would bring the team watermelon in an ice cooler.
She went on to play for the Kalamazoo Lassies in 1950. Inside her green hat, scrawled in black ink, is "Chico," one of her nicknames. While the girls were cheering in Spanish, the American fans misunderstood the cries for "las chicas" and called her "Chico." Another nickname, given to her by her teammates, stemmed from her fiery personality -- "Pepper."
"Somebody told me that they kicked me out because I talked back to the umpire in Spanish. I said something I wasn't supposed to say. I don't remember," she shrugged. "I was real happy all the time, and I was yelling all the time."
In 1951, she filled in for a sick second base player on the Kenosha Comets and then left the league for good when she married her husband, stadium worker Reinaldo Kinney. In 1953, the league was disbanded, but the 600 players who paved the way for women athletes are always remembered, immortalized in the movie "A League of Their Own."
"For me, it was something great," she said of her time as one of the first female baseball players. "I used to like [baseball], but I never dreamed I would be able to really play it."
Kinney has been honored by the mayors of Hialeah, Hialeah Gardens and Miami-Dade County, and she still regularly receives fan mail, to which she responds with a letter and signed baseball or baseball card. Although she doesn't play anymore, Kinny makes sure to catch a few Marlins games every year, especially now that the the team is in a new stadium.
"I get so excited I kind of lose my voice a little bit," she laughed.
View photos of Kinney's career:
Popular in the Community