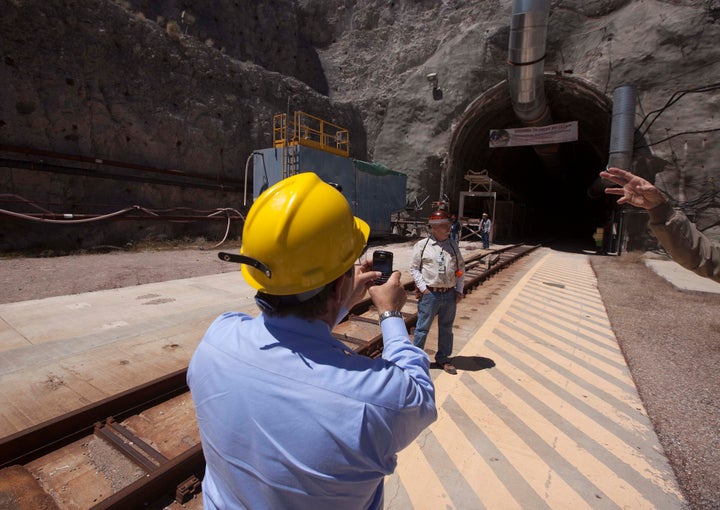 Nearly every state has a pet issue likely to trip up presidential contenders. In Nevada, it's the Yucca Mountain Nuclear Waste Repository.
Work on the $15 billion proposed nuclear waste site in southern Nevada, hotly opposed by many state voters, was halted in 2009. A panel this January recommended the government should start the search for an alternate location, reigniting the issue.
"As president, I will work with Nevada officials to ensure that whatever is done with Yucca Mountain reflects the wishes of the people of Nevada," Paul said.
Mitt Romney took a stance similar to Paul's, saying other states should be able to bid for the project instead. But Nevada Democrats -- including Senate Majority Leader Harry Reid -- have slammed him for allegedly promising South Carolina Gov. Nikki Haley (R) he would support the waste site.
Other candidates have openly supported Yucca Mountain. Newt Gingrich acknowledged Nevadans' concerns, but defended the site's placement. "[W]e have to find some method of finding a very geologically stable place, and most geologists believe that, in fact, Yucca Mountain is that," he said.
Former Sen. Rick Santorum (R-Pa.) also supported the project, saying that "we need safe storage sites for nuclear waste, and I support Yucca Mountain as one when done in a safe and responsible manner."
Conventional wisdom says that such support is the third rail of Nevada politics, but some in the state question whether the issue will be at the forefront of caucus-goers' minds.
"The media overstate Yucca," Eric Britton Herzik, a professor at the University of Nevada in Reno, told The Huffington Post in 2008. "I've argued that this has been going on since Yucca has been in play."
This year, Herzik said, it's even less of an issue. "Yucca right now, it's been out of the news a lot in Nevada," he told The Huffington Post Wednesday. "It's going nowhere."
The subject may also be less fraught among GOP voters.
"The Yucca issue for the Republicans is not as monolithic as it is for the Democrats," David Damore, a political science professor at the University of Nevada-Las Vegas told The Huffington Post. "For rural Republicans, it's a potential job creator."
Nevada Republican strategist Robert Uithoven agreed. "I don't think it'll be a factor in the Republican caucuses here," he said. "Partisans on both sides try to make it an issue, but I've never seen Yucca Mountain become an issue statewide."
Uithoven said the issue has lost importance over the years, as the project's budget has decreased.
"Nevada leads the nation in unemployment, home foreclosure and bankruptcies," he said. "So it's going to be about jobs."
But Damore cautioned that the Yucca Mountain could re-emerge as an issue in November, including if Romney is the nominee. "It won't matter much on Saturday, it'll matter a lot in the general," he said. "'Mitt Romney cozies up to Tea Party favorite Nikki Haley,' that'll be the Democrats' negative ad."
Popular in the Community