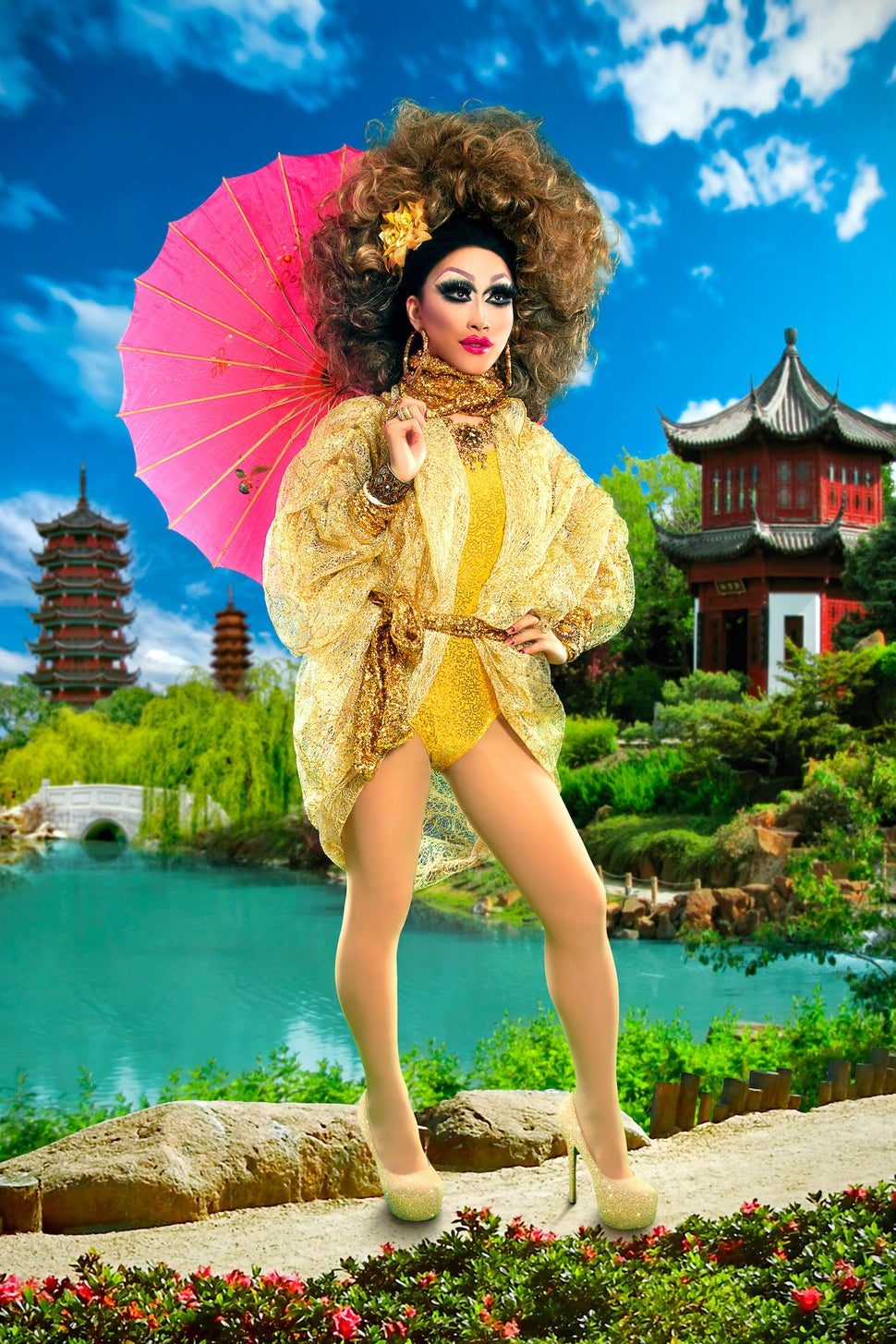 When Yuhua Hamasaki made her entrance in this season's "RuPaul's Drag Race" wearing a fuchsia kimono-inspired dress, elaborately beaded hair sticks and carrying a paper umbrella, another contestant assumed she was Japanese. But Hamasaki, who emigrated from China to New York City 20 years ago, says her persona actually embraces multiple Asian cultures.
Hamasaki, a Chinese-American skilled seamstress, dancer and comedian competing for the title of "America's Next Drag Superstar" on Season 10 of "Drag Race," told HuffPost her ethnicity is a primary factor in shaping her persona.
"I'm embracing my culture ― the aesthetic and heritage, because I have such huge pride in it," Hamasaki, who identifies as gender-neutral and whose pronouns are she and her, told HuffPost. "She's Chinese. She has a Japanese last name. Thai, Korean, Japanese ― I hit on all those cultures with my clothing and act."
Hamasaki says her mother learned to sew in China and passed the skill on to her. The queen, who moved to New York's Chinatown at the age of 7, created a number of her own costumes: a pink and purple ombre color-block jumpsuit with a corset belt; a lime green futuristic-looking bodysuit with a train and Lady-Gaga-esque epaulets.
While it's true Hamasaki has enviable seamstress skills, she says she stays humble and has a good sense of humor about it:
The 27-year-old says her ethnic background greatly influenced her foray into drag. Hamasaki pointed out how queer identity and experience is often stigmatized in Asian communities and said she felt a culture shock after she moved to the U.S., struggling with feeling and looking different.
But as she grew up and into her identity, the only way she felt truly accepted was by going to gay bars. 
Being at gay bars, I finally felt like I wasn't being judged or criticized. I was able to be very expressive. I was able to be myself.

Yuhua Hamasaki
"The only way to get in was to dress in drag with a fake ID. Being at gay bars, I finally felt like I wasn't being judged or criticized," she said. "I was able to be very expressive. I was able to be myself. I was trying to fit into society and trying to be more confident and more self-determined."
Hamasaki said she was forced to grow up fast. Her parents didn't speak English and had to take lower-paying jobs in the U.S. than they had in China. Her father works as an elevator operator and her mother in a laundromat.
"Growing up with parents not speaking English, my sister and I were the adults in the family," she said. "We had to take care of situations that my parents couldn't take care of: housing, school, paying the bills."
But she's grateful her mother passed down the gift of sewing, among other skills. Now Hamasaki makes costumes for other drag queens, and it's become a business for her. But sewing isn't her only talent. She loves doing stand-up and counts Joan Rivers, Lisa Lampanelli and Pat Williams as some of her inspiration.
"I'm funny and witty. I always find humor in stuff that people wouldn't find. I like intellectual jokes, and I read a lot of books growing up," Hamasaki said. "Joan Rivers said it best: 'Heal the wounds of your heart with laughter.'"
In her personal life, Hamasaki said she approaches most things with humor, especially dating. She said she dates as both a man and a woman, and that the differences are stark in terms of what Asian-American men and women experience.
"As a female, it's more positive than negative. For a male, it's more negative than positive," she said. "As an Asian male, I can never get a date. As a female, it is so easy. Females are lewd, flirtatious, great in bed. Asian men ... aren't. But yes, being a ho is easier!" she joked. 
She said she believes the media is to blame for these perceptions of Asians that she feels play out in real life.
Asian men are unattractive, not sexy. Asian women are sexy, needy. It's up to the media to change what the public eye sees.

Yuhua Hamasaki
"If you're not Asian, you're not going to experience the same situation. It's totally over-exaggerated in the media. It's not the fault of the public. It's the fault of the media for creating that stereotype. The public has been tainted by the media's point of view. Asian men are unattractive, not sexy. Asian women are sexy, needy. It's up to the media to change what the public eye sees."
Hamasaki said she's honored to be a representative for the Asian community on "Drag Race" and hopes she is seen as someone who fights stereotypes.  
"We as Asians are expected to be obedient and quiet. Whenever I do drag, other people expect me to be quiet and obedient. Little do they know my performances are very loud and vocal and very funny."
One way she tries to break with convention is via her geisha persona. Hamasaki said she loves the fact that she can subvert the submissive, hypersexualized geisha archetype ― as well as embrace it. She points out it's often misunderstood and complicated and should be embraced as many things all at once.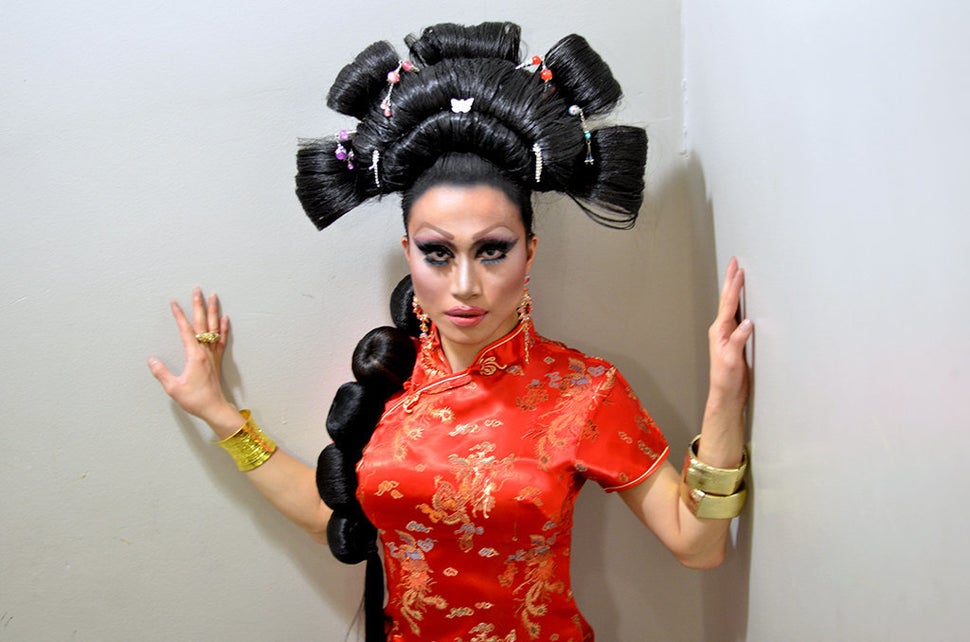 "I am playing with this geisha stereotype and making it funny. I am this sexy beautiful woman. And yes, I also want your money. And I'm also a hardworking woman. We are not just hyper-sexualized objects. Both of these are credible identities."
Hamasaki points out that coming to love and accept herself hasn't exactly been a simple journey as an Asian-American, but that she hopes there's a lesson for others in the simple audacity of being herself. 
"I can be male and female and still be amazing about it. I know I'm a positive role model. I'm not quiet. I'm not obedient. I'm not subtle. People have told me to be. You do have power to be what you are. Make our own journey."
REAL LIFE. REAL NEWS. REAL VOICES.
Help us tell more of the stories that matter from voices that too often remain unheard.