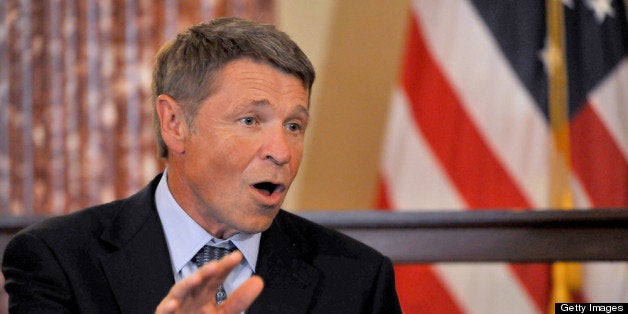 I recently had the privilege of listening to a speech delivered by David C. Novak, Chairman and CEO of Yum! Brands Inc ("Yum"). As I listened to him share many of his own personal experiences, successes, and failures, I found inspiration on many levels.
Why are Novak's pearls of wisdom different than those of other CEOs and, thus, worth writing about? For starters, under David's leadership and since its spin-off from PepsiCo in 1997, Yum has achieved enviably high ROI and shareholder return. In 2012, earnings per share grew 14%, marking the 10th consecutive year in double digits. Novak has been recognized as "2012 CEO of the Year" by Chief Executive, one of the world's "30 Best CEOs" by Barron's for two years running, one of the "Top People in Business" by Fortune, and one of the "100 Best-Performing CEOs in the World" by Harvard Business Review. He is also the recipient of the 2008 Woodrow Wilson Award for Corporate Citizenship. Not too shabby!
So what's his secret? In addition to doing what "normal" CEOs, David devotes much of his own time to teaching leadership skills to Yum's management and franchisees, stressing teamwork and recognition of customer-focused behavior. In fact, he just published a book called Taking People with You: The Only Way to Make Big Things Happen, in which he shares his leadership program. (Incidentally, all proceeds from the book benefit the United Nations World Food Programme.) Don't just take my word for how impactful this book is; the original corporate oracle -- the Warren Buffet variety of Omaha -- said this in his review: "David Novak is the best at leadership." And former GE head honcho cum leadership guru Jack Welsh said this:
"...Novak knows that managers don't need leadership platitudes or business school theories. So he cuts right to the chase with a step-by-step guide to setting big goals, building strong teams, blowing past your targets, and celebrating after you shock the skeptics. And then doing it again and again until consistent excellence becomes a core element of your culture."
Here are the key leadership nuggets I took away from Novak's speech:
Real leaders are coaches. Far and away my favorite line in Novak's speech was "If you view yourself as a 'boss' in 2013, you're a relic... you have to see yourself as a coach." This was music to my ears, as I believe that leaders who are comfortable wearing the manager-as-coach hat are simply more successful.
Good leaders have high self-awareness. Every January, Novak does what he refers to as the "3x5 exercise," in which he describes how he sees himself today - strengths and weaknesses - on the front side of an index card and lists how he can be even more effective tomorrow on the back side. But he doesn't stop there. He then distributes a copy of this card to the top 40 people at Yum and asks for their support ("This is what I'm working on and I'd like your help. Please save me from myself.") and feedback ("Did I miss anything that will help me? I want to do my very best as a leader."). The feedback piece is extremely important in understanding how others perceive you as a leader. Of course, those 40 people also do the 3x5 exercise, cascading this best practice down through the company.
Be proactive with managing your career. The story Novak told around this was a result of his own self-awareness. Prior to leading Yum, Novak was president of both KFC and Pizza Hut and held senior management positions at PepsiCo. But that was not an obvious career path for a marketing guy. Upon receiving feedback from then PepsiCo CEO Wayne Calloway that he was a superb marketer but not equipped to be president of a division, Novak proactively pursued intermediate roles that would augment his skill set and allow him to demonstrate that he was capable of running not only a division but also an entire company.
Even if you're already successful, you can still up your game. Novak coaches his people to do what he calls the "hot shot replaces me exercise." He explained, "If you're self-aware and really know your business, then you know what needs to be done but you haven't done yet. So do it before someone brings in a hot shot to replace you." I say something similar to my corporate coaching clients all the time, but thanks to David, I now have a colorful tool to reinforce that message.
Ask powerful questions. Novak begins meetings with one simple yet very powerful question: "What perspectives, habits, or beliefs do you need to change, build, or reinforce to grow your business?" Wow. That really cuts through the BS and laser focuses the team on what specific and impactful actions need to be taken to improve the business.
Size does NOT matter. Yum operates 37,000 restaurants in more than 120 countries and employs 1.4 million people. Contrary to the "we're just too big" lament I often hear from clients reeling around in big organizations, creating a corporate culture that works is feasible in a huge, multi-national enterprise. Novak awards deserving restaurant and corporate staff with in-person "Yum! Awards," a set of plastic smiling teeth with legs that signifies walking the talk of leadership. Hundreds of photos taken with each award recipient line the walls and ceiling in his office.
Novak is a leader in the truest sense because he is willing to share his formulas for success with countless current and future leaders outside of Yum. Let's all pull out some 3x5 index cards and get to work!
Related
Popular in the Community