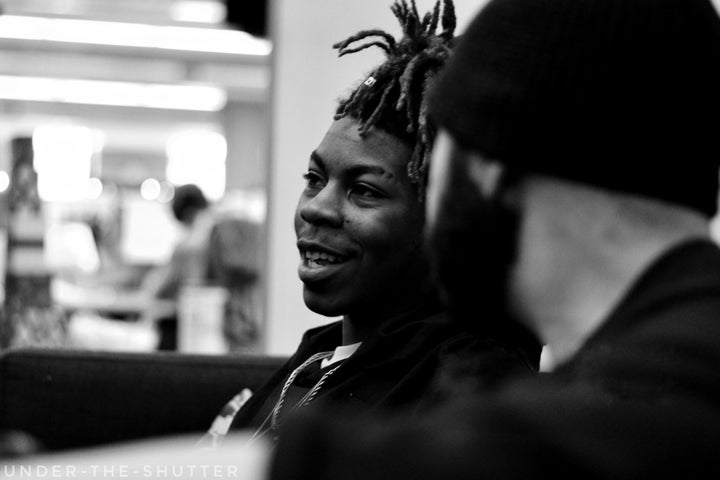 "I like interviews. I definitely like them. It's about getting to know somebody," Yvng Swag said with a glowing smile.
The world is about to know who Yvng Swag is. He might only be seventeen years old, but Yvng Swag has a hustle that cannot be duplicated or replicated. He started dancing when he was eight years old. At fifteen, he became a Vine superstar. Now, he just signed a major record label deal with Atlantic. He's so money that Nick Cannon is mentoring him. Not bad for a guy who is still in high school.
"I started off as a hip hop dancer but now I figured that I'm an entertainer because I could do multiple things. Comedy, dance and now I'm starting to make music. I branch out to different genres of music like country, rock and Hispanic music. I just don't do hip hop dancing only to hip hop. I think I'm an all around entertainer. I can do it all," Swag told me with a winning grin.
How did Swag know he was destined to make an impact in the entertainment business? "I got stopped at a mall one time. A fan was all like, 'Oh my God. You're that Vine guy. You dance! Can I get a picture?' That just shocked and amazed me. I realized I was touching people's hearts so much that they actually wanted a picture with me. I was like, 'Alright. This happened. I have to keep going with it.'" Indeed, Swag continued to go with it. He built an insane Instagram fanbase along the way before he eventually caught the eye of Nick Cannon—a man that doesn't need an introduction.
"He's going to take the game by storm," Cannon nodded his head. He continued, "He's talking about franchises and branding his name. He has such a natural gift when it comes to dance and music. I feel like he's just getting started. It's a beautiful thing to be a teenager and explore this world and to have such a strong vision. All I can do is support it and hopefully the rest of the fans do as well." Young people all over the world have been standing firmly behind Swag and his vision for a better future.
Swag was more than happy to share how his journey to become an internet superstar began. "I was actually on the phone with my boys Dwayne and Nate. It was around midnight. We were on FaceTime. They were like, 'Yo. You should start dancing on Vine 'cause you can get famous for your dancing and stuff.' I was like, 'For real?' They went, 'Yeah.' I was thinking out loud going, 'For real?' They went again, 'Yeah. You should just start doing it.' So then I looked into and I saw a bunch of Viners get a bunch of clout," he told me. Swag continued, "I knew I could dance so that was something I could do too. So then I started doing it. I will always appreciate Dwayne and Nate. I keep in contact with them, they were the ones that got me started." Swag's loyalty to his friends is refreshing in an often cutthroat world where people wouldn't think twice about stabbing someone in the back to get ahead. Swag is keeping his friends by his side while he rises to the top.
"It's crazy though because I actually started my own business out of Vine. I started off dancing and making videos and stuff like that. As I gained a fanbase, artists would contact me asking if I could dance to their music. It was exposure for the artists and breaking their previous records. So I put my business cap on and thought I could start charging for that since it was helping them out getting them noticed as artists," Swag said with confidence. Now a businessman, companies started to take notice of Swag. He continued, "Then record labels started hitting us up to do promotional pieces for their artists. It just branched out. I went from doing promotional pieces for record labels to actually being signed by one." The teenager's dream is now a reality.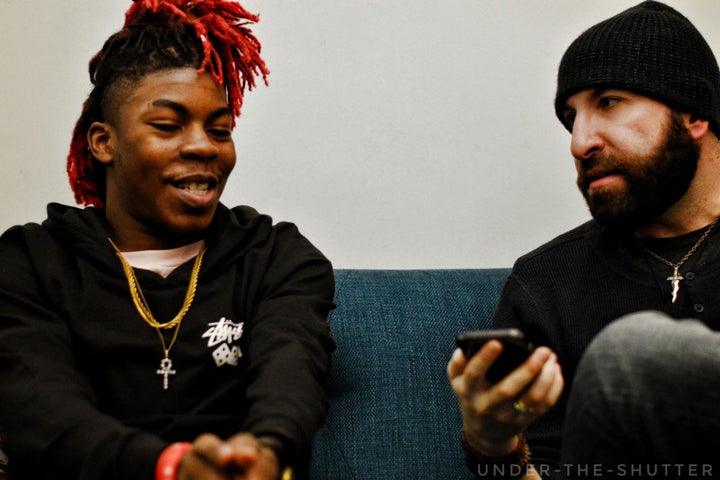 By being in the spotlight, Swag hopes to bring more respect to the world of dance. He opened up to me saying that dance culture doesn't get the respect that it deserves. "It doesn't. It's so crazy. Dancing now—this generation...this is what moves the records. Videos from social media influencers move the records now. It's all about social media," Swag continued to nod. When asked about what inspired him to dance, Swag said, "I was watching films like You Got Served, Step Up and Stomp The Yard. I also watched guys like Michael Jackson, Usher and Omarion. They all inspired me to start dancing. It was so cool watching the movies and them doing the moves. I was like, 'Yo. How do they do that?' So I started dancing. I didn't take no classes or nothin'."
Swag learned his moves without going to a single formal class. When asked how he did it, Swag said, "I just smile and enjoy the music. I feel the rhythm. We gotta be happy while we are doing it. I think that's what the difference is between me and other dancers. They are dancing but you can't really see the joy in them. They are into it and hard and straight-faced. I think it's more exciting when you see a smile on somebody's face." It is no surprise why he has close to 700k Instagram followers. People can't help but smile every time Swag whips out a move while looking like he is having the time of his life.
While Swag is all smiles when the cameras are turned on, he is also leading a revolution to tackle a serious subject. "I feel there is no need to make any stereotypes. What I mean by my 'End Racism' campaign is like—you can't only do hip hop dancing just to hip hop," Swag paused. He continued, "You can take that dancing to other cultures and different genres. You can also do hip hop dancing to a country song. To a Hispanic song. Rock. Anything like that." He firmly stated, "When a slow song comes on, a lot of people sit down. But you can still turn up to it. You just dance. You gotta have fun. Don't stereotype. Just because you're a hip hop dancer doesn't mean you can't dance to a country song."
Swag's fans are about to turn up and go wild. There is a reason for that. "I'm droppin' the EP within the next two months. It's so crazy though...I never really thought about rapping before this. I feel now that music is another passion of mine. When I make music, I feel like it is a big release for me. You can ride in a car and just listen to it and vibe out and be happy and just smile," Swag said. He got the idea to become a rapper through a random Instagram post. Swag laughed, "Honestly, I made a clip on Instagram and I was just mumbling. I put a tough beat on it and I was just mumbling. I wanted to see what would happen. I put it out and I got 2,000 comments. People were asking, 'Is this song on SoundCloud? What is this song?' I was literally just mumbling. You couldn't hear me at all. So I thought, 'I need to get to the studio and actually make music.'"
Swag is currently putting it all together under Cannon's supervision. The teenage phenomenon explained why he has such an admiration for Cannon. "I feel like we connect that way. I have the same business mindset. I see myself in ten years having my own underwear and cologne. Yvng Swag cologne. I want to build a brand similar to how he did. Be in movies, TV shows and stuff like that. He just inspired me to do that."
Cannon jumped in while shaking his head. "Man, you know what it is? Young people who have that type of vibration where they just believe in themselves. You know what I mean? That self confidence. His name is Swag." They both laughed. Cannon continued, "He just created his own movement and I pay attention to that kind of thing. I try to be a curator and I really focus on what youth culture is putting out there. Right now it's that D.I.Y. mindset, you know what I mean? There ain't no waiting on nobody—you do it yourself. He's the epitome of that. He didn't sit around and wait for anybody." Cannon continued to educate the masses. "You know, if I can be the battery in his back to help push him even further and allow more people to see him and give him more opportunities, then that's the type of people you want to work with when you have a record label or a platform. You never want to work with people where you're hungrier than they are. Or you want it for them more than they do. You gotta find those people," he told me. Keeping it real, Cannon continued, "People always say, 'Yo. You are always looking for talent. How can you tell who you want to work with?' I see thousands of talented people every day. It's the people with the talent with the drive behind it. With that go-getter attitude. Swag got it all day long."
"That's what it's about today. You gotta get your numbers up. Get your views up. You gotta create your own fans. It really is a fanbase driven industry now. Before it was driven by a machine. The beauty of it now is that the people want what they want and they like what they like," Cannon said. He took a quick pause before he continued. "So if they like you, they are going to ride with you all the way until the end. It is about establishing that fanbase and showing that you have that entrepreneur's mindset. He's doing it man. I just sit back and observe," Cannon winked. It was clear that Cannon was proud of everything Swag has accomplished in his young career. It is insane to think that it is only just getting started.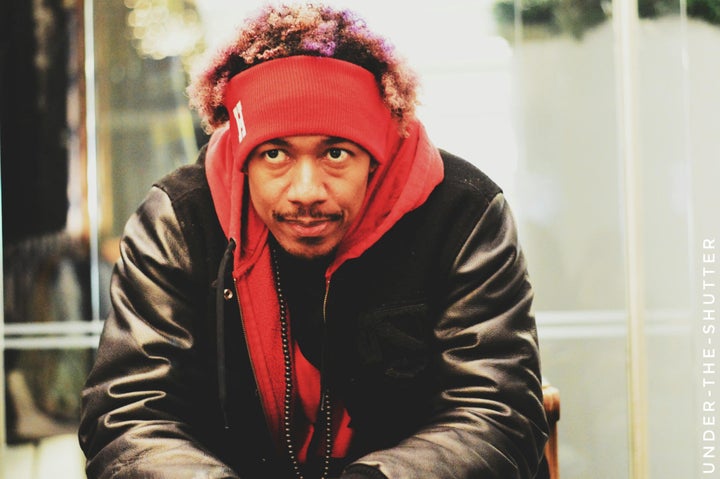 Swag doesn't let negativity and haters get in his way to achieving greatness. "You gotta keep going forward. Anything that you put your mindset to, like, strive for that. Don't let anything bring you down because regardless of what you do, there's always going to be negative comments. There's always going to be hatred no matter what you are doing. Keep your mindset. Be focused and put in the work," Swag told me. He stressed that doing the work was the most important part. He elaborated, "You have to put in the work. 'Cause a lot of people think it's going to come like that because they are seeing people getting famous but they are not seeing the behind the scenes stuff. They don't want to do all that. It's all about the work ethic that gets put into things. You have to have that strive. I feel like it has to be a passion for you to really want it. If it's a passion, nothing can stop you."
The studio isn't the only place where Swag works hard to play hard. "I be up on a school night until 4 just putting beats on or like dancing downstairs. Then I go to bed. Even though I have a hard time waking up in the morning, I have to get up and go to school at 7:30 AM. I know what I have to do to get to that level," Swag shrugged his shoulders. "I put my mindset on. When I'm in school—I do my school work. When I'm out of school...that's when all my dancing stuff comes. I do all my work first so therefore on my free time I can engage with my fans while I'm in school as well. So that makes it a lot easier on me."
By staying in school and continuing to get an education, Swag knows what his ultimate goal is. "I want to make a difference in the world. I want to set a mindset in everyone. If they have something that they want to do—they can do it. Don't be nervous to show the world what you got. 'Cause a lot of people got a lot of talent but they are scared to show the world because of all the negative comments. I want people to keep the mindset that they want and just go after it." Swag's vision for adulthood is a glorious one. "20 years down the road, I want to franchise my own dance studio in different areas. Yvng Swag studios. New York. Atlanta. All over. We can all just work together and do it."
Before departing, Swag wanted to show love to all of his fans out there. "I want to thank everyone for supporting me, man. Working with adults helped me. My folks. My mom. My dad. Nick. Ace. They have a lot of faith in me. We are all going to take this Swag, 'End Racism' hashtag all the way to the top. We are all gonna be dancing no matter what it is. We are going to be doing hip hop dancing or any type of dancing to any kind of music. We are all gonna do it."
Popular in the Community