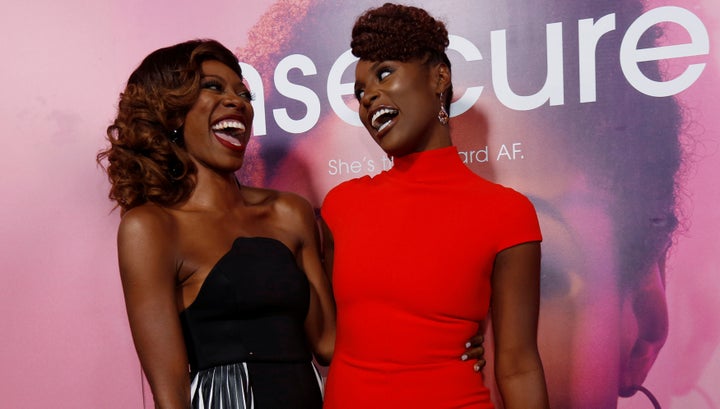 Yvonne Orji is the best friend we all need ― smart, funny and unapologetically honest.
At least, that's how she's portrayed in HBO's highly rated series "Insecure." The show ― which debuted its second season Sunday ― follows a fictional character named Issa, played by actress Issa Rae, and Orji's Molly, her hilarious and successful best friend. And while the show may be based in fiction, the experiences Issa and Molly encounter are all too real as the two rely on each other to navigate the challenges that come with life, love and careers.
In fact, it's Issa and Molly's relationship that carries the show, highlighting the importance of women standing together and delivering a real representation of what black female friendship can look like.
"You turn 'Insecure' on and you see a sea of brown," Orji told HuffPost in a recent interview. "You see at the core of it a strong friendship between two brown-skinned girls."
She then warned: "You're not even ready for season 2."
Orji makes an observation that underscores the importance of her role in "Insecure." As an attractive, whip-smart lawyer, Molly may seem to have it all together but runs into encounters with men that only seem to complicate her life more. But while she has her own issues to tackle, Molly still fulfills her responsibilities as a supportive best friend ― who is modeled after Rae's real-life bestie. 
"Me and Issa talk about this a lot; she has great friends and she wanted to show friends like that who are dope and amazing and [for people to] be able to see a relationship that is supported," Orji said. "Black girls can make the best girlfriends. Sometimes you need someone who's gonna listen to you and let you do your own thing like Issa and Molly."
Sometimes you need someone who's gonna listen to you and let you do your own thing like Issa and Molly."

Yvonne Orji
This approach to showcasing sisterhood on the small screen is even more meaningful when it is portrayed through the lens of black millennial women, who are frequently represented across media in an unflattering light. 
 "To constantly see black women fighting and plotting against each other, really gets to me because that's not what I see to be true of my friends," Rae said in a recent interview with Cosmo, explaining why black female friendship is so important to see reflected. 
"We don't get to see black lust in a normalized and natural way that isn't hyper-sexualized ... it's such a privilege to show that and it feels so real," Rae told Cosmo. "The writer in me is always excited to write those scenes. The performer is like, 'Oh, shit. Why the fuck did I write this because I got to do it?'"
"This is a decision that I have made, and it makes me happy," Orji said. "That is a thing that is important to me and that is a thing that I want to celebrate and want my husband to celebrate as well." 
Orji depicting a character who is so different from her real-life personality is both a reflection of her impressive acting range and the diversity among blackness itself. Shows like "Insecure" intentionally portray how different, dynamic, awkward and quirky black people can be. But perhaps of equal importance, it raises the visibility and talent of dark-skinned black actresses, who have not always been cast as lead characters, and reaffirms that women like Rae and Orji are worthy.
"Your black may look different from my black but collectively our black is beautiful," said Orji, who even teamed up with beauty brand My Black Is Beautiful to raise awareness around overcoming bias. "In the age of the IG models, in the age of all this stuff on what's been projected as far as what brown women need to do to be pretty and attract a man, it's just freeing to be comfortable as I am [and say] my black is beautiful. The end."
To catch more of Orji as Molly in "Insecure," tune into HBO every Sunday at 10:30 p.m. EST.
Calling all HuffPost superfans!
Sign up for membership to become a founding member and help shape HuffPost's next chapter
BEFORE YOU GO
PHOTO GALLERY
A Few Beautiful Black Women Of Hollywood