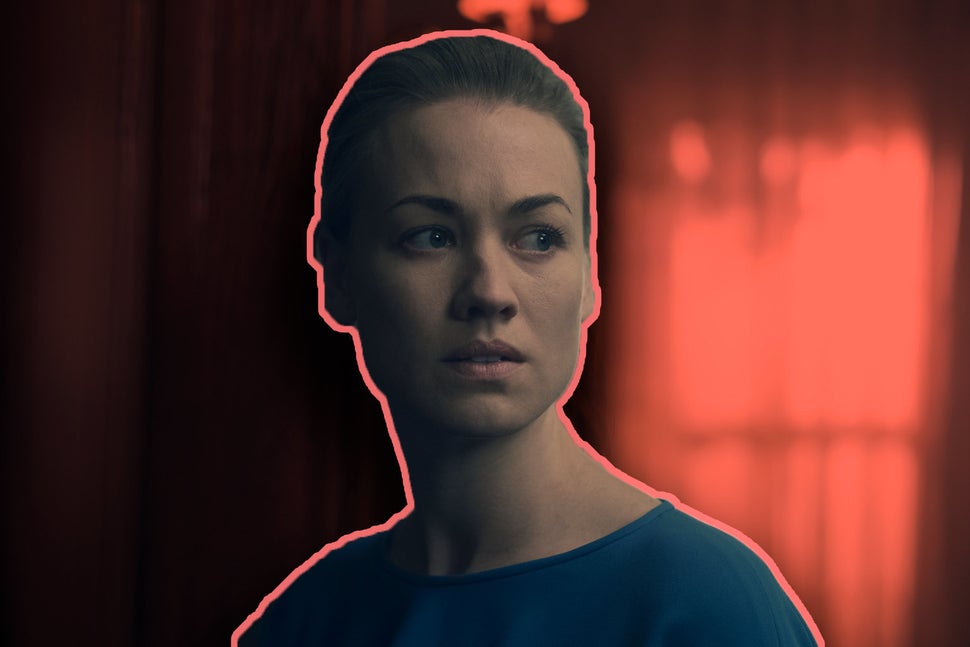 During a recent episode of "The Handmaid's Tale," any empathetic feelings fans had toward Serena Joy Waterford went out the window when the once redeemable character ruthlessly pinned down a distraught Offred and allowed Fred Waterford to rape the pregnant handmaid.
It's a disturbing scene that reminded those who'd forgotten of the cruel and complicit demeanor that'd been temporarily hiding just beneath her surface. It even shocked Yvonne Strahovski.
The 35-year-old Australian actress who plays Serena said she was taken aback when she first read the "difficult" moment in the Episode 10 script. When it came to filming, it was one of those scenes that stuck with her long after director Jeremy Podeswa said "cut." 
"I just felt so dirty," the former "Chuck" and "Dexter" star told HuffPost during a phone call last week. "I never thought that in my career, as a woman, I would be playing the part of a rapist."
To make matters even more complicated, Strahovski herself was pregnant during the filming. That experience ― of acting out an unfathomable feat of violence as a soon-to-be mom ― left her with a kind of fear she'd never felt. With only three episodes left in the Hulu series' second season, Strahovski discussed the horrors of playing Serena, how the show has evolved beyond Margaret Atwood's original book, and how stomach-churning the parallels between Gilead and America have become.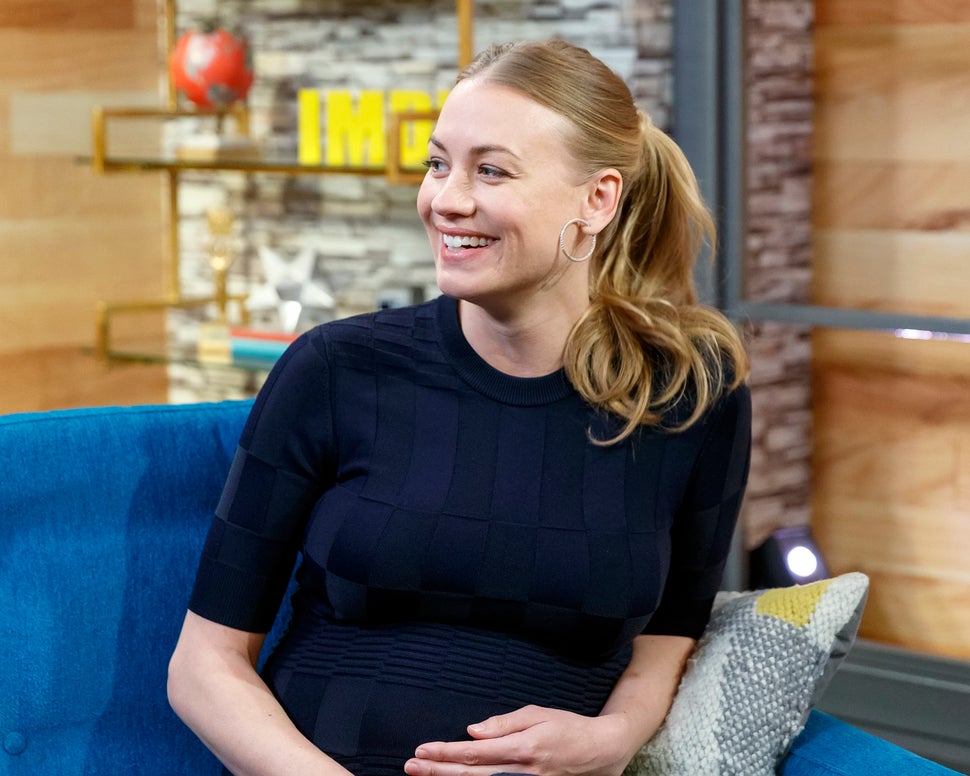 Congratulations on your pregnancy. I'm also pregnant and due in September, so we're preggo buddies.
Oh, really? Wow, yeah – is this your first?
I wanted to bring that up because watching "The Handmaid's Tale" while pregnant is one thing. Filming it while pregnant must've been a whole other experience, what with the first-trimester nausea, the intense subject matter, et cetera.
It was a little challenging to try and juggle all of that, actually. It got more challenging when we had to do more physical scenes, or scenes that were more intense, like in Episode 10. I had to do that horrible rape scene and it was very confronting.
You're playing a character who desperately wants to have a child of her own with her husband, but physically can't. All the while you're pregnant in real life. It must be a little bit of a mind trip for you.
It really is, and it was definitely something I was concerned about going into my own pregnancy. I remember thinking, "How do I go through my first trimester into my second while playing such a hard character?" I was fearful that whatever I was having to portray on camera was going to affect [my pregnancy] in some way. I remember just being on set and envisioning like a bubble around my child, a safety bubble that nothing could penetrate, and that everything that I was doing was separate to that.
I just sort of held onto this image in my brain throughout Episode 9 to the end of the season, which was when I was pregnant. I feel like my kid is going to be well-versed in a wide range of emotions from what they're already learning in the womb.
You did mention Episode 10, which features the rape scene where Commander Waterford and Serena force pregnant June/Offred to do a last "ceremony" in an attempt to push along labor, as they claim. When you got that script, were you nervous at all to portray this moment?
I wasn't nervous because we've faced so many complex, difficult scenes on the show, but it did leave an incredibly bad taste in my mouth. Outside of the beating scene that I did in Episode 8, it was one of the ones that really affected me while shooting it and walking away from it. I just felt so dirty. I never thought that in my career, as a woman, I would be playing the part of a rapist. I know the commander is the one physically doing the deed, but at the same time I'm holding Offred down. It's a very jarring concept to think of it that way when you're a woman – it's the other way around, usually, in scenes like that.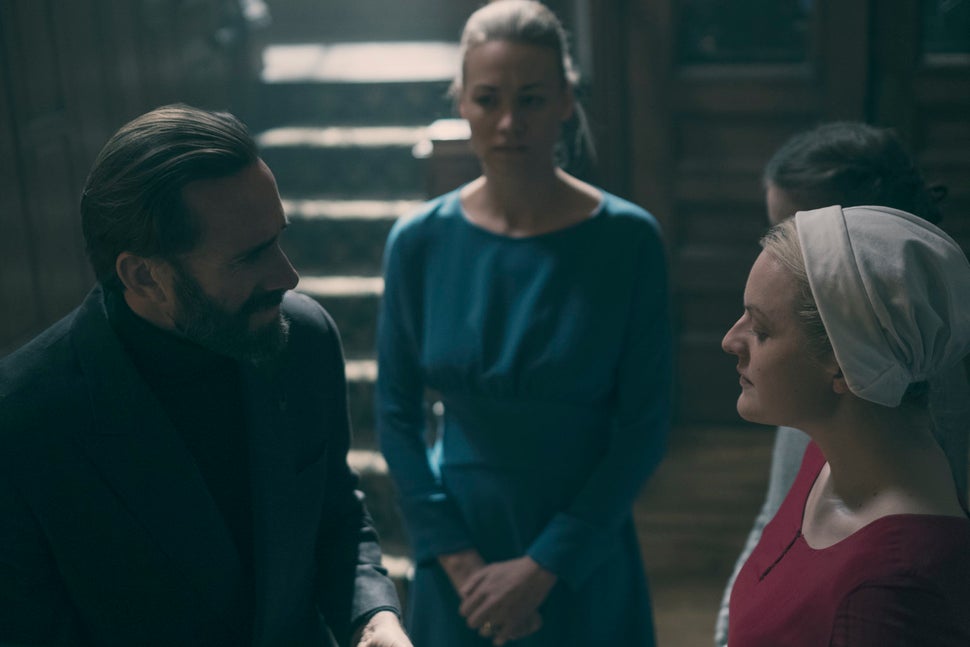 Serena has been questioning her place in Gilead, and perhaps doubting the system she helped create. Yet, in Episode 10, she goes wildly in the other direction and is the one who basically suggests the commander rape Offred one last time. How do you explain that kind of back-and-forth in your character?
The way that I see it in her brain is that she is just so fed up with everything taking so long and Offred being so cheeky with her that she just wants the baby out and to be done with her. I'm not sure she anticipates that the ceremony is going to be so violent or that Offred would fight, because she hasn't fought in the ceremonies prior. The fact that she does fight in the moment and Serena still goes through with it is absolutely horrific.
From Serena's point of view ... she just wants the baby and she's fed up. That's it. She cannot take Offred's cheekiness anymore. They're kind of back and forth constantly throughout the season, so it's very tumultuous between them.
She's torturing Offred, but she's also being tortured herself by her own husband [during the whipping scene in Episode 8]. Is it hard to play someone who is a villain in her own right, but also facing violence and adversity personally, as well?
It's challenging to walk that fine line. It is flip-flopping a lot between what seems like two extremes. Certainly, when things get very challenging or when I'm reading a script and something isn't entirely making sense to me, I'll pick up the phone and call Bruce [Miller] straight away and we'll have a conversation about it.
Do you think Serena has a breaking point? Is there anything that would make her leave Gilead?
I think everybody has a breaking point, for sure, I just don't know if Serena has reached hers yet. I'd be interested to see what would happen to her if the possibility of having a child in whatever way was completely taken away from her. Then what would she be personally invested in Gilead for?
That is her personal investment right now and the thing she's been sticking around for. She's going to make her own personal sacrifice for the greater good ― for humanity and babies being born into Gilead. If she can't partake in that, then what happens?
Do you think she's beyond redemption at this point?
Obviously, I know how it ends, so it's tricky to talk about the rest of the season in terms of redemption. But even if she does redeem herself in some way, shape or form, I am curious how people will respond to that because of Episode 10 and what happened.
I've heard a lot of comments from people who feel duped into having sympathy for Serena, and then she goes and does the rape. So I don't know if there's anything that could actually help her cause at this point after doing something so barbaric. I don't know, I don't know.
Understandably, you've said in the past that you don't relate to Serena. But you mentioned sympathy. Do you have at least more empathy toward her now that you've been playing the character for a bit longer?
I walk this really fine line of absolutely despising her and everything she stands for, but at the same time I also have to work with her and understand her. These are two completely juxtaposing positions to be in. So, on one hand, I totally understand her and her moods, but when I step away from that, as me the person, I find what she does completely horrid. I always feel dirty in a way talking about why Serena does the things she does and how she justifies her actions because it's so gross.
So yeah, it's this really strange position to be in.
This [mother-child separation] scene happens to be in this episode at this time. It's not like anybody could've planned for something like that, nor could we have planned for how the whole series has played out thus far as it reflects in current news.

Yvonne Strahovski on the eerily relevant "Handmaid's Tale" storylines
You are playing one of the most hated women on one of the most grueling shows on TV. Overall, how does it feel to be everyone's new problematic favorite?
From that point of view, where we're looking at it as entertainment and being part of a show like that, it's great to be able to play a character like Serena and to have people respond so strongly to someone like her ― [to] not know whether to feel sorry for her or not. That's great. I love the complexity of playing her and portraying that. It's incredibly rewarding to me to be a part of something like this.
This season has drawn a lot of parallels to our current political situation. Does that add a little bit of pressure for you?
I'm not sure that it adds pressure, just purely because we don't really write to directly reflect the state of the world and the political and social issues that are happening. What's fascinating is that we somehow seem to align ourselves with what's happening in the world with the episodes that are coming out. That's kind of surreal and mind-blowing.
Even Episode 10 with June seeing [her daughter] Hannah and being separated from her child at the end, it's just so crazy that right now we've got the issue of what's happening at the border with children being separated from their parents. This scene happens to be in this episode at this time. It's not like anybody could've planned for something like that, nor could we have planned for how the whole series has played out thus far as it reflects in current news.
So yeah, it's really quite surreal how that keeps happening.
Were you excited to see how Bruce and the team would concoct the second season beyond Margaret Atwood's original book, and are you impressed with the outcome?
I am beyond impressed. I have honestly never been more excited to read scripts in my life. It's amazing what they have managed to come up with beyond Margaret Atwood's book ― it's so intricate and powerful and detailed, and just really speaks to them as creators and writers who are paving the way for the storylines on this show. Something is always so shocking in each script, to me, and I just can't put them down. I'll usually read them almost as soon as I get them ― it doesn't matter what time it is, I can't wait to read them.
Is it hard to take on other roles now, since you're probably thinking, "Eh, I don't know if this is on par with Serena Joy Waterford."
[Laughs] Certainly Serena keeps me on my toes. I'm sure there are things that will seem rather boring to me when I'm done with Serena or between seasons doing other roles. She's obviously very complicated, but I am drawn to that. I think I've always been drawn to serious roles that have an element of tragedy for the character in some way.
So what's to come in these final episodes? Because it seems like, for lack of better phrasing, shit's going to hit the fan.
I think that's a really good way to put it, shit is going to hit the fan. It's anybody's guess what happens from here, so I think the audience will be on their toes a lot, as they have been throughout the season with the different surprises and twists along the way. We're definitely continuing in that fashion until the finish line.
New episodes of "The Handmaid's Tale" debut Wednesdays on Hulu. 
Calling all HuffPost superfans!
Sign up for membership to become a founding member and help shape HuffPost's next chapter