If you've never heard of the Zac Brown Band, you're probably living on another planet.
The Grammy Award-winning group, who became a household name after their song "Chicken Fried" topped the country music charts, has been selling out stadiums for the past few years, releasing radio hit after radio hit since their debut album, "The Foundation," gained attention in 2008. But although their catchy tunes and dynamic sound attract millions of listeners, it's the band's heart that keeps their fans yearning for more.
In the fall of 2009, Zac Brown and company began offering their followers the chance to purchase tickets to VIP Eat & Greet experiences before the majority of their tour performances. The events afford fans the opportunity to share a meal with the band before they take to the the stage, and have become an important part of the group's overall vibe. The Huffington Post was able to attend an Eat & Greet for an inspiring encounter during the band's stop at New York's Citi Field on Aug. 22.
Around 100 people or so sat at long tables adorned with flowers in mason jars, awaiting the band's arrival. A representative for the group announced that photography was prohibited. The guys would very much like to simply have a person-to-person discussion while they served us food -- food they helped prepare off a menu curated by Rusty Hamlin, the executive chef at Southern Ground, Brown's lifestyle empire. The smell of fresh barbecue fare filled the tented space as the group came out to say hello before casually taking their designated positions behind the serving stations.
One by one, guests from each table made their way down the line, stopping at each band member's area for a scoop of grub and a quick chat. The guys smiled and shook fans' hands as they acted as hosts, hyping up the magic that was about to happen during their set. By the time I made my way up to the stations, I assumed the group would be over the production of it all, but I was wrong. Fiddler Jimmy De Martini served me some garlic bread, followed by vocalists and guitarists Clay Cook and Coy Bowles on pasta salad duty. Drummer Chris Fryar and guitarist/vocalist John Driskell Hopkins were passing out generous portions of fish next to bass guitarist Matt Mangano and Chef Rusty. Then came Zac Brown himself, who told me that the beef tenderloin doused in his signature Georgia Clay Rub would "change my world," before percussionist Daniel de los Reyes passed me a peach and apple cider crumble.
My adrenaline was pumping, and the show still wasn't even starting for another hour.
"I think people meeting us and seeing us dishing out food and being at their service is definitely not what they expect, and I love that part," Brown told The Huffington Post in an interview. "There's a connection that happens when you break bread with people, and we get to exceed expectations, doing things that are way better than they thought they'd be getting. It was my dream to pull it off on that level."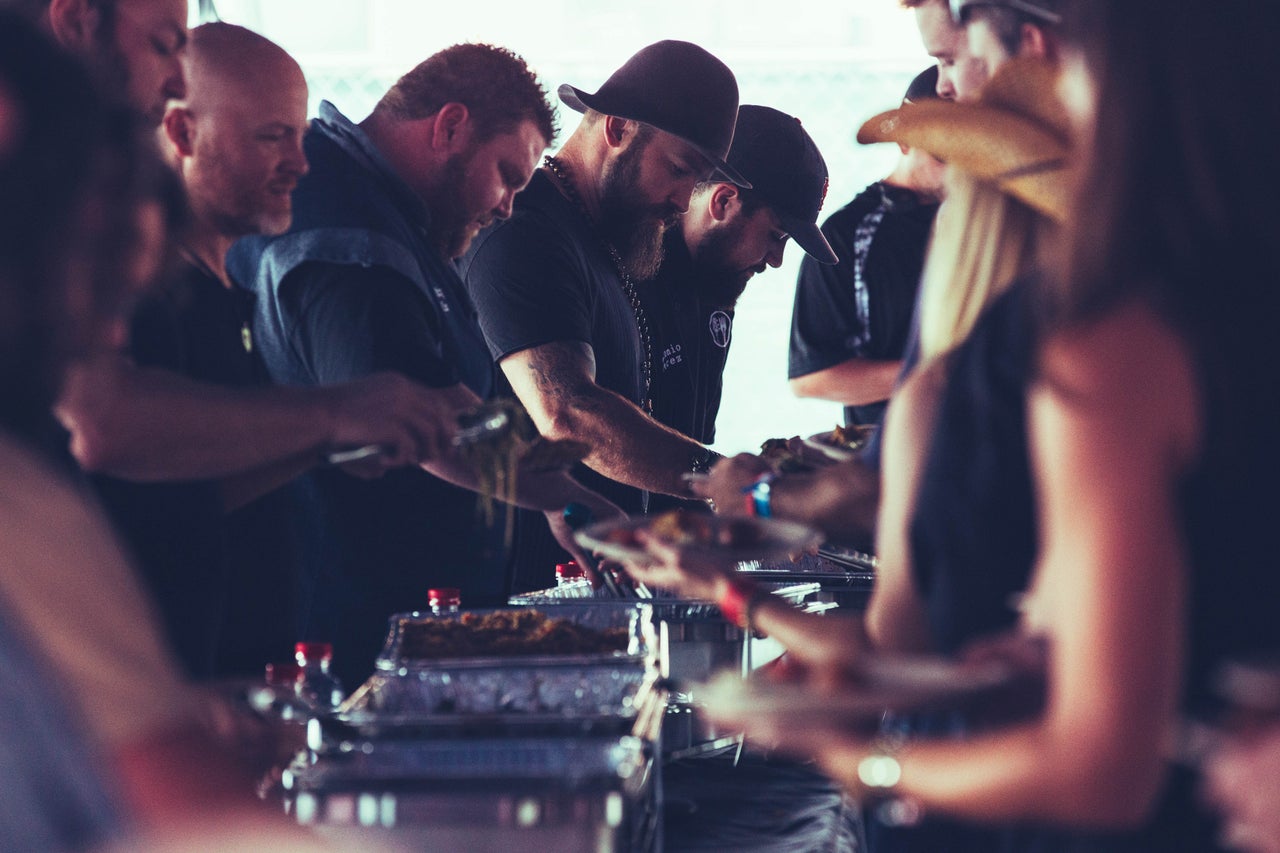 Chef Rusty and the band cook up southern cuisine in a state-of-the-art kitchen located on a 54-foot semi trailer dubbed "Cookie" (which can be seen on FYI's series "Rusty's RockFeast: Backstage with Zac Brown Band"). At every tour stop, Hamlin and his culinary team improvise the menu, creating a new set of dishes for every Eat & Greet using the freshest ingredients available from local farmers markets. (For the one at Citi Field, they stopped by Brooklyn's Borough Hall Greenmarket and anothere in Greenpoint.)
Brown admits the whole shebang ain't cheap, but it's the look on the attendees' faces that makes the Eat & Greets worthwhile. "I'd say we do 70 to 75 a year, maybe. It's like throwing a huge wedding every time," he explained. "We invest a lot of dough doing it, but we're very happy to do it. I think it's something that sets us apart and something that we'll remember. That's the main thing, just making it memorable."
Unlike other artists, the group isn't just throwing these events so fans can snap a photo or get an autograph and move along -- they're doing it to "be one of the people with them."
"People come up to me sometimes and ask for a picture, but don't even say hello," Brown said. "They sort of forget that I'm a person."
"If we had to pose for every single person at the Eat & Greets, we wouldn't get to speak to anyone that's there, and we definitely wouldn't get to serve them food," he continued. "I love getting to visit with them without some kind of technology being involved with it."
The band's fan club -- "The Zamily," as they call it -- means the world to them. Not only do they support their music and their goals, but they step up and help the group raise money for a foundation very close to their hearts. A dollar from every single ticket sold goes to Camp Southern Ground, a non-profit camp now in development in Fayetteville, Georgia, which aims to give children of all abilities the opportunity to experience the magic of the outdoors. ZBB's Jekyll & Hyde tour sponsors and partners -- including Bai, who created signature drink The Castaway for the band's tour stops and teamed up with them due to their similar approach to living an authentic, unconventional lifestyle -- give part of their proceeds to the camp, as well. (Bai will donate approximately $50,000 to Camp Southern Ground off their Molokai Coconut bottle sales.) This year, Brown estimates that about a million to a million and a half people will attend their shows, meaning a lot of money will be going to the camp and it's cause.
"Getting to have a higher purpose other than just being successful is very necessary for me," Brown told HuffPost. "I was probably 21 or 22 years old when I realized the prose that I live by, which is, 'You get what you give.' The more good deeds that you could do in your life, the more fulfilling and enriched your life is going to be. I truly believe that."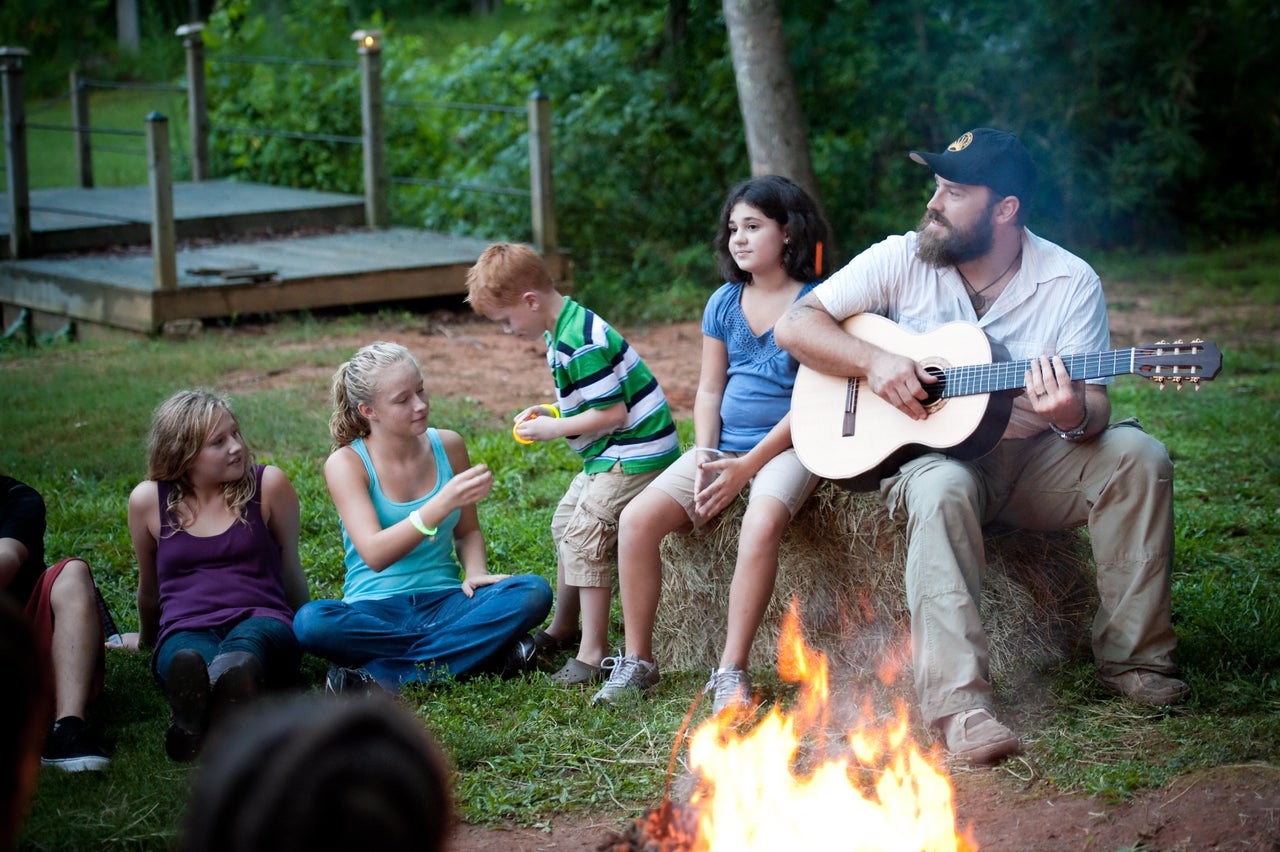 Brown sets an example of what success and celebrity status can bring to the world. Someone's merit should not be determined by how many Instagram followers they have or how many stories are written about them in one day. Yes, famous faces have made a name for themselves due to their talent, hard work and passion, but it's what they do with their fame that matters most.
Asked about how he feels knowing there are millions of people out there who adore him and his music, Brown is exceedingly modest. "I honestly forget about it," Brown, a husband and father-of-five, said. "I'm at home slinging diapers and running babies around and being a human dad, and then we hit the road and I'm like, 'Oh yeah. This is what we do for a living.' I never get used to that feeling."
Popular in the Community