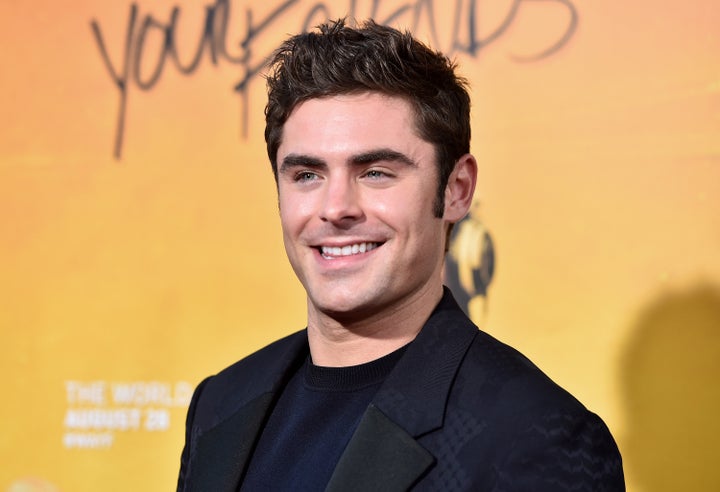 UPDATE: Zac Efron has taken down his previous Instagram and Twitter posts about Martin Luther King Jr. and his Instagram followers. 
"I have nothing but the greatest admiration & respect for MLK," said Efron in a tweet on Tuesday. "My last post was insensitive & I apologize to anyone who I offended. So sorry."
PREVIOUSLY: "Neighbors 2" actor Zac Efron angered a lot of people on Monday when he posted an inappropriately worded message on Twitter and Instagram.
Efron tried (and failed) to combine a message about Martin Luther King Jr. and his fans on social media and simply ended up getting trolled. 
"I'm grateful for a couple things today: Martin Luther King Jr & 10 million followers on IG," wrote the 28-year-old, with an accompanying photo of himself driving in a car.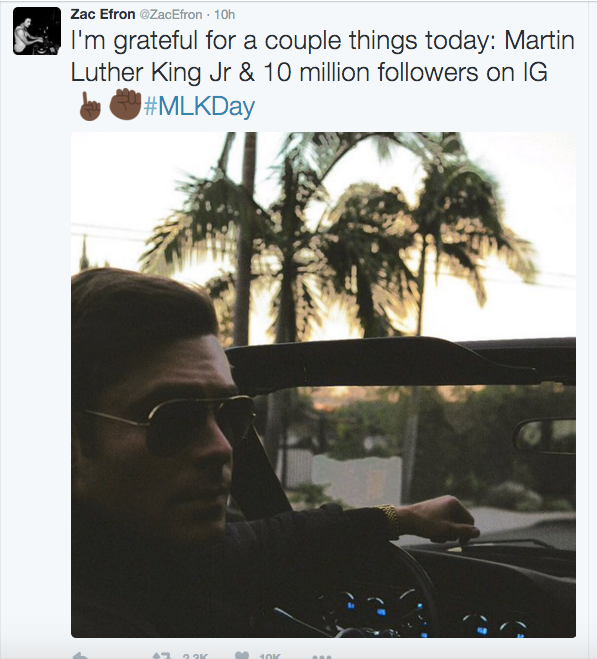 "YOU WOULDN'T HAVE 10 MILLION IF IT WERENT FOR 'HIGH SCHOOL MUSICAL,'" wrote a fan on Efron's Instagram. 
"'T as in Troy?' NAAAAW BRUH T AS IN TEN YEARS LETTER [sic] I WONT SHOW UP AT OUR REUNION," wrote another, while someone else added, "I'm not grateful for you being an asshole and not attending HSM10 bye."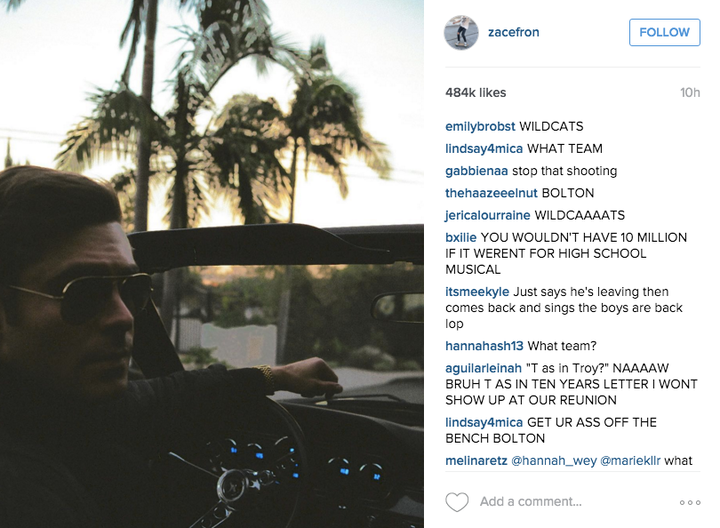 "High School Musical" fans also left comments on Efron's previous pictures, saying things like, "WE'RE SOARIN FLYINNNNN WHERE THE FUDGE ARE YOUUU."  
Though it seems most people are missing the mark with their outrage (MLK Jr. Day shouldn't be celebrated alongside an Instagram milestone), Efron still has some explaining to do for his fans.
The Huffington Post reached out to Efron's reps for comment.
PHOTO GALLERY
Zac Efron's 100 Sexiest Pics
Calling all HuffPost superfans!
Sign up for membership to become a founding member and help shape HuffPost's next chapter