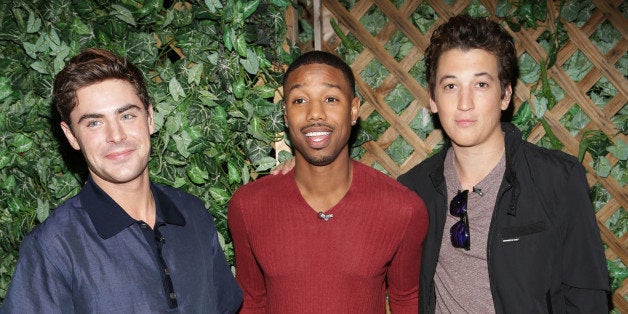 The cast of "That Awkward Moment" has been getting asked some pretty intimate questions while promoting their comedy about three friends who struggle to stay single in solidarity for their pal's recent breakup. Zac Efron, Michael B. Jordan and Miles Teller sat down with E! recently to talk about their own love lives.
The three actors each confessed to being single and looking for different things in a love interest. Jordan admitted that he can be pretty shallow when it comes to falling for girls, while Efron, on the other hand, keeps an open mind. Look out ladies, because Efron's type is simply "girl." Any kind of girl. "There's no criteria," he explained.
The conversation took a quick turn when the trio was asked about the craziest places they've had sex. Jordan was fairly quick to answer "movie theater," while his two co-stars got a bit bashful. Teller censored himself in case his mother was watching and Efron talked about prom night with a certain long–term girlfriend -- sending fans into a buzz about Vanessa Hudgens.
It seems that the stars have little crossover when it comes to views on love and sex.
Asked if they believe in love at first sight, Efron was quick to say, "I do." His co-stars, however, disagreed. Teller said that love is a permanent thing and, so far, he has reserved that term for family and a few friends. Jordan, on the other hand, is a strong believer in "lust at first sight," but believes love has to develop over time.
The interview wasn't the first time the men have opened up about the topic of sex. Apparently, their work in "That Awkward Moment" has allowed the subject to be brought up a lot.
In a previous interview, the actors were asked where they like to get intimate. Efron answered intriguingly: "You have to explore the space. I'm a big fan of the kitchen table."
We recommend watching where you eat if you're ever invited to swing by Zac's place ...
REAL LIFE. REAL NEWS. REAL VOICES.
Help us tell more of the stories that matter from voices that too often remain unheard.
BEFORE YOU GO