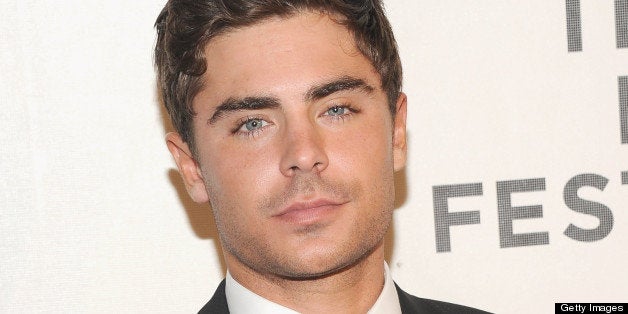 Zac Efron may be loved by teenage girls around the world, but he's trying his best to step away from his "High School Musical" days and focus on becoming a more well-rounded actor.
Efron briefly chatted with HuffPost Celebrity on the red carpet, admitting he doesn't know how he became an "indie darling."
"I don't know," he told reporters of what inspired him to make a commitment to films outside of mainstream production. "I've been doing a lot of interviews with Dennis [Quaid] and his words of wisdom are sort of just fresh in my mind. Dennis says the only role he sort of had for himself in this career is to do as many different types of movies as possible and never stop stretching or trying something new, particularly roles that challenge you. And working with great directors," he added, "That's really all I want to do."
HuffPost caught up with Quaid at the screening as well, who coincidentally echoed Efron's sentiments: "The only strategy I've ever had is to play as many different types of roles as possible."
"He's such a great actor. He's such a down-to-earth guy and he's really got all the tools in the toolbox," Quaid said of his co-star. "He dedicated himself [to this film] and I think he made me better."
As for what Efron will do next, the Hollywood heartthrob says he's simply looking to take on characters he connects with.
"It kind of just falls into place and you know it. It's what you want to do," he told HuffPost. "I'm doing a movie called 'Townies' right now where I play the president of a fraternity and that's totally opposite of this character."
There's no doubt Efron will make it far in his career, considering he's already had a huge impact on all the directors, writers and actors he's worked with.
"Zac is just really together. I'm so amazed by how smart and hard working he is," co-star Heather Graham added of Efron. "And he has the craziest fans of any actor I've ever worked with ... like they're screaming and waiting outside the set for hours. We ate at a restaurant and when we came out there were 30 teenage girls waiting outside screaming at the top of their lungs. It's like the Beatles!"
REAL LIFE. REAL NEWS. REAL VOICES.
Help us tell more of the stories that matter from voices that too often remain unheard.
BEFORE YOU GO