We want Zac Posen to be our new best friend. The 32-year-old American fashion designer joined our beloved Eric Ripert in the latest episode of "On The Table" to sip tea and cook some obscure Japanese vegetables together, and in the process he managed to occupy an even larger part of our hearts than he already did. If you don't love his eye for design or his biting-yet-honest commentary on "Project Runway," you've got to at least respect him for telling Eric Ripert to "[plate the shiso] in juxtaposition to the rice and the tofu."
In the video above, Posen and Ripert's dialogue thoughtfully connects the worlds of fashion and food, seamlessly weaving a path between the two art forms. Posen's creative spark was lit at a famously young age, and when he was 16 he found inspiration from a Martha Stewart cookbook: "I was totally transfixed by this whole world that she was creating, and an idea of a lifestyle that related to food and a way of life."
We applaud the fact that he shops at his local Japanese food market in Tribeca, and we can tell he actually cooks because A) he knows one must pay attention to food placed under the broiler, B) he makes reductions and C) he's voyeuristic about other people's kitchens.
We also just think it's adorable to imagine a 6-year-old Zac Posen sitting at a sewing machine. (Yes, he started sewing at age 6.) Check out the video above to learn more about our new favorite person.
Zac Posen's "Go To Dish"
Serves 2 people
Rice:
1 cup Japanese 6-grain rice
2 cups water
Squash:
1 kabocha squash (cleaned of seeds, and cut into 1 inch cubes)
2 tablespoons extra virgin olive oil
1 small piece (1 tablespoon) fresh ginger (peeled & grated)
1 tablespoons light brown sugar
3 1/2 tablespoons low sodium soy sauce
2 tablespoons sesame seeds
Eggplant:
2 Japanese eggplant (tops cut off and split in half)
2 tablespoons extra virgin olive oil
1 clove garlic (minced)
1 cup fresh squeezed orange juice
2 tablespoons red miso
The zest of 1 lemon
1 lotus root (peeled, and cut into 1/4 inch slices)
1 block tofu
1 tray fresh sea urchin (uni)
2 leaves of shiso (chiffonade)
Salt & pepper to taste
Put the rice into a small pot with the water and a pinch of salt. Bring up to a simmer and cover. This will need to cook for 45-50 minutes.
While the rice is cooking, Setup a pot with boiling water, with a Japanese steamer over it. Place the slices of lotus root in the steamer, and cook for 20-25 minutes, or until tender. Once cooked, lower the heat and keep warm until it's time to serve.
Heat a large sauté pan heat the extra virgin olive oil until hot, and sauté the kabocha squash for 2 minutes. Add the ginger, stir, and cook for 30 seconds. Add ¼ cup of water, the brown sugar, and the soy sauce. Let this come to a boil and cover it, steaming the squash. Let cook for 10 minutes, and uncover the pot. Reduce to a low-medium heat and let the liquid reduce until slightly thick. Top with sesame seeds, and set aside.
Place the Japanese Eggplant on a half sheet tray, skin side down, season with salt and pepper, and drizzle with extra virgin olive oil. Cook the eggplant in the broiler for 10-15 minutes, or until tender. While the eggplant is cooking, heat the extra virgin olive oil in a small pot. Add the minced garlic and cook until tender. Add the orange juice, red miso, and lemon zest and whisk it all together. Reduce until the liquid is slightly thick. When the eggplant is done cooking, brush it with the reduction. Set aside.
Cut nice slices of tofu, season with salt if desired, and place into the Japanese steamer to warm up.
Reheat everything, and assemble: Place the rice in a ring mold in a thin layer. Place the lotus root and tofu lying over the top of the rice. Put the Sea urchin on the other side of the rice, and top with the Shiso. Spoon the squash around the dish with a little of the liquid in the pan. Serve the eggplant as a side dish.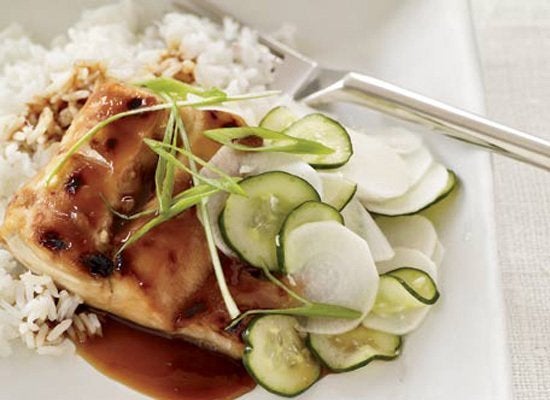 10 Essential Japanese Recipes To Make At Home