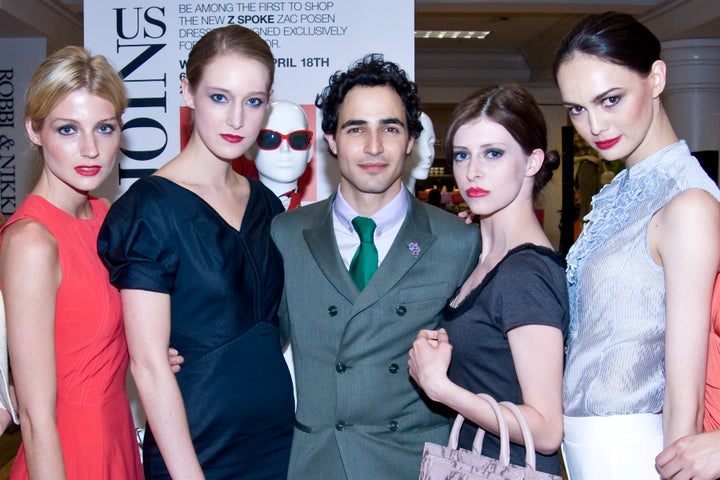 Zac Posen is pretty cute. When we meet him at Lord & Taylor on Wednesday, although it was his big Lord & Taylor debut, he was all handshakes and smiles and had plenty of questions for us.
But considering it was his big moment, we turned the tables. We spoke to the designer about his new capsule collection, Z Spoke Zac Posen for Lord & Taylor, which includes pieces designed exclusively for the department store. Besides the inevitable cuteness (have you ever seen a Zac Posen party dress?), what else can we expect?
The Huffington Post: Z Spoke had clearly existed before. This is a totally new iteration that you've started with Lord & Taylor, how is this different? Below, the highlights of our convo.
Zac Posen: Z Spoke still continues and evolves since we build it every season. We were approached by Lord & Taylor to create seven styles that were at an even more accessible price point, that sat in the collection and would sort of capture and hit the needs -- throughout all their consumer research they have, fabrication, weights -- to sort of capture some white space in the market.
If you strip it all -- from collection to Z Spoke to the [Lord & Taylor] capsule collection –- if you strip all of it down, the essence of what I can give to the woman best is great cut and great construction and playing with incredible seaming. So, in those seven styles I wanted to just have well cut clothing that had interesting construction that either supported or enhanced the body. And also, would look good on a size 0 to 16.

HuffPost: So you're designing for "plus size," or really just regular size women...
Z.P.: I design for women with bodies, first of all. From being raised, since I was 21, on the road in America with the American women, [I know that] women have bodies. Women have hips and they have all different shapes. So I try to embrace that. I often think fashion tries to hide that or tries not to realize that, and I am totally about women feeling good about their bodies and embracing it. That's hugely important to me.
HuffPost: Given that, who is the kind of girl -- or woman -- you envision coming into Lord & Taylor to buy your designs?
Z.P.: The woman in Lord & Taylor is... they have a very diverse customer. They have a very diverse customer in terms of age. So, it's definitely an urban woman because they're living in the city, here in New York, not that there aren't Lord & Taylors all over the country. It's definitely someone who is aware of trends but doesn't want to scream it. You know that it's an old staple heritage to the store that people still come to. [...] So I kind of wanted to keep that in mind, with the simplicity of the product that we make for them that can sit into the Z Spoke collection and sit with the accessories as well.
HuffPost: So it all goes together?
Z.P.: Yeah, they all go together. I'm no dictator. You can mix and match. I have no problem with it but at least at this price point within Z Spoke and the seven capsule pieces, you can build a wardrobe and that's a really gratifying feeling. You know, I have friends of all different wealth and obviously it takes a huge blessing or some [blessed] existence to build full wardrobes out of designer-price clothing. So, we do have a crossover customer and then we have people who can just build within the Z Spoke collection.
HuffPost: Looking back, was there any specific moment that stood out as proving "I've made it"?
Z.P.: I still look for that moment, really, every day. That "made it"? I mean, there are so many different markers. I think I made it when I did my first trunk show experience in San Francisco and then Dallas. I had never been to Texas. So, that was my first experience where I thought, "Whoa, we're having this dialogue now."
But even when I had no money and I started out, I was in my parents' living room and the great fashion buyer Kal Ruttenstein came in. I sort of knew who he was... but it's pre-Internet in 2003. I mean, it existed but it wasn't what it is now and that information wasn't there. So unless you had grown up in the retail world or in fashion in some way, there were just ideas of figures or glimpses on Elsa Klensch as a child. So I remember being really nervous for his appointment.
And then there is no feeling like your first show, ever. That adrenaline feeling or that vibration that you feel, the energy and the risk of that moment. Every time I do a fitting, every time we're in the process of building a collection, it's very thrilling and it's an adrenaline high. You have to push yourself sort of higher every season.
HuffPost: I know your whole family has been pretty involved in your business, including your mother. Do you have any specific Mother's Day traditions or memories with your mom?
Z.P.: I loved making crafts with my mom. I think my love of craft came from my mother, even just making things out of clay and kilning them. So my Mother's Day memories would be working with my hands and making stuff with her.
Like we said, super cute -- almost as cute as the pieces in his new Z Spoke line. Check out pics from Wednesday's event, including models wearing the new line, below!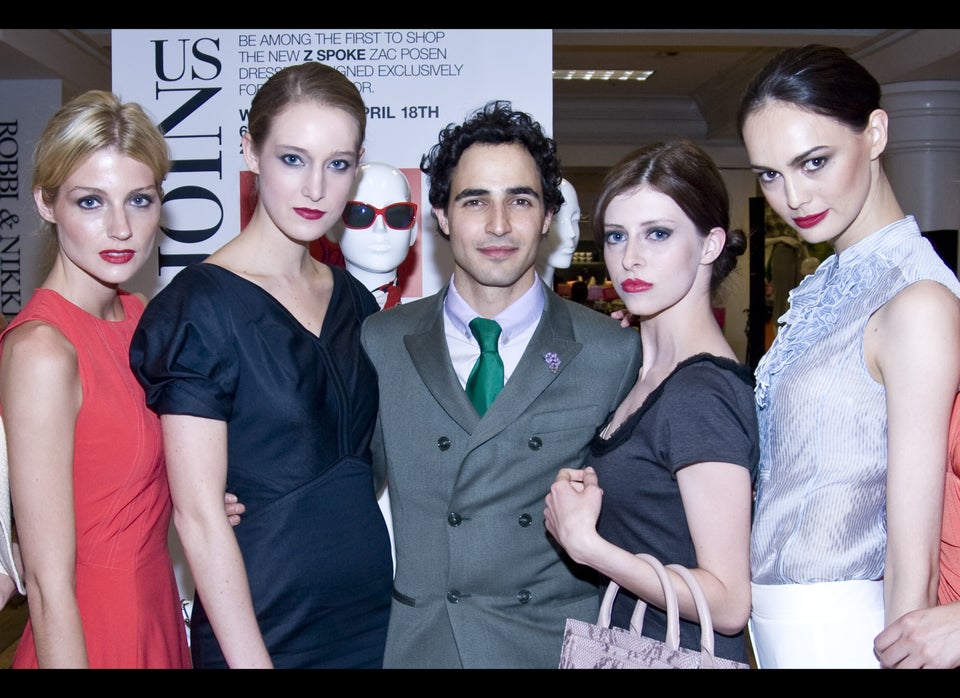 Zac Posen Lord & Taylor Launch