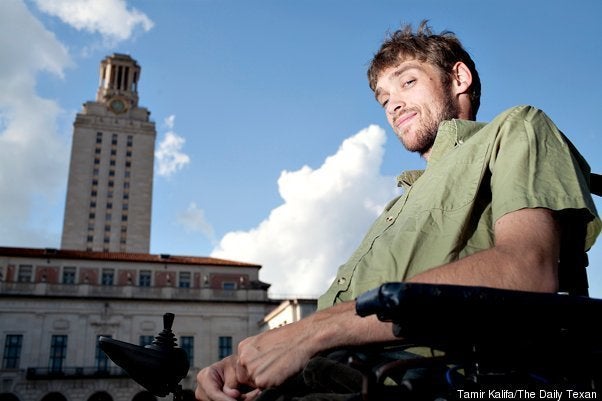 He's been called a "wheelchair-bound lady magnet" and written up in New York Magazine and TIME. Fomer University of Texas student Zach Anner has become the surprise frontrunner to host a show on Oprah's new network.
Anner currently holds first place to host a show on OWN for "people who never thought they could travel." Anner's submission, however, was tongue-in-cheek -- he was born with cerebal palsy and cannot use his legs. Anner calls his condition the "sexiest of the palsies."
Since posting the video, "Zach is Oprah 2 (now with wheelchair and world travel)," on "Oprah's Search for the Next TV Star" website on June 1, it has gained 2.6 million votes and is ahead of the nearest competitor's entry by 1 million votes as of press time.

Anner left town last weekend to go to Oprah's open audition in Dallas but did not receive a callback. Then, after visiting Six Flags Over Texas before coming home, he discovered that his video had experienced a massive jump in votes -- with a personal video response from John Mayer -- and he was being called the "Next Oprah" by bloggers with Time and New York Magazine.
Anner has achieved a degree of local celebrity in his hometown of Austin, TX. While a student at the university there, he hosted a show on the school's television station and nabbed interviews with Bill Clinton and Dennis Quaid. His next planned project? A documentary of him crawling the Austin marathon.
Should Anner remain in the top spot until July 4, he'll go to Los Angeles to compete in the final round for the hosting gig. (You can vote here).
WATCH: Anner's audition tape.
Anner on ABC:
What do you think? Should Anner be the next Oprah?
Calling all HuffPost superfans!
Sign up for membership to become a founding member and help shape HuffPost's next chapter