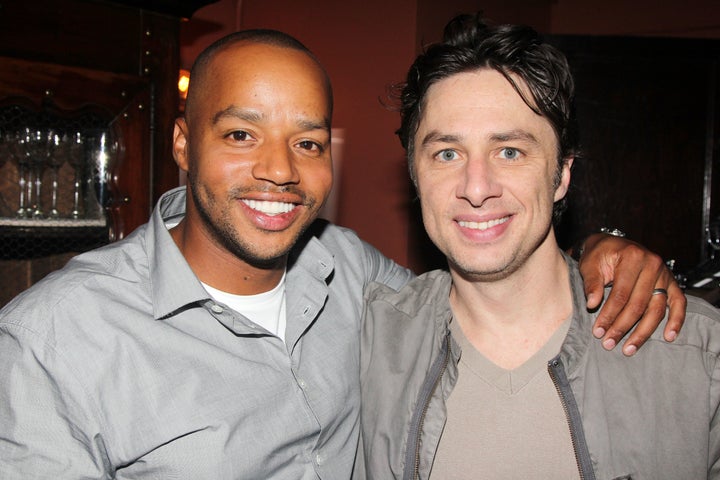 Talking to Donald Faison on the phone is a delightful experience. He jokes, he sings and he even tells you personal stories about his friends.
The Huffington Post got the chance to chat with Faison, known for his memorable roles in "Clueless,""Remember The Titans" and "Scrubs," for his new role as a candyman. Faison is playing a doctor in real life for Snickers, diagnosing people's hunger with the new Snickers Crisper.
Faison ended up revealing that his former co-star and best friend for life, Zach Braff, had one of the most recognizable voices in the entire world record his voicemail greeting.
"My buddy has Morgan Freeman as his freakin' answering machine," Faison said. "I called him and he was like, 'Yo, call me back real quick.' I called him back and it was like [Freeman voice] 'You have reached Zach Braff's voicemail."
Listen below to hear Faison's impression of Braff's answering machine:
UH, Zach -- can we have your number? For research, of course.
Faison has a few celebrities in mind for his own greeting, though he's not sure if their "coolness" would transfer through the phone.
"Who I really want to get to do it is George Clooney, but I don't think anybody would recognize his voice if they called me. [They'd] be like 'Hey, who is that dude on your machine? That's weird.'"
"The Exes" star said another good option -- with a very unique voice -- would be comedian and actor Kevin Hart. Listen to his impression of Hart recording his voicemail message below:
Be sure to check out Faison in his new movie, "The Perfect Match," which hits theaters March 10.
And if you need help choosing a movie theater snack, Faison suggests checking out Snickers Crispers, which are in his words, delicious.
The Huffington Post reached out to Zach Braff for comment on his incredible voicemail message.