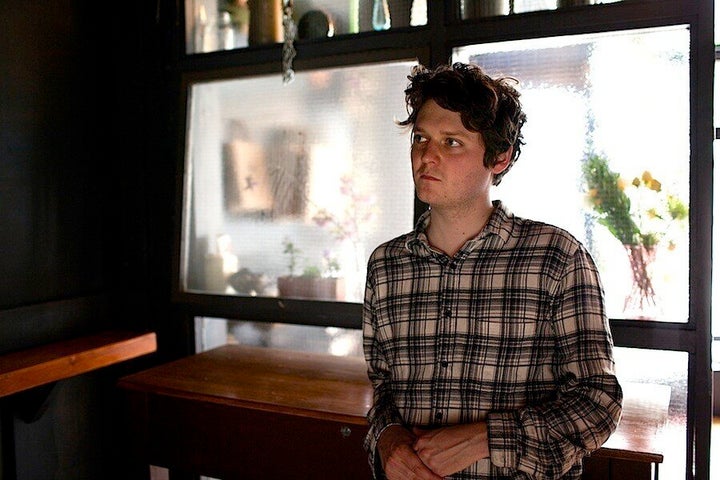 Zach Condon shattered his wrist as a young child, and says he can't play guitar for more than a few minutes without feeling pain. "At a young age, my father sat me down with a guitar and was really intent on me playing it," he said. "But I remember immediately being like, 'I don't like this, I want to play trumpet.'"
The guitar is noticeably absent on most of Beirut's discography, yet he bristled at the suggestion that this was a conscious choice, claiming that "there shouldn't be any novelty in the instruments."
"It's not like I don't use guitar to piss off guitar players, it's nothing like that," he explained. "I just used what was around me, and what happened to be around me was ukeleles and trumpets."
Condon and Beirut's latest effort, The Rip Tide (which is out today on Condon's own Pompeii) will be at once familiar to the band's tenured fans, with its Condon-ian insistence on horns. But it's a pared-down sound that is more readily-digestible by the ever-increasing masses of indie-radio-ready listeners who have by now grown accustomed to the stylings of Condon's peers (the most obvious of which would be Arcade Fire).
The Huffington Post caught up with the indie-folk-pop virtuoso -- who recently admitted to growing more nervous performing live -- at San Francisco's Outside Lands music festival.
"It's gotten easier," he said of performing. "I guess I just hadn't realized how long I've been away from the stage. It had been almost a full year without doing shows, and that was a big shock to the system -- performing for 50 or 60,000 people in Hyde Park with Arcade Fire."
The nerves, of course, weren't wholly negative: "If you use that frenetic energy, it can be very interesting. Like the first time you play a new song live, there's just something very earnest about how the vocals come out."
One might think that an artist as gentle-mannered as Condon would prefer smaller, more closed-in venues. "I used to be a club-only type of guy," he admitted. "But after doing the European festival circuit, being in this weird community of musicians and just running into your favorite bands over and over again and the mob mentality of the audience, I'm split down the middle."
Condon's experiences on the festival circuit beg an easy comparison to his experiences traveling Eastern Europe and studying Balkan folk music, but Condon strives to avoid theoretical concerns while making and performing music.
"I like to take the most naive approach possible," he said. "I really don't want to over-think anything, because that's only ever led to disaster."
His insistence on not "over-thinking" is telling of his calm disposition and heralds the general ethos of The Rip Tide -- immensely agreeable. The album maintains the artfully careful arrangements of Beirut's earlier work, but feels trimmed down -- as though the awe and wonder with which Condon viewed "world" music (Balkan village-folk on Gulag Orkestar and French chanson for The Flying Cup Club) settled into a more comfortable place.
This calming of sorts doesn't make the music any less infectious ("Santa Fe" is especially pop-ready, if not jingly), but rather serves to provide a more narrow set of tracks. (You can read HuffPost's full review of the album here).
What remains to be seen is how temporary this alighting on a more radio-ready sound will last. Condon himself doesn't seem like he's in any hurry to find out.
"I'm going back to New Mexico for some R&R and some green chili," he said. "And I'm pretty excited about that."
Beirut - "East Harlem" (Live)
Calling all HuffPost superfans!
Sign up for membership to become a founding member and help shape HuffPost's next chapter