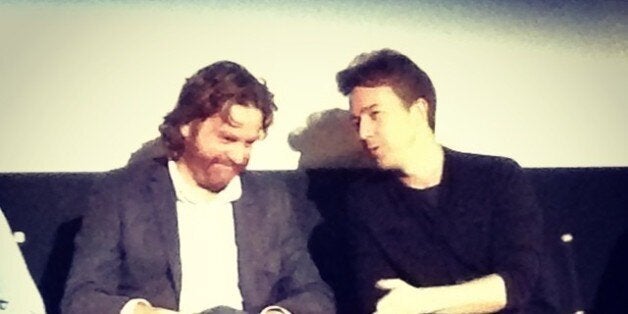 Few people come away clean in Alejandro González Iñárritu's "Birdman or (The Unexpected Virtue of Ignorance)," a scathing satire that takes down Hollywood blockbusters, entitled actors, celebrity culture, entertainment journalism, critics and the entirety of social media with gleeful abandon. There are jokes about Robert Downey Jr., Jeremy Renner and Meg Ryan that leave bruises. A heavy Oscar favorite since it premiered at the Venice Film Festival in August, and this year's closing night selection for the New York Film Festival, "Birdman" sets fire to so many bridges that it's a surprise Dylan McKay isn't the screenwriter. (In fact, Iñárritu, Nicolás Giacobone, Alexander Dinelaris and Armando Bo are the four credited writers.)
The existential tone of "Birdman" extended to the all-star cast during the film's post-screening press conference on Saturday afternoon at the New York Film Festival. Amid shutter clicks and Instagram uploads, Michael Keaton, Edward Norton and Zach Galifiankis grappled with the notion of being celebrities in 2014.
"Being a celebrity is shit," Galifianakis said when asked about blurring the lines between performance and reality for the film. "It's dumb. I'm not interested in it. I like to be an actor and that's it. The blurred lines are, I think, man-made. I think celebrity is a man-made thing. It's not innate in us. We have people telling us we should pay attention to these people for the wrong reasons -- their personal lives and that stuff."
Galifianakis said the cast of "Birdman" -- which also includes Emma Stone, Naomi Watts, Amy Ryan and Andrea Riseborough -- held views similar to his own, before making special mention of his dislike for "picture taking" (an ironic comment considering the audience was busy capturing photos of Galifianakis during his response).
"I'm just being honest," Galifianakis said. "I would rather do my work and go home and watch Lifetime or something."
"I think everybody is kind of a celebrity now. Anybody can be anything," Keaton added. The 63-year-old stars as Riggan Thomson in "Birdman," a washed-up actor who became famous for playing a superhero and now hopes to save his career by putting on a Broadway production of Raymond Carver's "What We Talk About When We Talk About Love." (Keaton, a former Batman, has downplayed the surface similarities between Thomson and himself. "I related less to him than almost every other character I've played, in terms of the desperation," he told Lane Brown at New York Magazine.)
"While [the public is] enamored by it, I guess, and buy magazines, I don't think [celebrity] is a big deal anymore," Keaton continued during the press conference. "I think everybody is kind of their own celebrity in their own head, and they kind of are. We're living in this really weird world where people are everywhere. They're omnipresent."
"I worked with him," Galifiankis joked of the dog. "Great guy."
"Birdman" is out in limited release on Oct. 17.
Popular in the Community