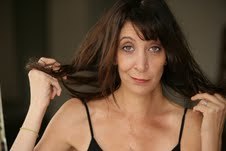 I can usually find something negative to say about most people, but my friend Suzanne Krull Spruyt was that rare human who was loved and adored by everyone lucky enough to meet her.
Almost eight months ago, Suzanne died from a rare connective tissue disorder that she'd been battling all her life. Perhaps that's why she loved life so much; she knew how fragile it is. She could have been bitter and angry, but she wasn't. Far from it.
Against odds that should have crushed her spirit, Suzanne became a great actress, writer, comedian, mother and friend. And she truly lived her life. She loved, performed, parented, lived and napped with an unrivaled passion and presence.
Suzanne's best guy pal, Andy Berman, gave an extraordinary eulogy at her funeral which captured her essence perfectly.
It was impossibly hard to say goodbye to Suzanne. Hundreds of us gathered at Mount Sinai Cemetery three days after she died. We cried and we laughed. How Suzanne's husband, Peter, heartbroken as he was, managed to raise so many laughs in his eulogy I'll never know. He is a stand-up comedian, but his pain and sense of loss was palpable.
Peter told us the story of their first date. It was at a coffee shop. He said he knew he wanted to marry Suzanne after the first sip of his latte. With his usual, perfectly timed delivery, he said, "And I'm a man who takes a year to choose an electric toothbrush." He decided he'd better wait until he'd finished his drink before proposing.
I take some comfort from knowing Suzanne found true love with Peter and they adopted a beautiful baby girl, Harper. So she knew the joy of the love between a mother and child.
"Suzanne was someone I loved more deeply than pre-Suzanne me would have thought possible," said Peter. "At the risk of sounding cliché, she was the missing half of my broken locket. I can't imagine someone being more compatible and perfect. She was my best friend, collaborator and partner. She gave me the happiest years of my life."
Now, Peter and Suzanne's friends in the comedy world want to honor who she was, keep her memory alive and serve the communities she cared about, which has led Peter to produce an annual benefit show in her honor, with a different non-profit receiving the proceeds each year.
By doing so, Peter hopes to regain purpose in his own life and also give their five-year-old daughter a continuing sense of who her mother was as she grows up, so she can take pride in her mom, and carry on seeing her as a role model even though she's physically passed on.
Suzanne always identified with the underdog. The more marginalized, misunderstood and discriminated against someone was, the more fiercely she had their back. So when Peter heard about an underfunded non-profit called Survivors' Truths, which, through their TransYouth Speak project serves transgender youth, it seemed like he'd found a perfect match for the first show.
"Young transgender people face alarming rates of homelessness, bigotry, police harassment, violence, suicide and myriad other problems," said Peter. "This charity gives support to the community through therapists who help them find their way in a difficult world, while empowering them by helping them become effective advocates for their community. As these teens and young adults find their voices, they gain confidence and self-esteem, then they use their new-found skills to reach out to others in their community who need help."

A truly amazing group of performers have come together to honor Suzanne's memory in the show, "Tig Notaro Presents Krullapalooza," which takes place in LA's historic Wiltern Theater on April 1 at 8pm. Joining Tig will be Grammy nominee Patton Oswalt, Andy Kaufman Award winner Reggie Watts and, fresh from his acclaimed interview with President Obama comes Zach Galifianakis, among other great comedians.
You will rarely have so much fun supporting a worthy cause.
REAL LIFE. REAL NEWS. REAL VOICES.
Help us tell more of the stories that matter from voices that too often remain unheard.