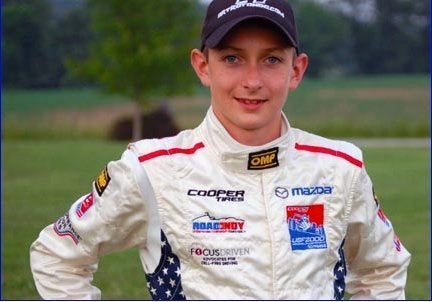 Zach Veach is an Andretti Autosport driver in Road to Indy, a four-tier program designed to take kids from go-karting to full-fledged professional racing. He's teammates with Go Daddy spokeswoman Danica Patrick, one of the sport's biggest names and the first woman to win an Indy car race. And because he spends so much time behind the wheel, he's become a champion for safe driving, as the "spokeskid" for Oprah's "No Phone Zone" anti-texting campaign.
To help further the cause, he recently developed his own Android app, urTXT, which sends an automated reply to any texts drivers receive, letting the sender know that they are behind the wheel and will respond when they get off the road. He's also set to release his first book, a survival guide of sorts for teens.
Oh, and did we mention he's not even old enough to have a driver's license? That's right, the Stockdale, Ohio, native is just 15 years old.
So you're a race car driver who also built an app and now you have a book coming out. All before your 16th birthday.
I saw that with my passion for racing, I could bring awareness to safe and text-free driving. With the book, I was trying to do something that would help people my age who are going through the some things I am.
What inspired the app, urTXT?
There was a crash close to my home in Ohio a few years ago. A 16-year-old girl who only had her license for two months was texting, and she pulled out in front of a tractor-trailer semi. She died in the accident, and I decided I wanted to bring awareness to the cause. Then I saw Oprah's No-Phone Zone, so that inspired me to go out and get signatures from Indy drivers and other people. This year, I have Ziggy's Teen Safe Driving Campaign, which offers seminars about safe driving for teens in cities where I'm competing. I felt if I could bring along a Droid application, it would help get the message even further.
Did you develop urTXT yourself or did you work with developers?
I developed it. It took a couple weeks of learning how to code, but I was really determined to get this out there because I wanted to save lives. There's a website called DroidDeveloper.com where you can download a Droid software development kit, and it has all the tools you need to create an app. I just learned how to do write code from the Droid forms and from doing some research on the Web.
I took it to the Droid marketplace, so once you create your app,, you send it to Droid, they go through it and make sure it abides by their rules and then once they approve it, it goes to the store. It went live in the marketplace in June, and we've sold a couple hundred. It costs 99 cents, and all the benefits go to FocusDriven. We were very lucky to find a group like FocusDriven - they're great people and it's an honor to be a part of the only organization that advocates for distracted-driving victims.
Now, you're only 15 years old, so you don't even have a driver's license. How are you a race-car driver?
There's basically a driver's license for race-car drivers, and we go through a driving test. We go to a track with Indy officials and they see our performance on-track and watch how we handle a car. As long as it's above their standards, they allow you to drive a race car. The only thing different than getting your real license is that we don't have a driver's ed course.
Have you ever driven on actual roads?
It's funny you ask. Yesterday, I was in Washington for a distracted drivers conference, and on the flight home, the right engine of our plane exploded -- something malfunctioned and caused the engine to detonate and quit, so we had to limp back to airport. My dad and I rented a car, and I have my learner's permit, so we took turns driving from D.C. to Ohio. I'm enrolled in a driver's ed course that starts in October, and I'm going to get my driver's license when I turn 16 in December.
Your book will be released this fall. What it is about?
99 Things Teens Wish They Knew Before Turning 16 is kind of like the go-to guide for 16-year-olds. There's a chapter in there about distracted driving, but it's about handling the pressures of being 16 - like how to avoid peer pressure -- and the last chapter is about how you can plan ahead for college. What inspired the book is that I really wanted other teens to have something to look at as a guide. I travel a lot and I've been around a lot of different people, and I use my experience so other teens can just go to the book and see how to handle different situations.
With the app, the racing career and the budding book career, it seems like you're a busy young entrepreneur. Do you have time for friends?
I went to school until 8th grade, when my racing career took off and I had to switch to an online school, but I still have some friends from my old school. I really look to my racing friends more than anything. We all understand each other and we're going through the same things with traveling and racing, and I think it really bonds us together.
Do you come from an entrepreneurial family?
Yes, my dad wrote his own software for my grandma and grandpa's trucking company. From that, he got the desire to go into computers and he started his own computer consulting firm, and now he has clients all over the U.S., so I kind of just took after him and I wanted to work as hard as he did.
Name: Zach Veach Company: urTXT Age: 15 Location: Stockdale, Ohio Founded: 2010 Employees: None 2010 Projected Revenue: Undisclosed Website: www.zachveach.com
The original version of this article appeared on AOL Small Business on 9/23/10.
REAL LIFE. REAL NEWS. REAL VOICES.
Help us tell more of the stories that matter from voices that too often remain unheard.