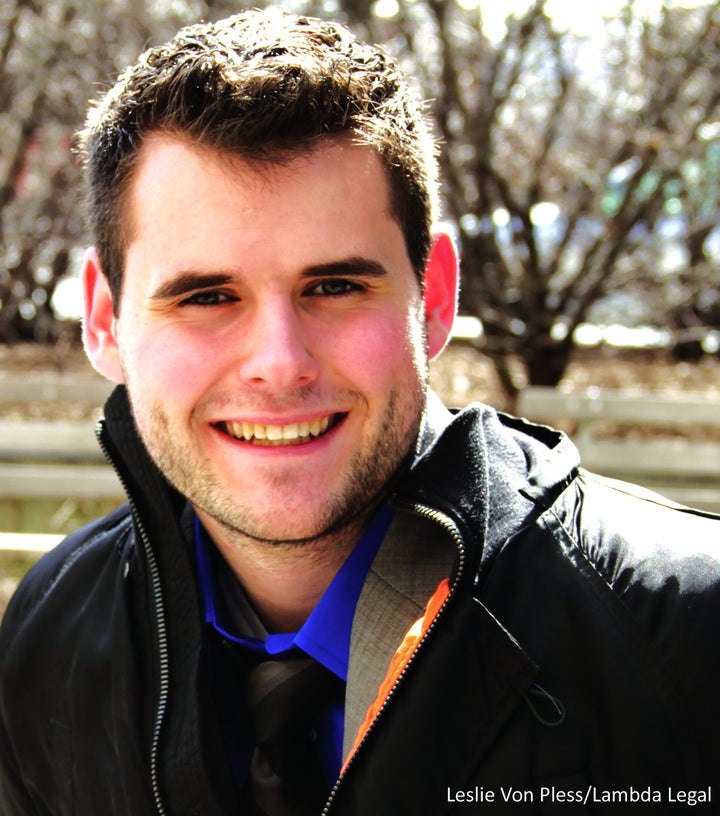 WASHINGTON -- You may not recognize him by name, but Zach Wahls is known by millions as the teenager who gave powerful testimony to an Iowa House committee in January 2011 in support of his two moms. The video of his speech became the top viral political video of 2011 and landed him TV appearances with Ellen DeGeneres and David Letterman, among others.
Now 20 years old, Wahls has written a book, traveled the country talking about the struggle for LGBT equality and, this week, taken his cause to a new level: meeting with members of Congress to win their support for families like his.
Wahls, who is also a Huffington Post blogger, said his goal wasn't so much to get lawmakers to sign on to specific pro-LGBT bills (though their support is encouraged) as it was to give them living proof that kids of same-sex parents are just like kids who are raised by a mom and a dad.
"It might seem obvious to people our age, but in terms of these fossils in the Senate, maybe not so much," Wahls said in an interview this week with HuffPost. "I mean seriously, the average age of a U.S. senator is what, 68? It's up there, you know?"
Wahls spent this week leading a delegation of LGBT families to Capitol Hill, where, in an event organized by the Family Equality Council, they held more than 80 meetings with lawmakers to either thank them for their support on pro-LGBT bills -- they discussed bills addressing same-sex adoption and safe schools, as well as repealing the Defense of Marriage Act (DOMA) -- or to urge them to sign on to those bills. The Family Equality Council represents one million LGBT parents and their two million kids.
"We're having conversations from the perspective of saying, 'Look, these are real families, these are real people,'" he said. "These policies have very real impacts on our lives."
During his Hill visit, Wahls met one-on-one with his Iowa representatives, Rep. Dave Loebsack (D) and Sens. Tom Harkin (D) and Charles Grassley (R). While all were receptive during their conversations, he said Grassley was the only one who wasn't supportive of the various pro-LGBT bills. That didn't bother Wahls, though.
"My biggest concern wasn't walking away with policy commitments, but making sure he had a space where he could ask me questions about what it was like growing up with lesbian parents," Wahls said. When Grassley said he'd seen studies emphasizing the importance of a child having a father, Wahls countered that data has changed and that the most important thing is having a parent or parents of either gender "willing to put in the blood, sweat and tears" to shape a child into a well-adjusted adult.
"He nodded. I don't think he'd necessarily thought of it like that before," Wahls said. "He's 78 years old. He's been in the Senate for 31 years. Definitely, I think this is another perspective in his case."
Grassley spokeswoman Jill Kozeny said the senator enjoyed his talk with Wahls, despite their differences of opinion.
"Sen. Grassley met yesterday with Zach Wahls. Zach is impressive and represents his point of view well. Zach talked about his family and shared personal experiences. He and Sen. Grassley discussed foster care policies and education issues. They have a different point of view on traditional marriage," Kozeny said in a statement.
Asked how his family has been affected by federal laws like DOMA, which bans same-sex marriage and prevents same-sex couples from accessing more than 1,000 financial and legal rights that come with marriage, Wahls' otherwise enthusiastic tone softened.
He recounted an incident in 2006 when his biological mother, Terry, was in "debilitating pain" stemming from having multiple sclerosis. When Terry and Jackie, Wahls' other mother, arrived at the emergency room, the doctor would not listen to Jackie's explanation of what was happening since she wasn't recognized as Terry's legal spouse. Wahls said the result was that Terry, who was in too much pain to make her own medical decisions, endured "the single most painful night of her life" as the doctor put her through an MRI and other tests to determine what was happening, instead of giving her medicine to treat what was a bad episode of MS.
"This night of pain that she went through in the ER happened because ... Jackie, who was there and is a nurse practitioner and had been Terry's partner for a decade at that point, didn't have any medical decision-making authority," Wahls said.
"The doctor said 'you're a stranger' to Jackie," he said. "The doctor didn't care that they were partners. And here's the thing: It was all legal."
Iowa has since passed same-sex marriage into law, which means that should the same incident happen again, Jackie would be able to make medical decisions for Terry on the spot. But that protection is only in effect if they stay in Iowa, or if they move to the handful of other states that honor out-of-state same-sex marriages.
Wahls never planned to become an LGBT rights advocate. He was studying civil engineering at the University of Iowa when he decided he would testify before the House committee. He ultimately wants a career in renewable energy. He wants time with his friends back in Iowa, who he now rarely sees since he travels so much. But he said he was moved to withdraw from college and get involved in advocacy work after the "overwhelming response" to his testimony.
"I don't expect to do this for the rest of my life or even for the next five years. But certainly for the next 12 months, next 18 months," he said. "This is a very important time for LGBT rights ... and what stands to be gained or lost the next year and a half."
His book, called "My Two Moms," is focused on the values his moms taught him growing up and is structured around the 12 tenets of Boy Scout Law. Wahls listed off all 12 tenets by memory: trustworthy, loyal, helpful, friendly, courteous, kind, obedient, cheerful, thrifty, brave, clean and reverent.
"I could do that in my sleep," he said. "Each chapter is an examination of that value and how I learned that from my moms."
His book couldn't have come out at a better time, in terms of the national discussion on LGBT issues: It was published two weeks before President Barack Obama endorsed same-sex marriage, which has already spurred action on Capitol Hill and forced LGBT issues into the spotlight on the campaign trail.
As presidential campaigning picks up in the coming months, Wahls says he'll be looking for a new attitude from presumptive GOP presidential nominee Mitt Romney, who opposes marriage equality and, in an apparent flip-flop, now also opposes gay adoptions. Wahls said one of his most vivid memories growing up was watching Romney at the 2004 Republican convention laying out reasons why children need a mother and a father.
"I will never forget being in eighth grade ... watching those politicians make those statements about my family. And it was hard. I mean, talk about emotional trauma. This is bullying," Wahls said. "As long as they're going to ... make that the official position of the Republican nominee for president of the United States, families like mine are going to hear that. It's going to be a very real part of our day-to-day life."
"At least President George W. Bush supported civil unions," he added. "Mitt Romney, not so much."
This story has been updated with comment from Sen. Charles Grassley's spokeswoman.
Popular in the Community