 "I have a bruise wall," Zach Woodlee, "Glee" choreographer, tells us from a "Glee Live" tour stop in New Jersey. "It's where we showcase everyone's injuries."
Those injuries are abundant on the set of "Glee," where the cast has to learn and perform new dance numbers weekly to suit the pace of the hectic television show. Woodlee, who is also working with Oxygen's "The Glee Project" to find and train a new star for the show, gleefully shared shared with us some of his favorite cast injuries, including wheelchair mishaps and how show creator Ryan Murphy's whims sometimes put him in a panic.
Amber Riley's Wheelchair Accident
"In Wheels, my favorite injury was Amber. We had to go through multiple sets because of the ramps we used and on some of them you gain so much speed going down that the wheel becomes like flames on your skin. When you're in the chair you forget you can stand, and so Amber is going down a ramp and the wheel hits the lip, and it's like slow motion panic on her face where she realizes 'Yes, this is going to happen' and then she falls into the crevice."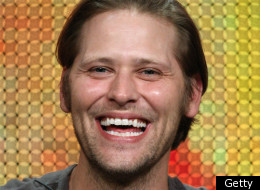 Lea Michele Takes A Tumble
"Lea banged the back of her head really bad in a wheelchair too. Some of the chairs have stoppers on them so you can pop a wheelie like Kevin does. Lea assumed hers had one and she goes "look at me" and tried to pop a wheelie, but instead she flipped backwards and landed in a snow angel position."
Dianna Agron's Mistake Requires A Costume Change
"For one scene, Dianna was trying to run through an aisle where we'd removed some of the chair to make it bigger, and of course the one screw sticking up found Dianna's foot and she goes tumbling like 3 or 4 feet and rips up the front of her knee. We had to put her in long dresses for a bit."
Chris Colfer's Roller Skating Injury Made Scenes Difficult
"Cutting a dance scene is a rarity. The writers are usually very specific and know in advance what they want. [One specific scene that was cut after choreography and filming was a number in the first season featuring Chris Colfer and the Cheerios]. That number was hilarious, I can't remember too many specifics because it feels like 10 year ago. I do remember there were a lot of megaphones in the number and we had issues with them. Chris had hurt himself because we'd just filmed a roller skating scene. That's Ryan for you, he suddenly tells you everyone needs to be on roller skates and I'm like 'But some of them can't skate!' Plus I'm trying to keep them safe and get them to nationals. But Chris had injured his wrist and we had to cheat around that in the scene."
To see more of Woodlee tune into "The Glee Project" Sundays at 9 E.T. on Oxygen.
Popular in the Community