 As any fan of "The Glee Project" knows, Zach Woodlee might be the smiliest person on TV. But it's not like the "Glee" choreographer can help it. "I have so many photos of me where I'm laughing like a crazy person," Woodlee told HuffPost TV. "I don't know what it is, but I just go with it."
For years Woodlee has been churning out high-energy dance numbers for Fox's hit comedy "Glee," but lately he's been bringing his enthusiasm to the set of Oxygen's "The Glee Project." The search for the next "Glee" star hasn't been easy, especially when the remaining five -- Aylin, Michael, Lily, Ali and Blake -- all "deserve to be on the show," according to Woodlee.
HuffPost TV caught up with Woodlee -- after his morning "Glee" rehearsal -- to talk about the remaining "Glee Project" contenders, his infamous "Bruise Wall," what it's like to work with Ryan Murphy and why "Glee" Season 4 feels "like the beginning again."
How does it feel being the most smiley person on TV?
[Laughs.] Oh God. I can't even tell you the anxiety I get from being around those cameras!
Is that why you laugh so much? You're just really nervous?
In general, I tend to laugh too much. I always try to tell myself not to, but I think that's just part of getting through the job. It's not rocket science. I want to have a good time!
Have you seen the gifs of your laugh that fans have made?
Someone sent me two of them, and it was sort of mortifying. But it's funny because I've been doing this for years. I've spent every single Christmas since I was tiny -- I literally have a photo with Santa where I'm doing it -- and practically every birthday just laughing like a crazy person. I don't know what it is, but I just go with it.
Heading into Tuesday night's episode, there are only five contenders left: Blake, Aylin, Aly, Lily and Michael. What do you think each hopeful can offer "Glee?"
As we're going through the process, for Robert [Ulrich], Nikki [Anders] and I, nurturing them has always been the goal. They all deserve to be on the scripted show, and they all could be on the show. It's bittersweet looking back at the whole competition, but these five all have the drive. They all want it, and they all have the talent. It's going to be about seeing who can put it over the edge.
Blake: I think Blake is definitely a frontrunner. He's sort of the sleep cell, who gets better and better. He's fascinating to watch. He doesn't like to cater to anything that he considers weak about himself. He puts on a game face, and you would never know about his anxiety. He's just like all of us; we don't really know what we're doing, but let's just keep going and see what happens.
Ali: To me, Ali is a professional. She gets it before you even have to make a correction. She's extremely aware. I think that's partly the reason she got so far. She knows how to make everything work in her favor.
Lily: What Lily has going for her is her absolute, unabashed bold self, and that will take you pretty far. Ryan [Murphy] loves a diva! He loves a strong opinion, and that's what Lily has, and I think that has not only helped her in this competition, but it's also helped her in her life. Lily's story is, "Look at me. I'm beautiful, and I'm a big girl who can do it all." She has a lot of self-confidence.
Michael: Michael is so interesting! Did they even say on the show that his mother sent him a care package with calculus books? He loves math! It's really charming. I don't think they've shown enough of his quirks. Ryan at one point, compared Michael and Blake, and it's funny because I tried early on to pair those guys up and see who was stronger than the other. In the "Dance-Ability" episode, I intentionally put those two next to each other. I thought that one of them would shine and one of them would fail, but then they turned out to be the best two people there! I think Michael is the underdog. He's one of the least experienced, but his ability to pick things up quickly is what got him this far. Every week, he gets better and better.
Aylin: Sometimes television eats the life out of a live performance, but Aylin has a way to pierce through you. She's so accessible. On the show, they really haven't painted her as accessible as she really is. When she sings, she will get into your soul, and it's amazing. When you're around her, there's a spark. She was my pick during callbacks. I knew that she was a star. There's something about her that makes you go, "Oh my gosh. You're incredible!" You just gravitate toward her.
I know that you have a "Bruise Wall" for your "Glee" actors. Did you have one for "The Glee Project" contenders?
No, there wasn't a wall, but there were definitely injuries! I don't think that viewers ever saw Shanna's kneecap injury. It wasn't during dance rehearsals -- thank God -- but she fell up the stairs and shattered her kneecap. The next time I saw her, she was like, "Feel my knee," and you could literally push parts of her kneecap around. She was wearing that knee brace and doing everything with a broken kneecap!
What's it like working with Ryan Murphy?
[Laughs.] Working with Ryan ... in the weirdest way, it's inspiring. From the pilot, when I went into the interview, I knew that what you see is what you get with Ryan. We both have strong opinions. Sometimes people come into contact with him and they feel more intimidated than they should, and Ryan doesn't really respect that. He loves a strong opinion. I don't feel bad if I tell him I disagree with him, and we'll work through it.
I think you see that play out on "The Glee Project."
And they haven't even shown everything! We bicker.
Was there one contestant that was sent home that you thought went home too early?
The top six or seven -- I love them all. Nellie and Shanna were very difficult for me to say goodbye to. With Nellie, we were always trying to pull her out of her shell. She was just really uncomfortable, and at a certain point, it seemed unfair to some of the other contenders. It's not that we were holding her hand throughout the process -- and in a way, we were -- but we needed her to take that final step and it just never happened. I love Nellie. Her voice is insane, and I think that her naivety and the way that she was in front of a camera read as this innocent youth. She was like a real-life Rachel Berry.
I know that you're in the middle of shooting "Glee" Season 4.
It's different now. There's new storylines. I still see them, and we still have big group numbers, but as far as what that initial group was, that will never happen again. That's a bit of a legacy. I think what stung was in the finale, when the original five explained "Sit Down, You're Rockin' the Boat" to some of the new members of New Directions. That was my final rehearsal of Season 3, and for us, it was strange because that was my very first rehearsal for the pilot. Kevin [McHale] was like, "Oh my gosh. This is when we met." That was the first day that I met Kevin, Amber [Riley], Lea [Michele], Jenna [Ushkowitz] and Chris [Colfer]. We all just sat there and started crying!
We know that there's going to be another Britney Spears tribute this season. What can we expect?
There's a lot in this Britney episode. It opens up with a huge number. That's actually what I'm going to rehearse now! I'm very excited about it. It's kind of mixing things that we're never done before.
Are you excited to work with the new members of New Directions?
Just wait! One of the new characters came in, and we did a dance evaluation. This person was like, "I can tumble," and started to do flips for me. And one was like, "Oh, I can tap dance!" My jaw dropped. I was like, "Oh my god. I have someone on New Directions who can really dance, besides Heather [Morris] and Harry [Shum Jr.]. This is amazing!" We've been shooting now for a couple of weeks and seeing the new group form has a whiff of the beginning again. There's a new magic. It feels fresh again. Seeing all of these new faces and incorporating the ones that we already have, it's a new fiber in the show. And then we have Lea and Chris' storylines. I'm really excited!
Now that Rachel is in New York, will we see you pop up in "Glee" as a NYADA choreographer?
I seriously doubt that I would be on the scripted show. [Laughs.] I love being behind-the-camera. I would be like, "You guys, I don't know what's happening. I can't be here!" Rachel definitely has some dance classes, and her teacher is stellar. She's got a good teacher!
I hear that you're finally getting a Twitter account this week. Now that Ryan Murphy is on Twitter, did you feel the need to get one too?
Oh god. Lady Murphy on Twitter? Maybe the Mayans were right and the world really is going to end soon! Once I can verify my account, I will have a Twitter.
"The Glee Project" airs on Tuesdays at 10 p.m. ET on Oxygen.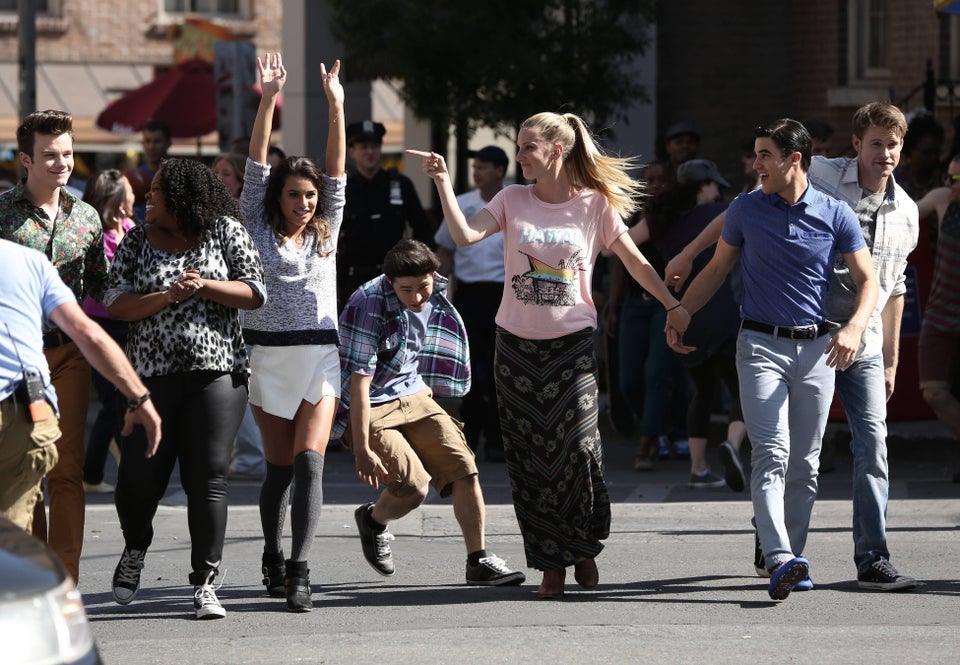 Glee Episode Stills
Related
Popular in the Community