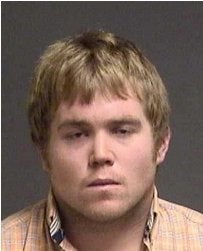 When your mother said you should call her more, this wasn't what she meant.
Zachariah Dalton Howard, 22, allegedly tried to rob a convenience store in Niceville, Fla., the Sun Sentinel reported, then phoned his mother for a ride home.
Deputies say Howard waltzed into Thumbs Up Convenience Store at around 10 p.m. on Dec. 22 and told an employee that he had a gun, though he didn't actually produce one, according to a release from the Okaloosa County Sheriff's Office. However, the clerk showed him an empty cash register drawer, and Howard, defeated, left the store and called his mom to pick him up.
Howard allegedly told authorities that the attempted robbery wasn't premeditated, and that he just came up with the idea while walking to the store. He also said he did not really have any weapons with him.
Dalton was arrested Saturday and was charged with one count of robbery.
CORRECTION: A previous version of this story incorrectly stated that Howard called his mother from the police station. He called his mother for a ride immediately after the alleged robbery attempt, from a nearby store.
Popular in the Community