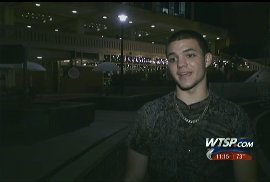 University of Florida student Zachary Garcia was appalled when a Google search of his name yielded a photo of his driver's license linking him to a murder he didn't commit, reports CBS News. The UF freshman's information was released instead of Zachery (spelled with an e) Garcia's, who was actually implicated in the charges.
In September, two Florida teens broke into a home in an attempted robbery, while two stood guard outside. One was shot by the homeowner, and later died from the wound. His subsequent death left the three others, including Zachery Garcia, accused of felony murder.
Zachary Garcia contacted the Polk County Sheriff's office upon discovery of the egregious error -- officials have since corrected their mistake. In an interview with WTSP, Garcia stated, "I was just very shocked to find my picture and the article saying that I was convicted of a felony murder charge," adding that he was angry that "someone put my name up there and said I did something I didn't do."
Garcia went on to say that he harbored no hard feelings against the sheriff's office, but after initial fears of expulsion and losing his two jobs, he would like an apology:
"Everybody makes mistakes. I work at Publix and might get somebody's sub wrong. But for somebody to get (the photo of a suspect) wrong...it's not a sandwich, it's somebody's life you're playing with."
Meanwhile, Garcia and his mother are no working to clear his virtual name.
Below, Check out WTSP's coverage of the incident:
What do you think of this crazy mix-up? Let us know in the comments section.

REAL LIFE. REAL NEWS. REAL VOICES.
Help us tell more of the stories that matter from voices that too often remain unheard.