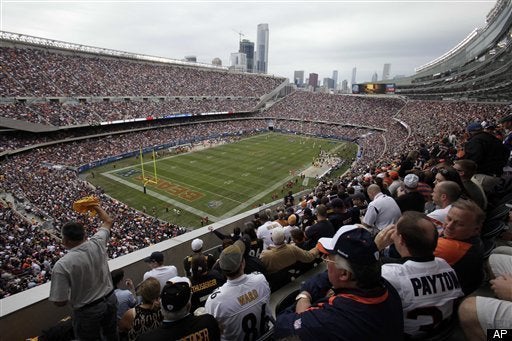 A Pittsburgh man in town to watch the Steelers play in September says he had to be rushed to the hospital on the verge of death after accepting a drink from a Bears fan.
Police are investigating whether Zack Heddinger was drugged or whether his drink was spiked at Kitty O'Shea's bar where he and some friends went after watching the Steelers lose to the Bears 14-17 at Soldier Field Sept. 20.
Heddinger said he doesn't remember exactly what happened, except that he accepted a drink from a Bears fan after an argument.
"Basically, I guess, my buddies had gotten into an altercation and they offered a drink as a peacemaker from what I understand," Heddinger told ABC 4 Pittsburgh.
Not long after, he says, his friends had to rush him to the hospital. Heddinger could not see and his heart stopped and had to be restarted four times.
At first, doctors thought he had had too much to drink, but eventually they feared something more nefarious was at work, perhaps antifreeze or toxic grain alcohol.
They weren't sure he would make it and his family raced to Chicago to be with him.
"I literally watched him say, within a matter of hours, 'I'm getting really scared. I can't see anything,'" Heddinger's sister Lisa told ABC 4.
Heddinger survived but two months later his vision still hasn't returned. He's undergoing oxygen treatments to try to restore his eyesight.
Police are checking the bar's video cameras to try and identify a suspect, but no one is yet in custody. A spokeswoman confirmed that an aggravated battery complaint was filed Oct. 22 and the investigation is ongoing.

Kitty O'Sheas is in the Hilton Hotel in the South Loop, not far from Soldier Field and is often a crowded post-game spot.
Hilton spokesman Robert Allegrini said the hotel is cooperating fully with the investigation. He could not confirm whether police had been by to see surveillance tapes or whether anyone with the hotel had spoken with Heddinger.
Heddinger has hired an attorney but is waiting for the police to conclude their investigation before deciding what more to do, Fox Chicago reports.
"I don't think they tried to kill me," Heddinger said. "I think they tried to hurt me, but the killing came pretty close."
Related
Popular in the Community