Zackary Drucker is a transgender performance artist who breaks down the way we think about gender, sexuality and seeing. The artist uses a female pronoun, and through her participatory pieces she complicates established binaries of viewer and subject, insider and outsider, and male and female in order to create a complex image of the self.
"The Gold Standard" is a collection of Drucker's projects, including performances and photography, documentation and exhibitionism, and combinations of the above. In one featured collection, entitled "Distance is where the heart is, Home is where you hang your heart", Drucker, a trans woman, and Amos Mac, a trans man, journeyed back to Drucker's childhood home of Syracuse, New York. As Michelle Tea put it: "There is so much going on here it's insane." To find out more, we asked Drucker and Mac some questions about the work, which we saw at Volta in New York last month. Note: the slideshow contains images that are definitely NSFW.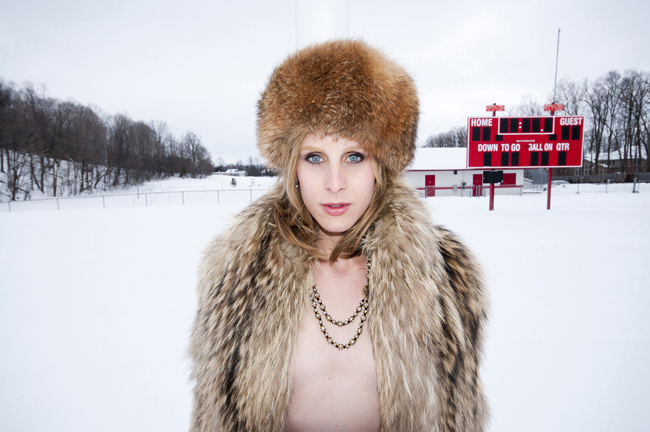 Zackary Drucker and Amos Mac, "Distance is where the heart is, Home is where you hang your heart," #13, 2011, digital pigment print, 36 x 54 in, Courtesy of Luis De Jesus, Los Angeles.
HP: Zackary, the collection 'Distance is where the heart is, home is where you hang your heart' was taken at your childhood home in Syracuse. What was the shoot like for you on an emotional level?
ZD: It was revealing, though simultaneously liberating to so directly address my history, or my place of origin. I've been thinking a lot about time and the infinite possible outcomes, and directions, our lives take. My childhood seems absolute and fixed, it has already happened. My childhood has left residual traces on my body and psyche as it is now, and the future has yet to be determined. I was thinking a lot about this, about returning to a place where I've always been, where I've always remained, but as a different person every time.

HP: Does Syracuse feel like home?
ZD: My body feels like home.
HP: How did you feel about the shoot emotionally, Amos? Does Syracuse have a significant meaning to you?

AM: Syracuse didn't hold a significance for me until after going there to shoot with Zackary. At this point all of that has changed. I have very strong feelings and memories for the short time I spent in Syracuse. I'm not the most emotional person in my day to day life, but when it comes to my art and the history of specific bodies of work or photographs I've made, there's a lot of emotion surrounding all of that. Sometimes positive, sometimes negative.
This shoot was very heavy for me, I felt it especially when it was over and I went back to my (then) home in San Francisco. Heavy in a good way. I was so drained that as soon as I returned home I had a run-in with a ghostly apparition in my haunted bedroom.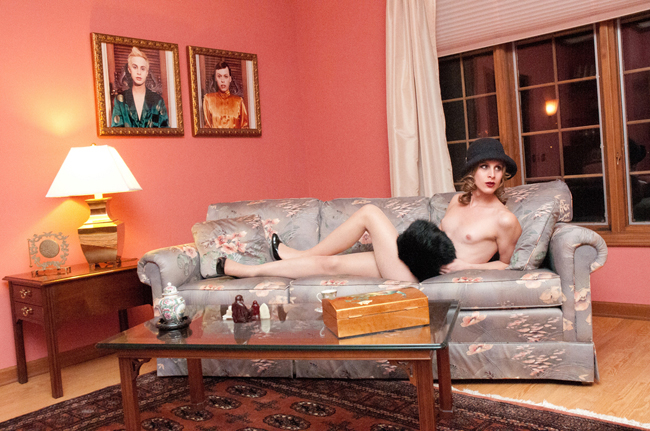 Zackary Drucker and Amos Mac, Distance is where the heart is, Home is where you hang your heart, #19, 2011, digital pigment print, 11 x 16.5 in, Courtesy of Luis De Jesus, Los Angeles.

HP: Zackary, your work combines elements of glossy fashion spreads and confrontational, even violent, performances. What do you think is the relationship between violence and glamour?

ZD: Well there is a tremendous amount of masochism attached to (the moving target) of beauty / glamour. The physical ramifications of this are obvious, but the deeper impact is the psychological admittance or desire for self-improvement, of feeling flawed. We are immersed in a culture that tells us we are forever inadequate. That we need to buy a zillion things to improve our veneer. I am in touch with my darkness, a certain amount of which comes from living in a world with a rigid gender binary that has always seemed at odds with my self-image.
My work has offered a platform to exorcize my struggle with self-acceptance. Fashion, on the other hand, is about seeing oneself differently; it's about reinvention. My work is a process of (self) deconstruction and reconstruction. It may have not been my and Amos' intent to create a fashion editorial, but we were working with the tools at hand. The clothes I was wearing were whatever we could glean from my mother's closet, or things my Aunt Suzy saved for me, or even things that had belonged to my grandma. My experience on some level was of emulating my female archetypes, of seeing myself a part of this lineage of women.
This is still a revelation for me. I'm still relatively new at being a woman; compared to other 28 year-old women who have had 15 years of experience, I am a totally new woman. I have never had the opportunity to perceive myself as worthy of a fashion photo-spread. I have never perceived myself as beautiful. Who does? I was a man, albeit an androgynous one, five minutes ago. Also, the initial format of the publication ("Translady Fanzine") seemed conducive to playing with these tropes of fashion, of re-imagining oneself with the tools at hand, but the content is totally different.
HP: What, if any, is the rupture between the queer movement and the transgender movement?

ZD: Well I see them as one in the same. I have always identified as a queer, as early as 14, I still do. Queers and trans people are working towards the same goals. I think the deeper schism is between the gay community and the queer/trans community. As gay advocacy groups assert an assimilationist agenda, they are making themselves less relevant, erasing the radical elements of our composition. I'm sure in hindsight years down the road, this will seem like a totally necessary component towards broader acceptance of queers. The issue for me is that there is a major difference between one's sexual orientation and one's gender orientation. Trans people have been tagged onto the very end of LGBT, and remaining consistent within that order, it seems as though our needs, too, come last.
The struggle for gay rights is well established, but many people still don't know that Transgender people exist. I see the struggle of trans people equally connected to gay rights as it is feminism, or even more so than gay rights, as it directly confronts gender inequality. Gender and sexuality are two distinctly separate things.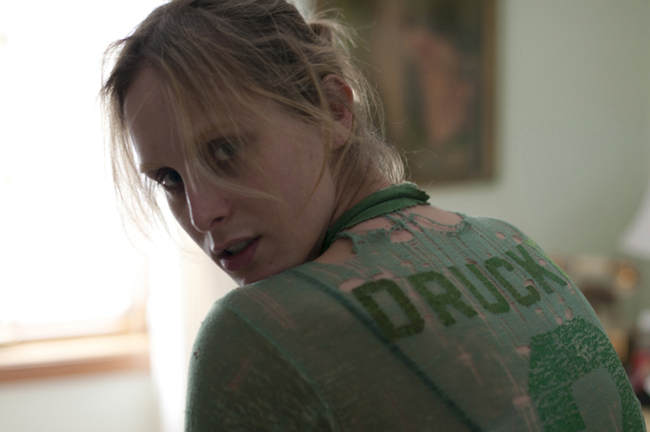 Zackary Drucker and Amos Mac, "Distance is where the heart is, Home is where you hang your heart," #1, 2011, digital pigment print, 36 x 54 in, Courtesy of Luis De Jesus, Los Angeles.
HP: Do you see performance as a outlet separate from your daily life? How entwined is the idea of performing gender involved in your life day to day?
ZD: It is totally integrated. I felt at some point, maybe five years ago, that my work was about constructing a feminine self that was too removed from my daily life. It has been my most epic piece to bring these two things things, life and art, together.
AM: I don't identify as a performer but as an artist, which is a performance in regards to how I relate to the outside world. When it comes to my artwork, I approached Zackary about collaborating with me for "Distance is where the heart is" and "Translady Fanzine" because I had seen her films and video footage of performances. I wanted to make something with another trans person who would go beyond the regular "model" or "posed" photographic scenarios I was used to. With Zackary, I learned a lot, and I also felt at home with this shoot. I think there is a difference between a "photograph of a person" and a "performative photograph."

HP: What work of art inspires you?
See Drucker's works below, and let us know what you think in the comments section.
PHOTO GALLERY
zackary drucker
Calling all HuffPost superfans!
Sign up for membership to become a founding member and help shape HuffPost's next chapter
BEFORE YOU GO