Haitians like Jean-Patrick Lucien are one reason Zafèn, a new online microfinance program targeting small- and medium-sized businesses in Haiti, has been so successful. Action-oriented people like Chicago photographer Jennifer Girard are another.
Zafèn is marking its six-month anniversary in October and has already amassed an impressive track record of success. It has raised $140,000 in loans and donations that have funded 300 projects.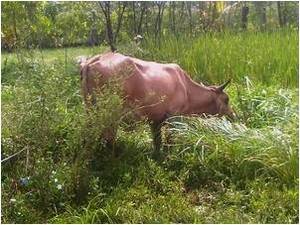 Establish cow breeding - single cow loan: $375.
Zafèn provides access to capital for initiatives that will have a positive impact on Haiti's economy through a loan or donation that results in new employment, operational efficiencies and environmentally friendly measures. It was founded in April 2010 by the International Vincentian Family, DePaul University, Fonkoze, and the Haitian Hometown Associations Resource Group (site).
Lucien is a co-founder of the Ile-a-Vache Development Group in Haiti. The organization's initiative to recycle coconut husks and other organic waste into charcoal as an alternative fuel was the first project to receive funding through Zafèn.
A computer engineer who grew up in Haiti but stayed in Boston after earning his college degree, Lucien said, "Having spent over 15 years in the private sector in the United States, I realized that as a Haitian, I could not go back to do charity work. We started working with Haitian youths and helping them start their own businesses."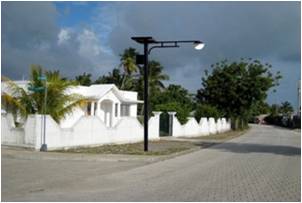 Lamp post installation in Port-au-Prince: $1,400.
The charcoal project has proven to be an effective approach. "The greatest impact is that we are hiring young, educated people who were leaving the island, and now they see a reason to remain," he said.
The project's ultimate goal is to create a viable business that will generate at least 50 jobs and become a replicable franchise that provides training, marketing and operations support.
Lucien perseveres despite obstacles, human and natural. "The first try has been difficult," he said. "We trained a few people, but some have left to take other jobs. The program started around the summer time, but we have been slow in production because there was no way for people to harvest coconut during rainy season. We are now putting all the pieces in place, hired a manager to start production, and our focus is on supplying charcoal to schools on the island."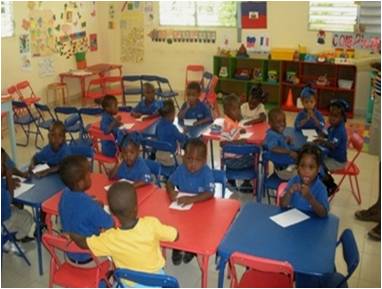 Fondation Reves et Action - sponsor a child's education for one year: $150.
Charcoal isn't the development group's only project. It established a small school, Ecole du Village, and is teaching kids about Haiti's fruit trees and how to produce fruit that will improve their nutrition. The school received a $1,100 donation through Zafèn to repair a cistern as a source of clean water.
To generate pride among the island's 15,000 residents, mainly fishermen and farmers, Lucien said, "We wrote a book called 'I Love Ile-a-Vache' and distributed it to all the schools so the people could appreciate their own history."
Katleen Felix, president for the Haitian Hometown Associations Resource Group and Diaspora Liaison at Fonkoze, mentioned to me that "there are many Haitian Hometown Associations in the Haitian Diaspora around the world who are engaged in similar activities. They are financing education, health, and small businesses in their hometown. With Zafèn, some of them will find additional support for their grassroots projects and valuable technical assistance"
Non-wood -- coconut shell -- charcoal production recycles organic waste and helps deter deforestation.
His work is noble, but wouldn't be possible without financing from people like Girard, a well-known events and celebrity photographer, who represents the flipside of the equation: lenders and donors seeking an effective way to support Haitians.
"I had been to Haiti for carnival and vacation," she said. "After the earthquake, I felt I had to go there, but I knew that was crazy."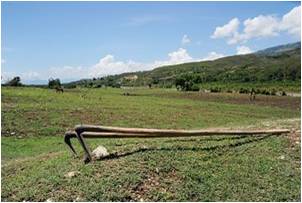 Mouvement Des Agriculteurs Pour le Developement - help purchase seeds - $2,000.
By happenstance, she was hired to photograph Zafèn's launch at DePaul University and was hooked immediately. "I felt like it was a Godsend that Zafen came into my life."
She took a photographic journey to Haiti in May 2010 to chronicle the business conditions and economic opportunities for artists recovering from the earthquake, restaurants switching to propane ovens from wood-burning stoves to prevent deforestation and buying freezers to save on daily ice costs, along with farmers planting new crops in remote villages.
"Visiting was the key for me," said Girard, who added "Save Haiti's Children" and Zafèn's Web address to her business cards to spread the word. "I saw the strength of the people. They were so sweet. The children didn't even know how to open a candy wrapper."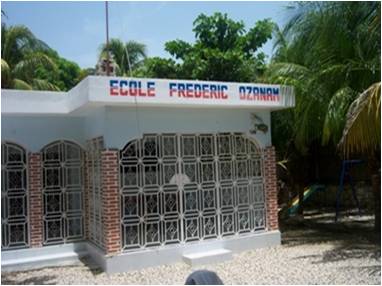 Daughters of Charity / Ecole Frederic Ozanam, educating "Restavek" children : $500.
The experience shifted Girard into high gear. She created a team on Zafèn's website and used her skills of persuasion to negotiate deals with clients to fund projects she selected, the first of which was to buy a water pump to irrigate cropland. The village received the structure to hold the pump several years prior, but was unable to afford the pump, so it sat unused.
Girard's clients reacted generously by joining her team on Zafèn, buying photos she took on her trip and Haitian art she brought back to raise funds for loans. So far, her team has loaned more than $5,300 to 14 projects. Her latest target was a group of women farmers starting a tree nursery. It was funded in record time.
"These are small loans. That's my cup of tea," Girard said. "I have a great life; I'm not in debt. I can help someone buy seeds or paintbrushes for artists."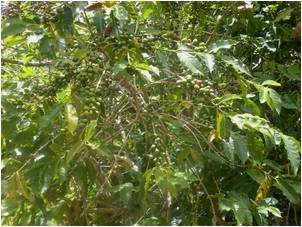 Increasing coffee production for Cooperation Agricole Cafeiere Casanette: $1,000.
The same is true for Lucien. He lives in Boston, telecommutes to Haiti daily via phone, Skype, and e-mails, then makes personal visits three to four times per year, all to support development that reduces poverty, increases literacy, and protects the environment of his homeland.
Note: I will be moving in December to Léogâne, Haiti - epicenter of the earthquake -- as the first anniversary approaches Jan. 12. I will visit several Zafèn projects during my stay.
Related
Popular in the Community