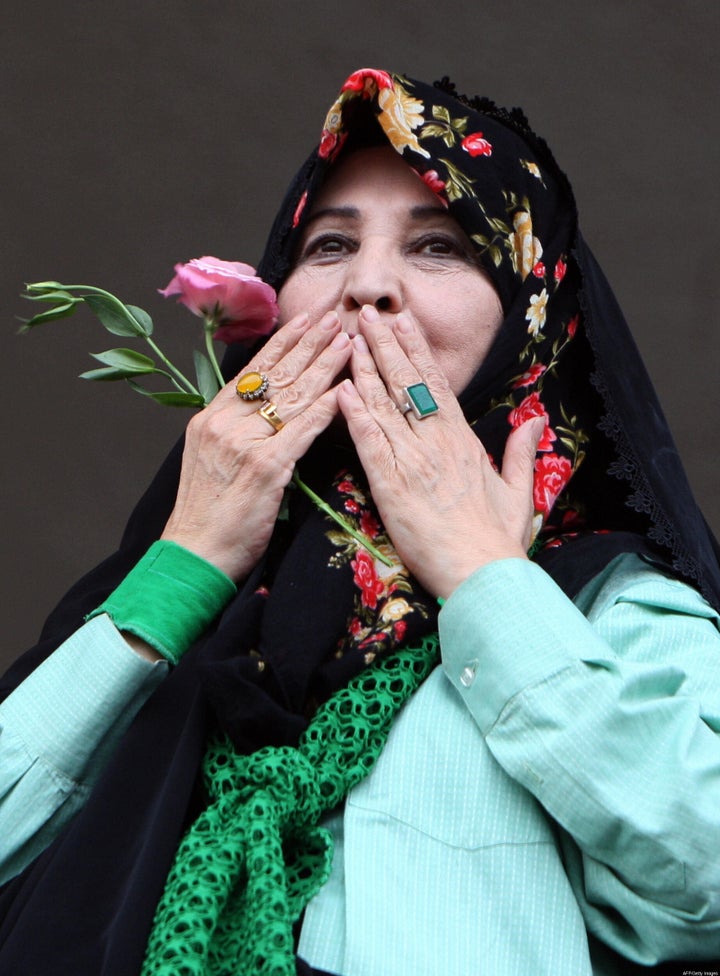 Never underestimate the power of a woman or the influence of the media. In Tehran, the local press has already dubbed Zahra Rahnavard "the Iranian Michelle Obama." Rahnavard, a 64-year-old political scientist and sculptress who heads a university, has made an impact on Iranian politics. If Iran finally opens up to the world and buries the axe with America, she may even deserve some of the credit.
Rahnavard is not running for office in Iran's presidential election. The clerics who screen potential candidates have eliminated all women. But she is nevertheless one of the most powerful campaigners in this important election and the most valuable asset of the leading opposition candidate, Mir-Hossein Mousavi, who is her husband.
In a country where the wives of politicians are traditionally invisible, she is seen everywhere at her husband's side, often addressing campaign rallies herself. At a recent meeting in Tehran she told the crowd, "We must change the laws that do not give women equal treatment." The audience, many of them young women, chanted "Rahnavard, Rahnavard! Equality between men and women!"
Women were at the forefront of the Islamic Revolution that toppled the Shah of Iran in 1979. They voluntarily put on the head scarves and all-enveloping black chadors as a symbol of opposition to the old regime. Now, three decades later, young women pull back their scarves and, like Rahnavard, use cosmetics and bright colored materials. She has won over women and young people by denouncing the police campaigns against "immodestly" dressed women and the arrests of feminist campaigners under the current administration of President Mahmoud Ahmadinejad, who is better known in the West as a serial holocaust denier.
Her husband, who is also an accomplished artist as well as an architect, was an early revolutionary who became prime minister during the 1980-88 war between Iran and Iraq and has now mellowed into pragmatism. Like his wife, Mousavi seeks to reconcile the values of the Islamic Revolution with openness to the modern world. He favors dialogue with the Obama administration and negotiations over Iran's nuclear program.
The other leading candidates have noticed Rahnavard's ability to energize voters and have started to bring along their own wives. Press reports say even President Ahmadinejad's wife has been glimpsed on the campaign trail. But the celebrity couple is undoubtedly Zahra Rahnavard and Mir-Hossein Mousavi.
If Zahra becomes the Iranian equivalent of First Lady, the country that President George. W. Bush denounced as a member of the Axis of Evil may never be the same.
As I said, never underestimate the power of a woman or the influence or the media. Nor the soft power of the Obama phenomenon, which the media have propagated throughout the Middle East. Politicians in other countries (such as Lebanon, where a pro-American coalition has just won a parliamentary election) may find that being anti-American is no longer an automatic vote winner.
Related
Popular in the Community