Not too long along ago, Miami's Zak the Baker was in Tuscany, tucked away amidst the olive groves, baking bread, and raising goats for fresh cheese. Now Zak is doing the same back home in Little Haiti.
Zak makes a series of delicious organic sourdough breads: think Plum Fennel & Rye, Olive & Za'atar, and Walnut & Cranberry. They're available at restaurants like Michy's and Oak Tavern, at foodie shops like Laurenzo's and Perricone's, and select farmer's markets.
Soon he'll have a storefront bakery in Wynwood but in the meantime, he's holed up alongside other artisan food makers and culinary gurus with hippie sensibilities at Earth N Us Farms.
Each Thursday the farm offers an old country style farm stand where you can pick up fresh eggs and Zak's fresh bread by dropping off money.
HuffPost Miami talked with Zak about childhood 305 memories of Hot Wheels and bar mitzvahs, international apprenticeships, and the poetry of the perfect crust.
Years in Miami:
I was born and bred in Miami. I left for university, and I traveled for a bit, but besides that, most of my time has been here.
Childhood memories of Miami?
Hurricane Andrew, milkshakes at Norman Brothers, house parties when parents went out of town, lots of pot, holding hands with girls at Hot Wheels, fights at school, people with too much money, people with not enough money, skipping school and going to the beach, booty dancing, decadent bar mitzvahs, fancy cars, little league baseball, sitting in traffic and listening Al B. Sylk's roll call… So many memories, I could go on forever.
Current neighborhood:
Little Haiti
Current gig:
Bread baker at Zak The Baker
Favorite 'Only in Miami' moment?
Only in Miami does the city allow and foot the bill for a 10-year-old baseball team to tear down a historic stadium to build a new stadium that looks like a space ship on the outside and a casino cruise inside. Only in Miami.
What's your idea of a perfect day in Miami?
Now that I wake up every morning at 1-2 a.m., the perfect day would start with sleeping until 9 a.m., hallelujah. I would then walk to a diner and eat a big American breakfast and read the entire New York Times from front to back without any rush or interruption.
Then, I would go to the beach and there would be a group of people already playing ultimate Frisbee. We would play for hours, and then build a fire on the beach and play some old timey bluegrass music around the fire and sing and dance.
Friends and strangers would join us, and they would bring with them homemade cider and lamb chops from their last slaughter. And we would play music until our fingers bled and there was no more booze to drink. And when the morning breaks, we'll watch the sun rise and eat fresh Argentinian pastries and drink Cuban coffee. Perfect.
Where do you take out-of-towners visiting Miami?
I used to take them to Jimbo's for canned beer, smoked fish and bocce ball; it covered all the bases in one spot. Now we'll just bounce around: Panther for coffee, Lagniappe for booze and music, and if we're really ambitious, a trip to Homestead for guanabana shakes at Robert Is Here.
Where did you learn to bake?
The old fashion way: apprenticeship, practice, and meticulous observation. It started when I was trying to get some space from a relationship some years back. I looked for the cheapest ticket out of the country, and believe it or not, it was to Sweden. So, I went to Sweden and began a bread, wine, and cheese pilgrimage. I would seek out country bakers and artisanal cheese makers, anyone who was using traditional craftsmanship and willing to teach.
In Sweden there was a sourdough baker, France a Gruyere cheese maker, Tuscany was a miso maker, Israel a goat cheese maker, and so on. I jumped from farm to farm, traded my physical work for a place to sleep and food to eat. I worked as hard as I could, and learned as much as I could, all while eating the most righteous local food and drinking stinky red wine of the region.
What's the secret to a perfect crust?
The perfect crust should have many shades of red, gold, and amber. It shouldn't be too too thick, or too thin. Not too hard, nor too soft. When brought out of the oven it should glisten like caramel and crackle as it cools. What's the secret to achieving this? In a nutshell, high heat, high moisture, and a lean dough.
Your apprentices are pretty international. How do you find them?
They find me, through a program called WWOOF (World Wide Opportunity On Organic Farms). Basically, you can go anywhere in the world and find some farmer, baker, or cheese maker who needs a hand. In return for your work, they give you a place to stay and some food, and hopefully you learn something along the way. It's sort of like a modern day apprenticeship.
Do you use any locally grown or sourced ingredients in your breads?
For our sandwiches we try and use local cheeses and local seasonal greens. Flour is basically the only ingredient in the bread, and we don't exactly have rolling hills of wheat in Miami, so I've found some farmers and millers out West that are pretty passionate about growing and milling high quality organic flour.
Most popular bread that you make?
I find that anytime I put seeds in the bread people get really impressed. So I've started to put seeds on the outside of the bread, and wow, super popular.
Do you have plans to open a storefront bakery?
Yes. When I'm not baking, or shaping dough, or doing a farmers market, or milking my goats, I'm working on opening up a village bakery in Wynwood. Part of me (the sleep deprived part) wishes I had deep pockets that would just pop it open tomorrow with the best ovens and most beautiful layout, but that's just not my story I guess. This bakery is growing slow and steady, loaf by loaf, from a bench and one oven in my garage, to one day a beautiful bakery with all the bells and whistles in Wynwood. Inshallah!
In the meantime, where can folks buy your breads?
You can pick up a loaf almost any day of the week from North Miami all way down to South Miami. Our web site lists of all the retailers that we deliver to fresh every morning.
Last big project you did:
Two years ago I moved to a small village in the Tuscan countryside to open a village bakery and begin raising dairy goats for cheese making. I really couldn't have asked for a more romantic place to open a bakery, it was tucked away in the rolling hills of wheat and olive groves with a view of Corsica from the hilltop. It was a dreamy place to bake bread, raise goats, and live, but everything got flipped on its head when a young bright-eyed girl who played the fiddle came through.
Long story short, we ran away together in the middle of the night to work on a Fontina cheese farm 2000 meters up in the Italian Alps, leaving behind the whole project in Tuscany. We played music on the streets for money, pastured the animals, made cheese, and slept in the barn attic above the goats; we were in love.
Where is she now? I have no idea! While out at pasture one day she decided she needed to go back to school, boom! So, I came back home to take a shower, and one month later I opened the bakery in my garage. So it goes.
Upcoming projects you're working on:
Cheese making and local farm stand. Finally my goats have given birth, and the milk is beginning to flow. Slowly slowly, we will start with yogurt, then Labane, then fresh cheese, then cured cheeses. These things probably won't be available in stores for a while, but I am building a weekly farm stand where I live at Earth N Us Farm.
The idea is you can swing by the farm and pick up the staples: fresh bread, eggs from my chicks, yogurt from my goats, and local produce from the farm. It will operate the old fashion country way -- take what you please, write down what you took, and drop the money in the box, complete honor system. We've already begun with bread and eggs on Thursdays, the rest will come soon.
Why do you hate Miami?
Too much development and not enough nature.
Why do you love Miami?
Miami's got great potential.
What are three local meals you can't live without?
Breakfast: Pastelito con queso and guava, and colada at any local cafeteria. Lunch: Vaca frita, arroz blanco, frijoles negros, and platanos maduros at any local cafeteria. Dinner: Squash blossoms, jamon serrano and blue cheese croquetas, short ribs, stink French wine, and bread pudding at Michy's.
In a word or two or three, Miami is...
Emerging.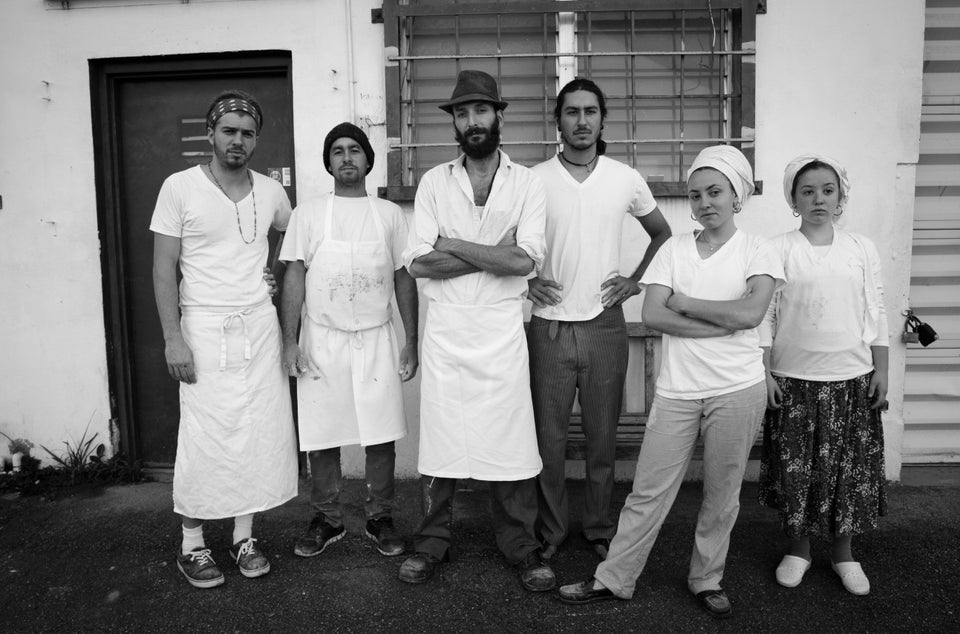 Zak The Baker
Related
Popular in the Community