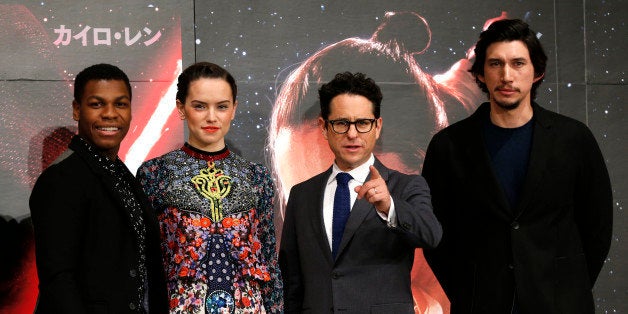 Directed by J.J. Abrams, Star Wars: The Force Awakens is the seventh Star Wars installment (though "Episode VII" has been curiously absent from the marketing), the first to be released by the franchise's new minders at Disney, and the first to follow on from the events of the beloved original trilogy that concluded with 1983's Return of the Jedi. While I've been aware of this movie's impending arrival ever since it was first announced just over three years ago, the import of what it represents hit me suddenly and early during my screening.
Like all the chapters before, it started with the instantly-recognizable Star Wars logo and the equally-iconic blast of John Williams' theme music. But as I began to read the crawl of text catching us up on the status quo, I suddenly realized that it was a crawl I hadn't read countless, innumerable times before. It was new. Completely new. And although that's an understandably exciting feeling for any longtime fan (and my understanding is there are a few), I have to admit there's also something just a little bittersweet about it too.
After all, with this release, Star Wars has now entered completely uncharted waters. As the leading edge of a planned all-out onslaught by Disney over the next few years, The Force Awakens represents the series' transition from something that's finite -- six movies and done -- into something that's a fixture. Also, as with Creed last month continuing the Rocky story by handing it off to a new lead, with that transition comes the realization that the Star Wars torch must, of necessity, be handed from one generation to the next.
It wasn't supposed to be like this, of course. Ten years ago, with the release of Revenge of the Sith, writer-director George Lucas brought the curtain down on his much-debated prequels, in the process giving a clean beginning, middle, and end to his "Long Time Ago" multigenerational epic. While the marketing and merchandising juggernaut that is Star Wars the franchise was destined to continue for time immemorial, per the wishes of its creator, Star Wars the saga had come to a very definite conclusion. And as the man himself made clear repeatedly up to and after Episode III, this was it. Done. The end.
That all changed once Lucas made the momentous decision in 2012 to sell his multi-billion dollar baby and walk away. Once that deal with the Mouse House was finalized (for a cool $4 bil), they wasted no time in announcing a new batch of sequels to pick up several decades after Return of the Jedi neatly wrapped things up in a bow for Luke Skywalker, Princess Leia, Han Solo, and company. For some reason, my mind was drawn to author Andrew Kaufman's quote, "The only difference between a happy ending and a sad ending is where you decide the story ends."
For thirty-two years we've had that happy ending. Our heroes in the Rebel Alliance had brought down the evil Galactic Empire, Luke Skywalker had redeemed his father, hero-turned-villain Anakin Skywalker. There was dancing, fireworks, it was pretty great. But as we learn in The Force Awakens, that victory was just a prelude to another stretch of conflict, as the Empire gave way to the First Order, the Rebellion gave way to the Resistance, and the battle between the light side and the dark side of the Force continued unabated.
Still fighting the good fight are Han Solo (Harrison Ford), back to his smuggling ways with old chum Chewbacca, and Princess -- now General -- Leia Organa (Carrie Fisher), who leads the Resistance from a hidden staging ground. The script, by Abrams and Star Wars vet Lawrence Kasdan, neatly weaves in familiar faces, settings, and scenarios to set nostalgic hearts aflutter, but also focuses the spotlight on the next generation of Star Warriors: Rey (Daisy Ridley) a scavenger on a desert planet, rogue stormtrooper Finn (John Boyega), and daring Resistance pilot Poe Dameron (Oscar Isaac).
You'll note that suspiciously absent from all of this is a certain Luke Skywalker (Mark Hamill), whose disappearance some time ago has made him into an intergalactic McGuffin as several different factions are racing to track down the missing space hero, who's name has passed into legend in the interim. Foremost among those on the hunt is the mysterious masked Kylo Ren (Adam Driver), who may or may not be a Sith Lord, but who certainly has a mad-on for the Jedi and an affinity for all-black ensembles and red lightsabers.
What struck me most about The Force Awakens is just how tactile it all felt. There was a physicality, a realness, to the whole thing that recalled the "lived-in" aesthetic that Lucas made his mantra on the 1977 Star Wars (a.k.a. Episode IV - A New Hope), but which sadly got lost in the CGI wonderland of the prequels (most especially in 1999's Episode I - The Phantom Menace). Abrams has spent the last several years toiling on that other "Star" franchise across the way, and begged off this film a few times before relenting, but if his ability to seamlessly make this feel of a piece with the original trilogy illustrates anything, it's that you can't fight the call of destiny.
On the performance side, all three of the new leads make very strong impressions (Ridley and Boyega especially, with Isaac's Dameron more concept than character at this stage of the new trilogy). However, as far as anchoring the proceedings, that's all Harrison Ford. While the actor's past antipathy toward the role that launched his career is well documented, he gets to do some stuff with the character that fully takes advantage of our many years of attachment to him, and makes you long for all the adventures we missed out on in the intervening decades.
Of course, the inherent problem is that this movie has to service both itself and the needs of the extended franchise. Something similar happened with Episode I, actually. The first of the prequels put a lot of balls in play that (we assumed) would pay off meaningfully down the line. As I said in my review back in '99, "Phantom Menace is really designed to set us up for the latter two installments, with the promise of things to come bringing us along for the ride. It serves this purpose well, but standing on its own merits, the film seems curiously in search of a reason for being."
Given that this episode is tasked with inaugurating an entire new Star Wars era, it's understandable that a few plot threads are left dangling. However, that didn't stop the 1977 original from being an entirely enjoyable experience on its own. Here, it has the effect of making it difficult to judge this slice of the story on its own, since so much of the stuff being teased or built-up relies on a payoff we won't see for two, possibly four more years. In hindsight, I think that's at least partly to blame for why  some fans were so generous with their initial assessments of Episode I.
After all, it was only as the subsequent entries came out that folks realized their questions were either not going to be addressed well or at all. I'm pretty sure the franchise's current creatives have learned those lessons. The Force Awakens does at times feel less like a fully realized experience on its own than a promising setup for future developments, but the difference is that unlike with The Phantom Menace, when the lights came up I felt both satisfaction and anticipation, which has to count for something. Star Wars is back, and there's something undeniably exhilarating about having no idea where things are headed next. B
For more Star Wars talk, check our MovieFilm Podcast Commentary Track on the original film via this link or the embed below: 
REAL LIFE. REAL NEWS. REAL VOICES.
Help us tell more of the stories that matter from voices that too often remain unheard.