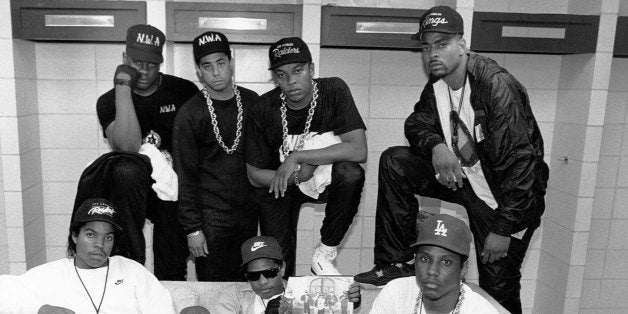 The first time I heard of N.W.A. was in summer of 1989. I was watching a news story with folks breathlessly bemoaning a new kind of music that used salty language and exhorted listeners to commit violence against police. I didn't think much of that moment at the time, partly because I didn't listen to rap, and partly because I was ten. But as I watched Straight Outta Compton, the engrossing biopic from director F. Gary Gray (The Negotiator) depicting N.W.A.'s rapid rise, sudden fall, and eventual redemption, I couldn't help but imagine ten-year old Zaki sitting in front of that broadcast somewhere in the world of the movie, little knowing the history he was watching unfold.
Straight Outta Compton follows the usual tropes of similar music group bios (the "Be Sharps" template, as I call it), but it manages to be singularly immersive thanks to its potent mix of propulsive music, potent social commentary, and powerful performances by an engaging casts of newcomers. The story's narrative begins in 1986 as we're first introduced to the trio of Eric "Eazy-E" Wright (Jason Mitchell), Andre "Dr. Dre" Young (Corey Hawkins), and O'Shea "Ice Cube" Jackson (played by his own son, O'Shea Jackson Jr.). All three are born and raised in the poverty-stricken streets of Compton, CA, but nurture dreams of making their mark through music.
Calling themselves N.W.A. (for "N****s With Attitude"), with Jackson writing, Young mixing, and Wright on vocals, they put out "Straight Outta Compton," an album of "real rap" reflecting their own hardscrabble upbringing. After garnering the interest of promoter Jerry Heller (Paul Giamatti), the group, which includes MC Ren (played by Aldis Hodge) and DJ Yella (Neil Brown Jr.), takes the country by storm, with their signature hit "F*** Tha Police" generating headlines, acclaim, and controversy in equal measure. As the '80s turn into the '90s, it isn't long before trouble rears its head, with Heller's control of the group's money driving a wedge between Wright and his colleagues.
What follows -- anger, heartbreak, and loss -- plays out against the backdrop of the Rodney King beating and the subsequent riots, and is made all the more gripping by the knowledge that it's real. N.W.A.'s original run was surprisingly brief, with the group parting ways in 1991, but what they accomplished during that time still resonates nearly a quarter-century after their split, and probably the best feature of Straight Outta Compton is how its palette reflects the size and scale the social changes they laid the groundwork for. Not only in terms of hastening a conversation about the merits of rap (the film intercuts archival footage of Tom Brokaw and Peter Jennings subtly tsk-tsk'ing the rising popularity of the genre), but also a broader discussion about racial resentment, and the platform rap offered to express it.
The ultimate measure of N.W.A.'s lasting impact is in how accepted the changes they ushered in have become. Eazy-E was lionized as a trailblazer upon his death in 1995. Today Dr. Dre is one of the most respected elder statesmen of hip-hop. And Ice Cube is probably more known to a sizable chunk of this movie's audience for for playing the police than flipping them the middle finger. As has happened countless times throughout history, the revolutionaries of yesterday have become the establishmentarians of today. And while the film does depict this transition (we see Cube writing his seminal hit movie Friday), it does largely hopscotch over the misogyny that's just as much a hallmark of gangsta rap (songs like "A Bitch is a Bitch" and "One Less Bitch").
Given that Dre and Cube both served as producers (along with Eazy-E's widow), I suppose it's understandable that both skate through the proceedings with their reputations relatively unscathed (no mention, for example, of a 1991 incident where Young was accused of beating a female journalist). Instead, the lion's share of blame for the group's dissolution falls on Eazy and Heller. That said, I do have to give credit to how the script (by Jonathan Herman and Andrea Berloff) doesn't settle for making Heller the heavy. Thanks to the always-dependable Giamatti, he's given shades of complexity, portrayed as someone who not only believes in the group, but also stands up for them and supports them in the face of record company rejection and police intimidation.
Of the core trio of actors, all three deliver. While's Jackson relative newness to acting is evident at times, he has an undeniable screen presence that, coupled with his uncanny resemblance to his pop, manages to do a lot of the lifting. I fully expect we'll be hearing a lot from him, Hawkins, and Mitchell in the years to come. Just like "Straight Outta Compton" the album, Straight Outta Compton the film arrives at a nexus moment of social unrest and racial violence, and when viewed through that prism, it becomes more than just your standard music biopic. Rather, it's a beacon marking the birth of a social movement, and in its own way it's just as powerful a statement as Ava Duvernay's Selma was last year. A

For more on Straight Outta Compton as well as all the latest out of Hollywood, check out the latest episode of The MovieFilm Podcast via this link or at the embed below:
Calling all HuffPost superfans!
Sign up for membership to become a founding member and help shape HuffPost's next chapter