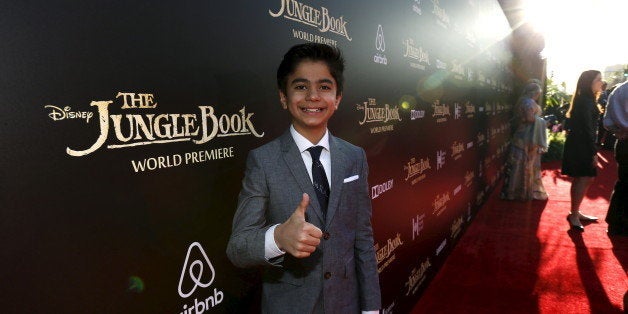 Following in the very successful wake of Tim Burton's Alice in Wonderland in 2010 and Kenneth Branagh's Cinderalla last year, it's no surprise that Disney is continuing the process of turning titles from its voluminous roster of animated classics into big budget live action spectacles. The latest such effort is The Jungle Book, and as directed by Jon Favreau, it's a feast for the mind and the eyes, with stunning special effects, dazzling use of 3D (seriously, go see it in 3D!), and a revelatory performance from a talented young newcomer to hold it all together.
If you're keeping track, this is actually the Mouse House's second live action adaptation of the famous Rudyard Kipling novel (first published in 1894). The first one came via a 1994 version, directed by Stephen Sommers and starring Jason Scott Lee as wayward jungle boy Mowgli. That film certainly has its strengths (great cast, terrific score), and I'd absolutely recommend it, but fidelity to Kipling ain't one of them. Instead, it emerged as the kind of Indiana Jones hybrid/homage that Sommers would again try his hand at with his two Mummy films.
But for this latest go at The Jungle Book, Favreau and screenwriter Justin Marks go back to Kipling for inspiration -- but even more than that they pay homage to the original animated film that's likely been most folks' entree into this world since it first debuted nearly fifty years ago. Like that film, the story follow young Mowgli (played by twelve-year-old Neel Sethi), found in the jungle as an infant and raised by wise panther Bagheera (the voice of Sir Ben Kingley) and wolf mother Raksha (Lupita Nyong'o).
When the tiger Shere Khan (Idris Elba), whose own past experiences with humans left him horribly scarred, makes clear to the animal kingdom that the boy is unwelcome living in the jungle, Mowgli begins a journey back to the "man village," but not before making the acquaintance of a big bear named Baloo (voiced by Bill Murray, and presumably a few years away from flying that airplane). While the pair begin a friendship that involves singing a lot of catchy tunes together, Mowgli's troubles are far from over, and he'll need more than the bare necessities to survive.
Throughout The Jungle Book's 111 minutes there was rarely a moment when I wasn't staring at the screen in rapt awe. The Iron Man helmer's knack for composition is near flawless, as is his seamless merging of practical and digital effects to make Mowgli's computer-generated environs seem so real you want to run your fingers through the grass. Special mention must also go to the stellar cast assembled to give voice to this CGI menagerie. Elba and Kingsley are standouts, as is Christopher Walken as giant orangutan King Louie, and Scarlett Johansson as sinister serpect Kaa.
Of course, even more impressive than the voices and the effects is young Sethi, truly the find of the year, who emotes so naturally against digital effects that his performance is a testament to both the actor and his director. Beyond the cast itself, the entire film is a testament to how skilled a hand Jon Favreau has become at producing these kind of precision confections. It's honestly rare to see such a perfect piece of family entertainment, but I guess it's not rare at all that Disney is again the studio to do it. In every way, The Jungle Book gets my highest recommendation. A+
For more movie talk, including our thoughts on the new trailers for Suicide Squad, Fantastic Beasts, and Doctor Strange, check out the latest MovieFilm Podcast at this link or via the embed below:
REAL LIFE. REAL NEWS. REAL VOICES.
Help us tell more of the stories that matter from voices that too often remain unheard.