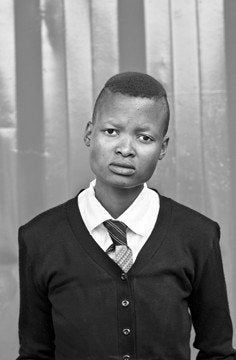 South African photographer and activist Zanele Muholi puts the spotlight on her nation's lesbian and transgender community in her new exhibit, "Faces and Phases."
The exhibit, which is Muholi's solo debut in the United States, is running at New York City's Yancey Richardson Gallery until April 6.
Muholi captured the subjects and their unique stories in black and white to give the collection "a timeless feel." She says she wants to use the images to educate people, influence South African policy and to inspire others to share their stories.
"The message that I wanted to share with the people is that you can't change the laws without changing the image," she told Huff Post Gay Voices. "You need to change the image in order to educate people. My work instills visual activism. It's one thing to theorize about LGBT rights, but it something to visualize the people that you are talking about."
She added, "It's our time and our struggle. It needs to be done with our own voices."
Muholi is also aware that queer politics and theory might be too complex for some people to understand. So she believes that photography will express humanity and will help simplify things for people:
"Those pictures are basically about sharing my view with the people. Also, to simplify the sexual politics and topic for general audiences because when you think LGBT politics there is too much complexity," she said. "From the educational system to historical books that are sitting in some departments of universities. The language and theories are just too complicated for any ordinary person who might not have higher education. Photographs make life easier for people to understand regardless of the language."
As a friend of transgender people who are currently transitioning, the photographer and co-founder of the Forum for the Empowerment of Women (FEW) said it was important to feature transgender women in her series.
"We are now at a period in our time where we see the images of the trans movement," she said. "This is before we even take care of the queer politics or queer element. Now as lesbians and gay people, we need to make sure that we fight that war with trans people."
Muholi is an award-winning photographer. She won the 2005 Tollman Award for the Visual Arts, The Casa Africa Award for "Best Female Photographer," a Fanny Ann Eddy accolade and a Foundation Blachere Award at the Rencontres de Bamako biennial of African Photography in 2009.
Popular in the Community