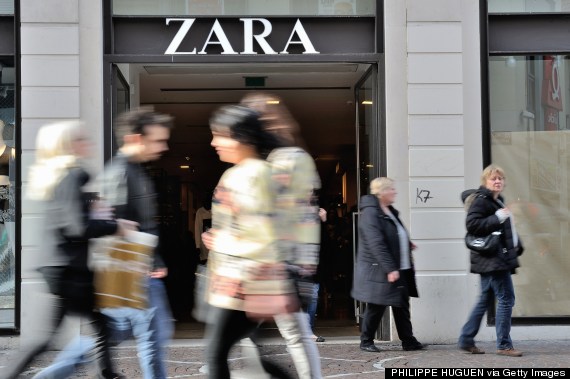 Zara has come under fire in the recent past for making culturally insensitive clothing, and now the fashion brand is being accused of racial bias.
A new survey by the Center for Popular Democracy, which Zara says was conducted without attempting to contact the company, accuses the retailer of demonstrating racial bias not only toward customers, but employees, too. Over 250 Zara employees took surveys when approached during breaks in stores throughout New York City, and the findings reveal a feeling of unequal working conditions between black, latino and white employees.
The survey indicates black and "darker-skinned" employees believe they are less likely to be promoted and are more unhappy with their work hours. "Findings reveal that both race and skin color play a role in the treatment of employees and customers," reads the report. "Lighter-skinned workers of color and white employees tend to have higher status assignments, more work hours, and a stronger likelihood of being promoted."
The allegations of racial bias also include customers: CPD reports employees were trained to use the code "special order" when a "suspicious"-looking customer entered the store. According to the survey, Zara employees felt that the code was used mostly on black customers, with one employee even stating he himself had been labeled a special order when he wore a hooded jacket into the store to pick up his paycheck.
"A sales associate not only identified him as a special order, but he was physically stopped as he was walking into the back office, where checks are kept," the report said.
A company spokesperson denied racial bias at Zara in a statement to The Huffington Post, noting that in the chain's most recent round of internal promotions, "approximately half" of promoted employees were black or Latino, and about half of all hours are allocated to black and Latino employees -- ratios consistent with the overall demographics of Zara's U.S. employees. The statement read, in part:
Zara USA vehemently refutes the findings of the Center for Popular Democracy report which... was prepared with ulterior motives and not because of any actual discrimination or mistreatment. It makes assertions that cannot be supported and do not reflect Zara's diverse workforce. Zara USA believes that the report is completely inconsistent with the company's true culture and the experiences of the over 1,500 Zara employees in New York City. We are an equal opportunity employer, and if there are individuals who are not satisfied with any aspect of their employment, we have multiple avenues for them to raise issues that we would immediately investigate and address.

Approximately half of all Zara USA's employees are Hispanic or African American. In its most recent round of internal promotions at Zara USA, approximately half were Hispanic or African American employees. In addition, approximately half of all hours are regularly allocated to Hispanic or African American employees. These facts clearly demonstrate that diversity and equal opportunity are two of the company's core values. We are a global multicultural company serving valued customers across 88 countries, and do not tolerate discrimination of any form.
Follow Us On Pinterest
|
Like Us On Facebook |

Follow Us On Twitter
REAL LIFE. REAL NEWS. REAL VOICES.
Help us tell more of the stories that matter from voices that too often remain unheard.
BEFORE YOU GO
PHOTO GALLERY
Ridiculous Examples Of Accidental Racism