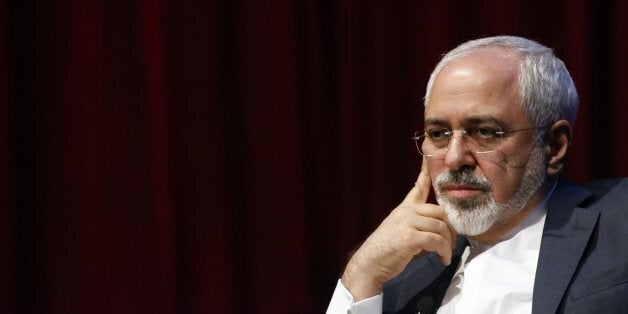 NEW YORK -- Iran's Foreign Minister Mohammad Javad Zarif said Wednesday that the Iranian government is ready and willing to work with international partners to fight the Islamic State group.
"We need to come to the realization that we need to fight this phenomenon," Zarif said during a discussion at New York University. "Iran and Saudi Arabia and other countries in the region have a common interest in fighting this, whether it's in Syria or in Iraq."
Zarif went on to warn that ISIS, also called Daesh, a loose acronym of the group's name in Arabic that it reportedly hates, had gained popularity in Yemen, and that countries in the region, plus the United States, had a common interest in combating it.
"Daesh is a no longer a problem limited to Syria. The recruitment of Daesh in Afghanistan is mind-blowing." The group is also gaining allies in Yemen, Nigeria, Somalia and Libya, he said. On Tuesday, Saudi Arabia announced it had captured 93 suspected ISIS members over the past few months, foiling their plans to attack targets including the U.S. embassy in Riyadh.
Zarif is in New York this week for a United Nations conference on nuclear nonproliferation, on the sidelines of which he met with U.S. Secretary of State John Kerry for further negotiations on Iran's nuclear program.
"We are, in fact, closer than ever to the good comprehensive deal that we have been seeking," Kerry said at the UN on Monday. "And if we can get there, the entire world will be safer."
Though Zarif acknowledged a "mutual lack of confidence" between the negotiating partners in his speech Wednesday, he said this is "a once-in-a-decade opportunity."
"I believe it can be done," he said. "I believe it should be done. I believe it is an opportunity for all of us which should not be missed."
He said there is much work still to be done, however, and there is still the question of if Iran and the P5+1 (the five permanent members of the UN Security Council plus Germany) can even agree on a deal.
"That's a big if," Zarif said.
There are disagreements on how much access international inspectors will have at Iranian nuclear sites, for example, and the exact date when economic sanctions will be lifted. Iran's Supreme Leader Ayatollah Ali Khamenei and President Hassan Rouhani have both previously said that sanctions must end "when the deal is signed." Zarif, however, suggested Wednesday there is slightly more flexibility on this point.
On Tuesday, the U.S. Senate rejected a last-minute effort by some Republicans to add so-called "poison pill" amendments to a bill that would give Congress a say in the eventual deal over Iran's nuclear program. Senators Ben Cardin (D-Md.) and Bob Corker (R-Tenn.), two top members of the Senate Foreign Relations Committee, led the fight against the amendments, one of which would have required that Iran acknowledge Israel's right to exist before any nuclear deal.
The European Union foreign affairs chief Federica Mogherini said at the UN on Tuesday that the nuclear deal, which the P5+1 has so far insisted remain separate from talks on ending the civil war in Syria, "could open the way to a different role for Iran in the region."
The "best possible approach" would be to "call on Iran to play a major, a major, but positive role in the region," she said.
Zarif echoed that sentiment regarding the conflicts in Syria and Yemen, but said that Syrians and Yemenis should be allowed to work out their issues without outside interference.
Iran is "committed" to the "principle of non-interference in neighboring countries," he said.
He could not say the same for some of Iran's rivals in the Gulf. He didn't name names but took aim at those countries that "create temporary oppositions to your adversary which live to bother you." He mentioned Saddam Hussein, the Taliban, al Qaeda and now ISIS as groups that received support from or grew out of mistakes made by international agitators in Middle Eastern countries and have now turned around to bite the hands that fed them.
"Limited, short-sighted political objectives against Iran, against Iraq, or against Syria," have now created a "monster" in ISIS, he said. "They [those who originally supported the Islamic State] now should find out -- should see for themselves -- that this monster that they've created, like the previous monsters they've created ... [is] an issue of immense significance," he said.
"This is becoming a huge global threat."
Calling all HuffPost superfans!
Sign up for membership to become a founding member and help shape HuffPost's next chapter
BEFORE YOU GO
PHOTO GALLERY
Iran Celebrates Nuclear Agreement