Paradigm Shifters is a series of interviews with a select group of women and men from eclectic walks of life. It will highlight unspoken, real-life insights on how they have been able to turn weakness into strength. A naked soul point of view of how their breakdowns were really a preparation for breakthroughs. They are your quintessential paradigm shifters; internal shifts converted into genuine change.
Everything I have ever done has been focused on this underlying theme of shifting the paradigm because, "What we think determines what we feel and what we feel determines what we do." Hence, why Empowered by You takes lingerie, which has traditionally been seen merely as a tool of seduction and redirected that energy as a tool of empowerment.
I hope from these stories you will look at your own situations, struggles and accomplishments through a different lens. At the very least you will be more equipped with real life tools to change your own paradigm. At the end of the day, we are our own Alchemist turning the silver we were born with into the gold we are destined to become.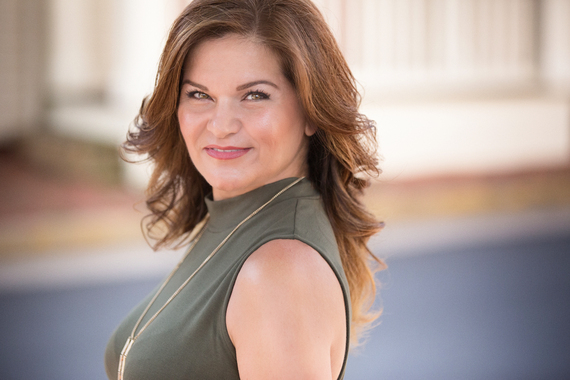 Zarif Sahin - Associate Broker at Keller Williams Realty and Owner of Anatolia Properties, Image by Alimond Studio
What did you initially think of marriage as a young girl?
My parents were Turkish, but I was brought up in Germany. I was the youngest girl and had six other siblings. My parents were hard workers, which they made sure to instill in us. Although they weren't very educated, I developed a love for education. I remember the inequality between how girls and boys were treated in our family and it inspired me to be a lawyer, and work towards equality through this occupation. In 1985, my parents decided to return to Turkey. Most times I was consumed with schoolwork and sports, so I didn't really think I would be married until after college. As I grew to be a teenager, I noticed that men were more dominant and the women were mostly homemakers and submissive. My dream was to finish college and marry someone who was more modern, educated, and loving. This dream was shattered when I found out that my parents had arranged for me to be married at the age of fourteen. All I wanted was to continue to go to school, but my mother convinced me that I would continue my education in the USA after marriage.

In your Ted Talk in 2013 you said approximately 14 million girls under age 18 every year become child brides. In 2016, it is now around 15 million. Why do you think this still happens today?
The most prominent reasons are culture, poverty, and gender inequality. In some cultures girls are viewed less important than boys. The boy gets educated but the girl is considered a financial burden, and is married off out of necessity. In some cultures the girl is married off young to avoid her from falling in love or causing some form of shame upon the family. And in some cultures, the girl is married off as a symbol of peace between two fighting tribes.

What are the dangers of young girls becoming child brides?
Physically and mentally they are not ready for marriage. They can suffer dangerous consequences during pregnancy, childbirth. Many child brides are subject to abuse which leads to life threatening injuries or severe depression. Most child brides are not allowed to continue their education after marriage, forcing them to become fully dependent on their spouse. Due to lack of education, they are not able to contribute to their family finances. In the event of a divorce or if they become widowed, they have no idea how to support themselves or their children. This causes them to become a burden on the family that initially arranged the marriage, but the burden has multiplied because they may have children. Because of their lack of resources and limited knowledge, they'll often bring up illiterate children as well, fueling this vicious cycle.

How have you broken the cycle of poverty and becoming child brides in your family?
I always loved and believed in education. During my marriage I would check-out books from libraries and find ways to learn at home. Instead of falling into hopelessness, I had to switch my way of thinking. I considered my divorce as a newfound freedom. Immediately, I enrolled myself in classes to improve my knowledge. Every time I took a class, I felt more empowered. I could see the positive correlation education had on my finances and family. I always let my daughters know that their thoughts, their opinions, and their lives mattered. I made them feel that we are a team. We studied together, we learned together and we excelled together. I treat them the same way boys are treated. I also encourage them to love freely but responsibly. I tell them that they will choose whom and when they will marry.

How did you leave your husband?
For many years I suffered many tribulations in that marriage. I can't say he's a horrible person; the way he treated women was probably just how he was brought up. As my girls grew older, I saw more of myself in them and I didn't want them to have the same fate. That was my main driving force. Unfortunately, it took years for me to build up the courage. I had no place to go and had no knowledge of any help that might be out there. So I secretly began to save an emergency fund, knowing the day for a separation would come someday. We had so many disagreements and after one severe occasion, I just knew I didn't want my children to be in that environment anymore. I felt a sudden fire in me and it pushed me to take my children and leave.

What should we do to stop girls from becoming child brides?
First, we need to inform communities about the dangers of child marriages and how it impacts the economy. Besides monetary resources, we need to create mentoring programs to help them develop skills. We can connect the girls who are susceptible of becoming child brides to qualified individuals willing to help. Most of these girls are very bright and they can learn new skills pretty quickly. If we help empower and educate the girls, then they can help their families, communities and countries out of poverty.
Second, in many countries, the legal age limit for marriage has been set for 18 years. But child marriages still occur with parental consent. In most countries, if a man engages in a sexual relation with a minor, it's a crime. But if he enters into a marriage with a minor, this behavior is accepted by society. Instead of putting a Band-Aid on this issue, we need to dig deeper, change laws and create consequences for those who allow child marriages to happen and for those seeking a marriage with a child.

Breakdown to breakthrough?
My lowest point was when I left my marriage. I was without any funds, without any proper English, without any clothes, without anything but the danger of losing my children. The most important reason I was able to keep it together was my friend, Daphne DeHaven. She held my hand throughout the entire process. I will never forget that. Every time I was at the point of giving up, I would picture my daughters and I would tell myself that this fight was not only about me. My breakthrough moment was when I earned my real estate license and then my broker's license. I loved helping people buy and sell homes, and being a part of an important milestone in their lives. I also created a mentoring program for the Virginia Women's Business Conference, and sat on the board of Loudoun Abused Women's Shelter. While I was working on moving up in my career, my eldest daughter graduated college at the same time. This inspired me so much that I went back to college too so I could earn my bachelor's degree.

Legacy?
I want to be remembered as the voice for child brides. The woman who changed the thoughts and beliefs of how girls are viewed. Everything I lived through was for a reason. This is my journey and I will continue to work on this issue as long as I can. I don't ever want any girl to have to go through what I went through. But, if the society continues to accept practices like child marriages, then change can't happen.
Zarif Sahin captivated and moved me with her honesty, bravery, and commitment to serve others. She demonstrates the good we can do when we put aside our fears and focus on self improvement. She is not just an extraordinary example for her daughters but all daughters.
REAL LIFE. REAL NEWS. REAL VOICES.
Help us tell more of the stories that matter from voices that too often remain unheard.