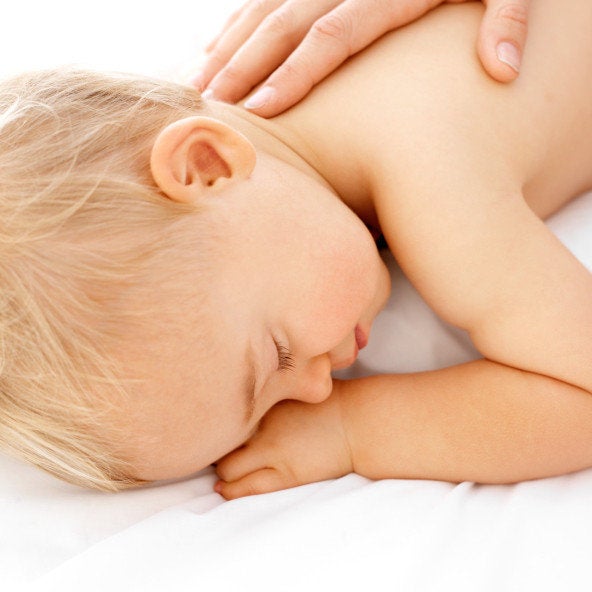 At the conclusion of Thornton Wilder's play, "The Matchmaker," Dolly Levi suggests that the youngest person should tell everyone what the moral of the story is. Barnaby Tucker steps forward and nervously proceeds to explain how, all too often, a person might find himself sitting at home, wishing he were having an adventure. But then, when he is actually caught up in the midst of an adventure, he might find himself wishing he could be safe at home, instead. While there is no doubt in Barnaby's young mind that we all need a certain amount of adventure in our lives, there is also a keen awareness that if nothing is ventured, nothing can be gained.
Ernest Hemingway entitled one of his novels A Farewell to Arms. But for most of us, the unexpected appearance of a mysterious stranger who takes over our life signals a farewell to equilibrium.
From Lon Chaney's ghoulish Phantom of the Opera to Kathy Bates's portrayal of Annie Wilkes in Misery; from Ruth Gordon's evil Minnie Castavet in Rosemary's Baby to the mysterious Paul in John Guare's Six Degrees of Separation, audiences have learned that letting strangers into our lives is accompanied by a high risk factor. When a reasonably stable household is turned upside down and inside out by the sudden appearance of an enigmatic newcomer, the results aren't always pretty.
In recent years, playwright Zayd Dorn has been getting a lot of attention for his work. The folks at SFPlayhouse have a major triumph on their hands with the world premiere production of Dohrn's provocative new drama, Reborning. Simply put, Reborning will be a strong contender for any award given for the Best New Play of 2011.
With help from the folks at Illusions of Life, video by Kristin Miltner, and sound design by Cliff Caruthers (who can make an elevator door sound like a dark omen from a Stephen King novel), director Josh Costello has transformed this one-act play into a taut thriller that will keep audiences on the edge of their seats. Dohrn's play revolves around three very confused characters:
Daizy (Alexander Alioto) is a graduate of the Rhode Island School of Design who, after learning how to sculpt prosthetic devices took those skills and applied them to crafting giant, life-like dildos for a lucrative and extremely appreciative market. He now lives with his girlfriend, Kelly (whom he met at RISD).
Kelly (Lauren English) has had a tough life. Abandoned as an infant and left to die in a dumpster, she managed to get through college while battling obsessive compulsive disorder. After Daizy gave her a job, she developed a strange interest in sculpting latex babies. Many of her clients bring her pictures of their lost infants (who died shortly after birth) and pay Kelly handsomely for her work. Now living a clean and sober lifestyle, Kelly is living one day at a time.
Emily (Lorri Holt) is one of Kelly's newest clients. Like Kelly, she is a perfectionist and a bit of a control freak. Her constant requests to add more details to the doll that represents "Baby Eva" are triggering Kelly's OCD. At the same time, Emily's attempts to get to know Kelly are getting on the younger woman's nerves.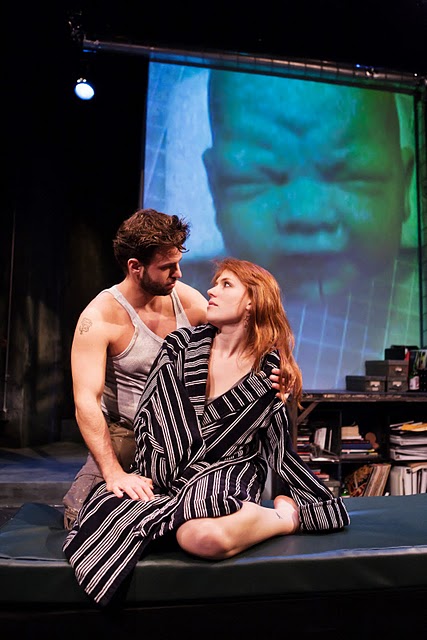 Alexander Alioto and Lauren English in Reborning
Photo by: Jessica Palopoli

In the following video clip, SFPlayhouse's creative team discusses some of the challenges they faced as they prepared for the world premiere of Dohrn's Reborning:
Using Nina Ball's tightly-designed unit set, Costello has drawn magnificent performances from his three-actor ensemble. While Lauren English gets the bulk of the histrionics as the increasingly hysterical Kelly, Lorri Holt's Emily provides the perfect foil as a woman so obsessed with product that she is incapable of understanding Kelly's artistic process. As SFPlayhouse's artistic director, Bill English, notes:
"Reborning takes us into the heart of healing from some of the worst kinds of loss (being abandoned at birth, losing an infant). We wonder sometimes from the outside how people ever get through these shattering kinds of losses. And yet we know, from our own suffering that, we do get through it.

I think we often suffer a lack of empathy for the paths people take towards healing. 'Why won't they just get over it?' 'Why would anyone be into such a strange practice?' And yet we learn through Reborning that each person's road to healing emotional pain is unique and valid, that we humans have over the centuries found many symbolic ways to work through our suffering -- not the least of which is the theatre.
On the stage, we create fiction which enables us to understand ourselves in a way we cannot fathom from inside our skin. Like the theatre, these two women, wrestling with despair, have created a fictional battleground, a laboratory where they can process their pain. It is a brilliant, brave choice which takes them outside the taboos of contemporary sensibilities to a more ancient and elemental way.

When I think of the times I have suffered and watched friends and loved ones suffer with no method to exorcise their grief, I long for tools as elegant and efficient as the dolls of Kelly and Emily. And for the boundless courage of Daizy to hang in there and learn to validate his woman's process."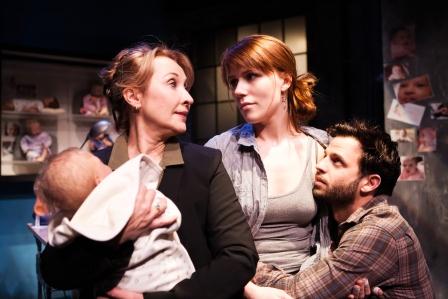 Emily (Lorri Holt), Kelly (Lauren English) and
Daizy (Alexander Alioto) in Zayd Dohrn's Reborning
(Photo by: Jessica Palopoli)

Special mention should be made of Alexander Alioto's exquisitely human portrayal of Daizy, a deeply loving man who knows he's not the brightest bulb in the room (but is willing to try every possible means at his disposal to stop Kelly's OCD meltdown from progressing any further). This is a powerful play performed by three exceptionally strong actors.
While Reborning delivers a solid and extremely satisfying dramatic experience to theatregoers, Dohrn's play offers something even more enticing to the artistic directors of regional and community theatres: an economical unit-set, three-actor show that barely lasts 80 minutes. Performances of Reborning continue at SFPlayhouse through June 11. You don't want to miss it.
Related
Popular in the Community