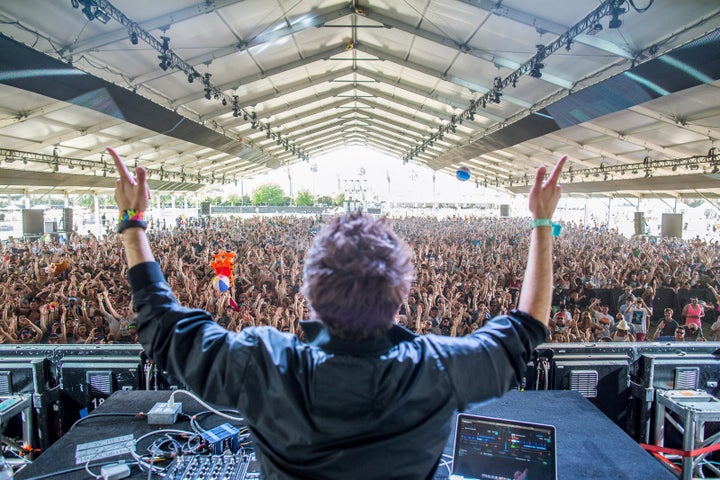 When you're a 22-year-old DJ and producer who flies around the world to play music that makes people dance really hard for an hour or two, it can be difficult to notice the little things. But for Zedd, the German promulgator of electro house known for his remixes of Lady Gaga songs and original tracks like "Stars Come Out," the little things become signposts, a way to distinguish one gig from another.
So when HuffPost Entertainment asked Zedd, born Anton Zaslavski, to send us a diary of his Coachella experience, it's no wonder that he wrote one word in all caps: BURGER.
Apparently, the first thing he did after performing in the Sahara tent was grab a bite to eat. "When I went on, it was relatively empty," he wrote. "But then people literally ran into the tent and it filled up really fast. The show was awesome and after that I enjoyed an AMAZING burger and a bit of Porter Robinson's set before I had to leave for some interviews."
While festivals like Coachella, Outside Lands and Lollapalooza promise magical, memory-rich experiences for concertgoers, the reality for artists is much different. They usually arrive the day of the show, get funneled through tens of interviews behind a dusty press center, perform and fly off to the next gig. Though they're not asking for pity, it can be a grueling pace.
"I only got to catch a bit of Kaskade's set and then had to go back to grab some sleep since I had a pretty early slot and still had to prepare visuals for my set," Zedd said. "It was the first time I've ever had visuals so I was really excited about it and we prepared as much as we could in the limited amount of time we had."
He didn't get to stick around much after his show either. The producer is not only performing with Nero in Los Angeles on Thursday, but has another big responsibility coming up. "I only have a few days left before I leave for the tour with Lady Gaga (right after Coachella)," he told us. "I'm very much looking forward to the second weekend of Coachella, and I'll definitely try to catch as much acts as possible. So let's do this! Shave it up!"
Touring with Lady Gaga? Not bad for a guy who broke into the music scene just one year ago.
WATCH: Zedd's Coachella Performance, Plus His Hit Songs