On an unusually warm night last fall, I walked into a bar in Brooklyn that was alive with lilty chatter. Once I wandered deeper into the space, all foot traffic led to the DJ booth. There, Zainab Hasnain, confined by just a few square feet, navigated the controllers' interfaces — an overwhelming grid of blinking knobs, switches and buttons — with an unrelenting, dexterous elegance.
Dancing to her own soundtrack, Hasnain, known as Zeemuffin on stage and social media, refused to confine her energy to the booth. The vibes were immaculate as she wordlessly engaged with each exalted body in the room. In a room with layers and spectrums of identities, each of us found a piece of themselves in Hasnain's set — an effervescent potion of hip-hop, funk, reggaeton, Bollywood, and almost everything else.
Hasnain wasn't just playing the party. She was the party.
For BIPOC and LGBTQ+ folx, breaking into DJing has often felt like breaking and entering, even though its roots were built on our queer, Black and Latine communities' histories. Hasnain's sheer existence in DJing's Cishet White Boys Club is revolutionary on its own, and it's a persistence that's spanned a decade professionally.
Hasnain, 32, feels the weight of her presence in this fraught industry, she tells me over coffee in July. But she's here for the music, plain and simple. And anyone who has heard her spin knows that she, nor her mixes, can be put in a box.
It's been incredibly inspiring to Hasnain to DJ spaces that are united by a shared experience. It feels reductive, she said, when white and cishet spaces use essentialist identity descriptors that "explain" who you are and why you're there. In those moments, Hasnain is described as a "female" DJ or a "brown" DJ. "Why can't I just be a DJ?" she asks.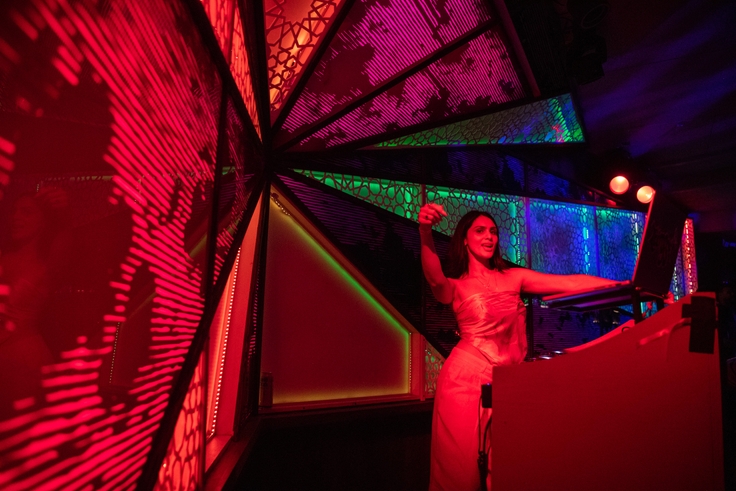 Hasnain's mixes contain a delicate concoction of experimentation and education, which began in her childhood. Her parents were lovers of the love song, so ghazals and Bollywood songs were always humming at their music nights with friends and family. Those rich voices of Lata Mangeshkar and A. R. Rahman, and others, would eventually find themselves in Hasnain's melodic melanges.
As much as her parents revered the arts, Hasnain was still the eldest daughter of brown immigrant parents, so music as a career was out of the question. But when Hasnain enrolled as a freshman at NYU at the age of 16, she dove into a world of concerts and underground parties ― and there was one figure in these spaces that resonated with her immediately: the DJ.
"I would see that the DJ was the centerpiece of nightlife culture and dance culture. And I loved dancing," she said. "I was like, OK, I feel like I have both the eclectic taste and the interest enough in music to kind of pursue this line of music."
And she did. Working a "rote" post-grad job at Barclays funded her DJ lessons on the weekends at Dubspot, a now-shuttered DJ production school. One of her teachers, JP Solis, had a residency at Westway, a now-closed nightclub perched on the West Side Highway, and he encouraged her to try playing there after the program ended.
It was Hasnain's first time playing in front of people. Despite all the things that went wrong — a screwy single mixer, faders that popped off, people pushing up on her — Hasnain felt energized by her hour-long set: a mix of hip hop, disco, house, and electronic. "It was such a crazy rush, and I still have a picture of it. I realized, 'Oh, my God I love this. I want to keep doing this.'"
Since Barclays, day jobs had come and gone, but what remained was Hasnain's dream to DJ, to be that person she saw as a teenager. Hasnain hit a point where her passion couldn't be cast away to the weekends.
It's a dilemma that both immigrants and children of immigrants — myself included — often face: Honor your parents' sacrifice and climb the socioeconomic mobility and social respectability ladders, perhaps ones they didn't have when they first arrived. Put our heads down and work hard, because assimilation means survival.
Or, flip the table and pursue a path that dismantles those very pillars. Because, well, is survival still the goal?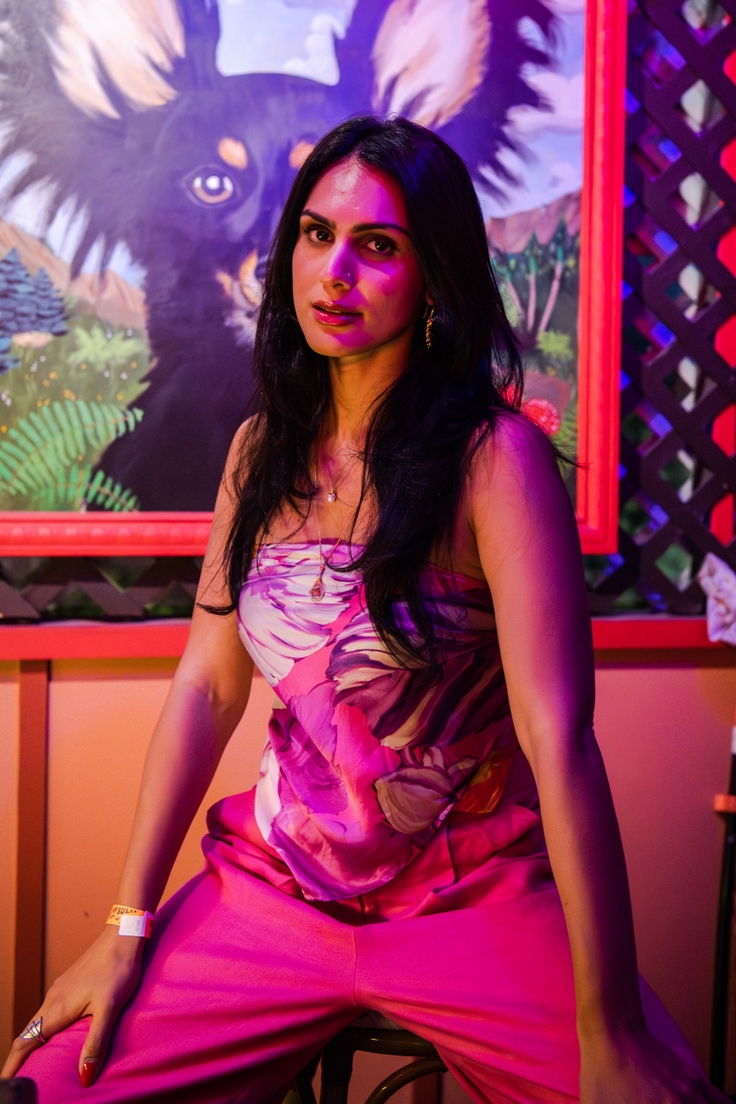 So, Hasnain didn't tell her parents. For 2 1/2 years, she pursued DJing full time without them knowing. But she, like her parents, figured out not only how to survive in this unknown territory, but also how to thrive.
Hasnain hustled her way into her own Friday night residency at Westway, performing in front of rappers, artists and musicians — all of the people she needed to mingle with — during late night sets. During one of her shows, artists from Dreamville, a record label co-founded by J. Cole, stayed until the lights came on at 4 a.m. and gave Hasnain a standing ovation.
Though Hasnain played hip-hop, she didn't start off listening to the genre. "I was very much like an indie, punk emo kid." She grew up listening to Green Day, Arctic Monkeys, The Libertines, Daughters. But it was artists like N.E.R.D. and A Tribe Called Quest that inspired her to incorporate more of it into her sets. And Pharell ("The GOAT," Hasnain proclaims) had a gift for genre-bending — hip-hop, R&B, soul, funk — which gave Hasnain the agency to do it, too.
"Hip-hop is a product of this city. And it's so much more than music — it's a culture, it's a lifestyle, it's all of that," she said. "So my sets will always have that sensibility to them."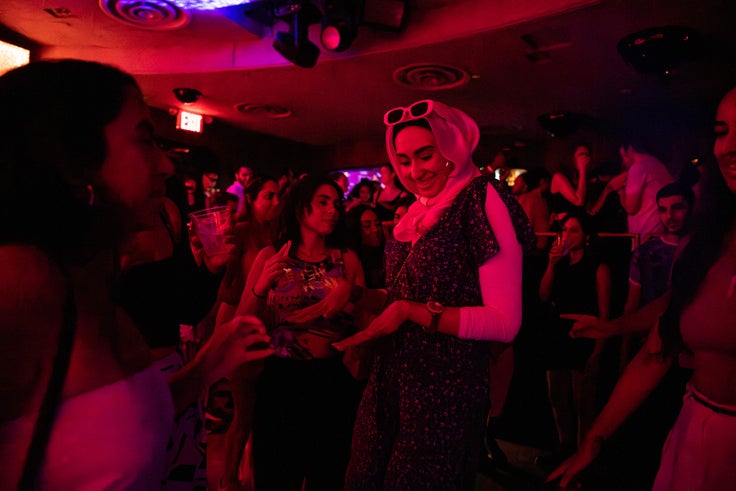 Spinning at clubs such as Westway gave Hasnain so much, but it also took from her. She got exposure and visibility at the expense of empathy and respect, she said. Not only was she paid a fraction of what male DJ residents were paid, but also men at the clubs harassed her during her sets. As it goes in so many industries, Hasnain felt that if she didn't acquiesce to sexual advances, she'd be ousted.
Hasnain's attitude, a blend of IDGAF and relentless optimism, helped her persevere through the lowest of the lows. That, and the fact that so many other DJs of color in the space — Hasnain shouts out DJ mOma, Jillionaire, and others — not only made her feel welcomed, but also amplified her talent by featuring her in their shows.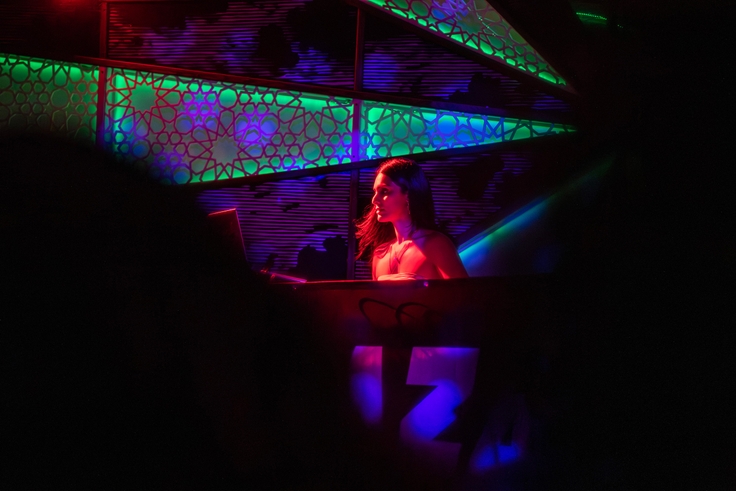 Despite all of the exposure Hasnain got over 2 1/2 years of DJing full time, $100-200 per show wasn't enough to pay rent. She realized she had to find another job that could pay the bills and pursue her passion with complete honesty. So she made the decision to tell her parents.
"When I told my mom, she was like, 'My life is over! We sent her to NYU for her to be a DJ,'" she said laughing, adding that her mom eventually got on board. "My dad was so proud of me. He was like, 'meri beti, entrepreneur!'"
As diverse and accepting as New York City is, Hasnain never thought that she could play South Asian sounds at a club. But she was proven wrong in September 2022, when she opened for rapper and artist Riz Ahmed, with comedian Hasan Minhaj in the audience. (And resulting in an iconic photo of brown excellence.)
"I finally had a space to connect with an actual live audience who wanted to hear Bollywood mixed with hip-hop or with Beyoncé," she said. "Target audience reached."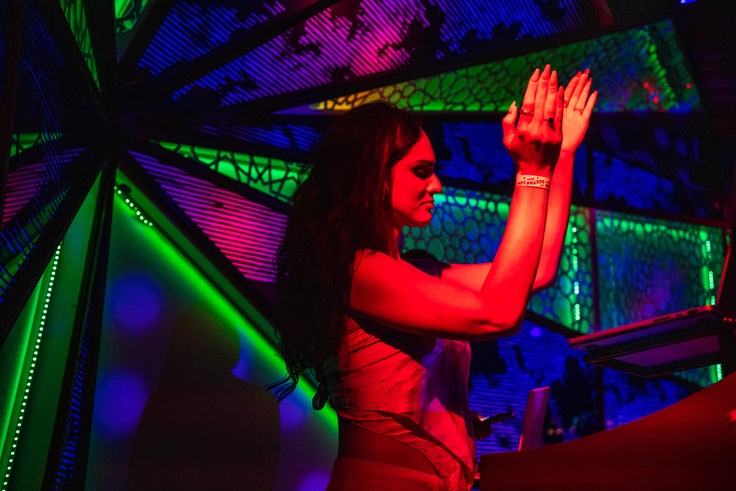 Hasnain is also capturing that audience on TikTok, where she not only shows her nearly 57,000 followers a glimpse of her life as a DJ, but also blows digital minds when she shows how some of the most iconic pop and hip-hop music are actually samples of Bollywood and music from the South Asian region.
"The world is becoming so much more accepting of sounds generally from all around the world that they may not understand," Hasnain said, "but they just feel the music."
Movements and collectives have also helped with this global music exchange (in non-English languages). The DJ collective No Nazar, co-founded by fellow DJs Bianca Maieli and MTOORAY, is embodying this very ethos by giving people mixes, sounds and beats to savor, from a South Asian lens.
"They'll take classic Bollywood music and flip it into club music. So they'll do a remix of South African House, or Afrobeats, or baile funk," and in turn making all those genres feel more accessible to local audiences, Hasnain said.
It's evident why Hasnain has always felt drawn to the curation of sounds, vibes and artistry. For her, DJing is dance floor therapy — the great power that comes with great responsibility, if you will. And not only does she want to rightfully claim her space in this industry, she also wants to help support and cheerlead for every other DJ who has had an obligatory race or gender descriptor placed before their title.
So, don't put Zeemuffin in a box. Just put her in a DJ booth and watch the magic happen.