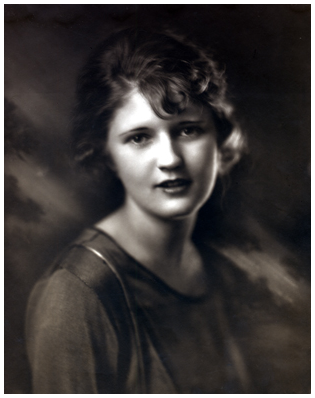 Zelda Sayre Fitzgerald, © Fitzgerald Estate
Asheville, North Carolina, celebrated its first "Zelda Sayre Fitzgerald Day" on March 10th. According to the Asheville Citizen-Times announcement, the day of events all over town featured much for everyone, and promises to be a bright annual springtime event on calendars to come.
Aurora Studio and Gallery sponsored a benefit auction, with jazz band and dancing, at the Asheville Masonic Temple. This was nicely appropriate, as Zelda was a painter and loved a good dance, jazz or other. Her only published novel is called Save Me The Waltz (1932), and she studied ballet for many years. Local indie bookstores Malaprop's and Firestorm hosted readings in honor of Zelda, and Orbit DVD held a sale and gaming event; after all, designer Shigeru Miyamoto named one of the most popular video games of all time, The Legend of Zelda, and its princess heroine, for her.
Asheville is right to honor her. Zelda loved the Smoky Mountains, painting them often and writing to Scott, in the summer of 1936, "Here the baked fragrance of the pine paths and the sad protestation of the sweeping oaks, and there are dusky wood doves in the early evening and an amber twilight floods the road." Sadly, Zelda was writing him because they were apart; from April of 1936 she had been at the Highland Hospital, in a hilly, wealthy part of town. The National Park Service, in describing Highland on their National Register of Historic Places, notes that it was "founded by Dr. Robert S. Carroll, a distinguished psychiatrist. His program of treatment for mental and nervous disorders and addictions was based on exercise, diet and occupational therapy, and attracted patients from all over the country." Carroll, and then Duke University, ran the hospital while Zelda was an intermittent patient there for the rest of her life. That life ended on the night of March 10, 1948, when a horrific fire likely set by an employee consumed the building where she was locked in a top-floor room. According to the Associated Press report of the fire published on March 11, the fire was seen around midnight, shot up through an elevator shaft and by the time neighbors and firemen had rushed to help, the roof was already ablaze.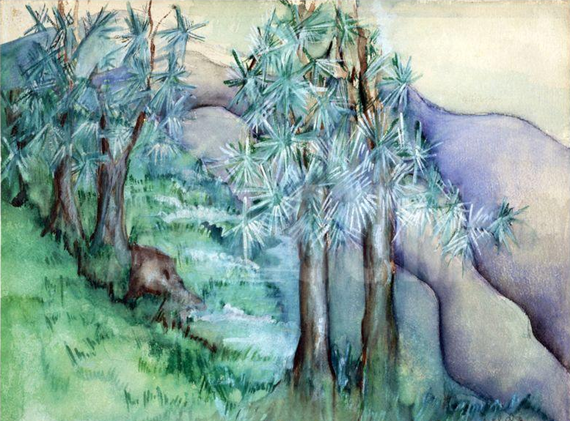 Great Smoky Mountains, Zelda Fitzgerald, via Art.com
Today there are only trees and grass on the site of the tragedy. This is fitting; Zelda was a devout gardener who loved all flora. Some of her finest surviving paintings are of fanciful flowers, and trees in spring bloom. A granite memorial with a brass plaque stands in the pine-bark mulch at the foot of the trees, bearing the legend "In Memory of Zelda Sayre Fitzgerald 1900-1948" and the quotation from a letter she wrote to Scott from Highland: "I don't need anything except hope, which I can't find by looking backwards or forwards, so I suppose the thing is to shut my eyes."
Join Asheville in honoring Zelda. Read something of hers; look at some images she created. Here are two possibilities for you. "The Iceberg" is a witty story she wrote as a teenager in Montgomery, Alabama. It was published in her high-school newspaper in 1918 and won a prize, rediscovered in 2013, and ended up in The New Yorker -- which would have delighted her. And here, via Art.com, is a collection of her watercolors and paintings, including the often-reproduced paper dolls she made of her family: herself, daughter Scottie, and Scott.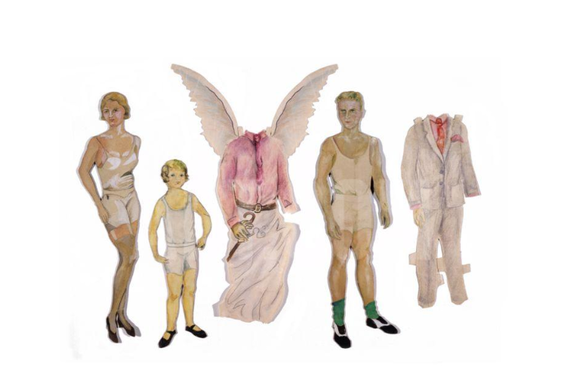 All images @ Fitzgerald Estate via ScottAndZelda and Art.com
Quotations from Dear Scott, Dearest Zelda: The Love Letters of F. Scott and Zelda Fitzgerald, ed. Jackson Bryer and Cathy Barks (St. Martin's, 2002).
Related
Popular in the Community