Update 2/16: Joanna Mastroianni, the designer of the fashion show where Zelda Kaplan collapsed, has released a statement:
Joanna Mastroianni wishes to express her deepest sympathy to the family, Mia Morgan and all close friends of Zelda Kaplan. At the age of 95, Ms. Kaplan unfortunately passed away yesterday during the Joanna Mastroianni Fashion Show at Lincoln Center.


For the last 40 years, Zelda Kaplan has been a staple in the New York social scene. She is best known for her sense of style and her incredible joie d'vivre. She was also known for her generosity and the many charities she worked with over the years.


"We are deeply saddened to lose Zelda, such an icon of the fashion community. Zelda has been someone I have known and respected over the years. I truly admired her for her individuality and incredible spirit. She had such a love of life and believed in living everyday to its fullest. She will be sorely missed and my heartfelt condolences to her family."
Keri Ingvarsson, one of Kaplan's close friends, wrote to the Huffington Post "Zelda became so much more than a party friend to a select group of us. She was there on our wedding days, she celebrated our children, we shared holiday dinners where she spoke about global issues and human rights oppression openly with [my] 6-year-old [daughter] Isabella. Isabella told me today, 'No worries, we can still visit Zelda. She isn't in the sky. Zelda's heaven is in Africa.'"
Ari Seth Cohen of Advanced Style has posted a statement about Zelda, writing "When I met Zelda the first thing she asked me was if I liked to dance. When it came to style she told me, 'If you look well, then you heighten the atmosphere of a place, but remember to always be yourself. You can't turn marble into silk,'" along with this pretty amazing video:
From the Associated Press:
Kaplan was a friend of the designer's stylist, Mia Morgan, according to the designer's husband, Gideon Lewin, and had attended a number of Mastroianni's shows.

"I was sitting right next to her. She flopped over in my lap," said Ruth Finley, publisher of the Fashion Calendar. "The show was just starting. I thought she fainted. Two men carried her out."
According to the New York Post, witnesses saw Kaplan "slumped forward" once the show had already begun. Security rushed to her aid, carrying her out of the show where EMTs gave her CPR and put her in a hospital-bound ambulance.
Prior to her collapse, the bespectacled fashion maven was photographed smiling in her front row seat (see photos below). Kaplan is one of the stars of Ari Cohen's Advanced Style blog, which features fabulous fashionistas in their 70's, 80's and 90's.
Known for African-inspired hats and prints as well as her round sunglasses, Kaplan was a world traveler who had journeyed to countries such as Ghana, Ethiopia and Nigeria for both fashion inspiration and women's activism. According to the New York Times, she discussed issues such as a woman's right of inheritance and female genital mutilation with the African villagers she visited.
Kaplan was wearing one of her African-inspired outfits on Wednesday at Joanna Mastroianni's show, the same red and black ensemble she wore last April when she was filmed for Advanced Style. In the video, she imparted these words of wisdom: "One must be interested in the world, not oneself only."
Our thoughts are with Kaplan and her family, friends and loyal fashion fans.
Here's a video of Zelda being interviewed last year by Advanced Style's Ari Seth Cohen:
Below is a photo of Kaplan taken on Wednesday before her collapse, along with photos of her previous appearances.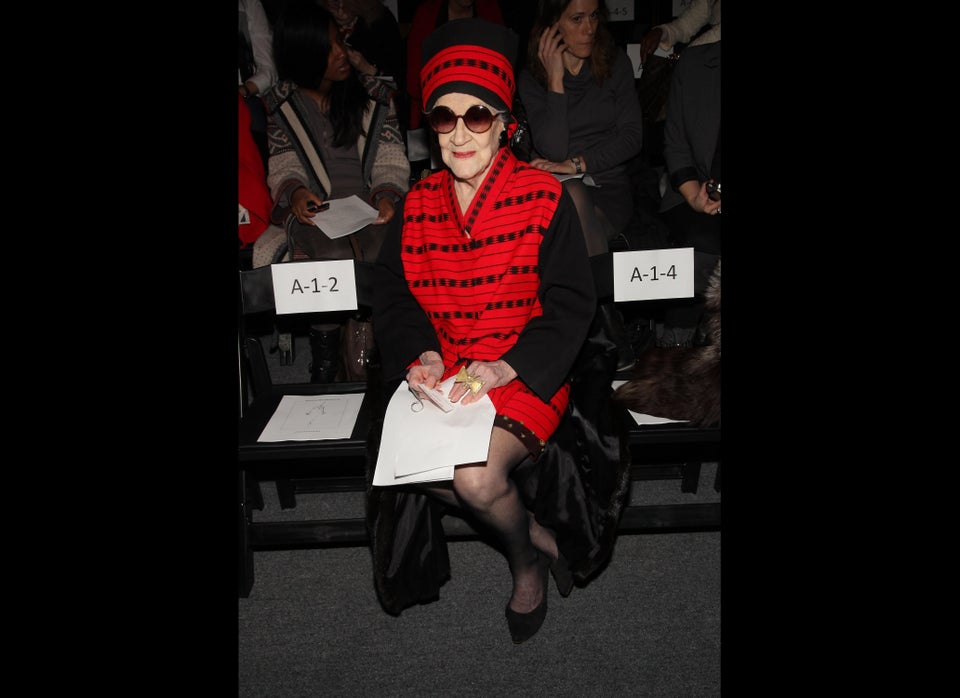 Zelda Kaplan
Popular in the Community