What We Tried: Zen Bootcamp
What We Did: With more than a little skepticism about the fitness trend that boasts a fusion of meditation and "drop and give me 10"-style strength training, I decided to try a week of what New York magazine called the city's "Best Zen Bootcamp." The idea of zen bootcamp is oxymoronic, to be sure, but at Brian Delmonico's Chelsea studio, Circuit of Change, it's also unbelievably effective, whipping both the mind and body into shape with an even-handed dose of tough love and yogic inspiration.
What It Felt Like: Delmonico's hybrid workout is a mix of yoga, martial arts, gymnastics, high-intensity cardio and meditation that will get you dripping sweat and leave you feeling more centered and balanced than when you came in. Slower yoga flow sequences quickly segue into jumping, kicking and punching, but the transitions are never jarring. These seemingly-antithetical workout styles combine seamlessly into one mind-body Über-workout.
The hour-long workout classes are not for the faint of heart: After a short meditation in child's pose, it's a non-stop, high-intensity cardio and strength-training workout. But don't let the word "bootcamp" scare you away: The class is just as playful as it is intense.
What Fitness Level Is Required: Those who are quite out of shape may have a hard time keeping up with the fast pace, but if you're moderately active and have a basic familiarity with yoga, you'll quickly adjust to the rhythm of the workout. The class demands as much out of you as you're willing to put in, and if you commit fully, you will sweat profusely, engage every major muscle group in your body, and see results quickly.
What's It Cost: $35 for a one-week trial, and $27 for a one-hour class. The studio is also offering free classes all summer on Thursdays at 7 a.m. in New York City's Union Square, across from Whole Foods (mats provided).
Would We Go Back: Definitely. I'm not a total purist when it comes to yoga, but as someone who appreciates the philosophy of the practice, I tend to avoid overly fitness-oriented variations that focus exclusively on the body at the expense of the spiritual aspect. But I was pleasantly surprised by Circuit of Change -- particularly in Brian's classes, there was a strong (but non-hokey) focus on cultivating awareness, the healing power of movement, and personal transformation.
And like most time-strapped urbanites, I appreciate efficiency in any workout routine. Circuit is my new go-to workout for when I need to kill two birds with one stone and don't have time to do separate yoga and running workouts. I left every day feeling as relaxed and clear-headed as I would after a Bikram yoga session, but with the physical benefits (and soreness!) of an hour of cardio. Circuit of Change is what a workout should be: An energizing yet calming practice that reminds you of your own ability to transform not only your body but also your mind.
For more by Carolyn Gregoire, click here.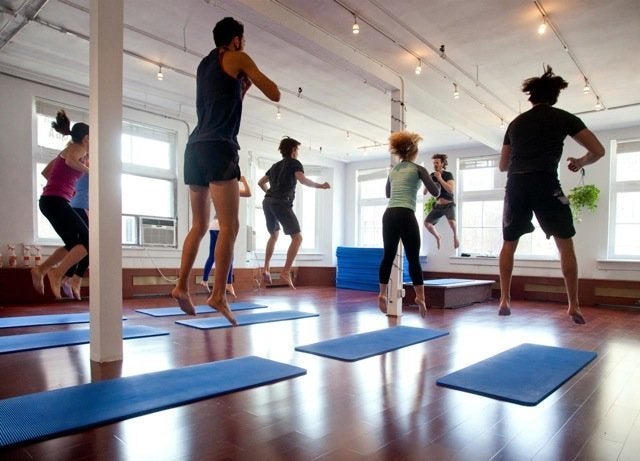 Zen Bootcamp at Circuit of Change