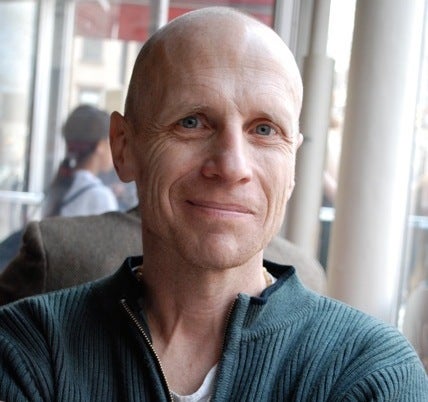 Over the years, Daiken Nelson has held a variety of jobs. He was a personal assistant for the late singer/songwriter Lou Reed. He's managed a health club, worked in restaurants doing everything from dishwasher to manager and been a pet sitter and a social worker. Ordained as a Zen priest in 1996, Nelson has worked at Zen centers in Los Angeles, Yonkers and New York, N.Y., and in Santa Fe, N.M.
But while meditating in January 2014, shortly after being empowered as a Sensei (Zen teacher), Nelson knew he was to combine all of his talents and experiences to create a culinary arts program to put disadvantaged people to work in New York restaurants.
"It weaved together all of the strands of my life—food, spiritual practice, service and teaching," says Nelson, 54, who lives in West Harlem in New York City.
The purpose of the Mandala Kitchens Project is two-fold. First, it's to provide culinary training for those who can't afford it or who have barriers to employment, including the formerly homeless or formerly incarcerated, undocumented immigrants, veterans, those with mental health and substance abuse issues and youth. Second, it's a catering business that provides jobs.
After the divine idea landed on him, Nelson immediately set to work, incorporating the business in New York State and applying for non-profit, tax-exempt status, which the organization received last year. Nelson hired a chef, though that person had to step aside due to health reasons, and eventually found kitchen space at Harlem's All Souls' Episcopal Church, 88 St. Nicholas Ave.
Brooklyn-based chefs Millicent Souris co-teaches the culinary training and Patty Ezratty helps with catering and home cook classes. The first training started with three young men and was completed earlier this month.
In the future, Nelson plans to develop Mandala Café, a community-based café that will feature a pay-what-you-will or pay-by-donation menu. Patrons also will be able to work for an hour to receive their meal. Trainees in the program will help staff the future café.
Nelson has his eye on a vacant movie theatre that he dreams of turning it into a permanent home for the venture along with an art house cinema, a healing center with yoga, Reiki, tai chi and meditation and a place to connect health care providers with people in need, all based on the pay-what-you will/pay-by-donation model.
The long run up to the first training has allowed for relationships and networks to be built with agencies working with the disadvantaged. Three are working with those returning to the community from incarceration and two are working with the formerly homeless. Several are providing job readiness and placement while several others are working with youth.
Born Craig Nelson in Cedar Rapids, Iowa, Nelson earned a bachelors' degree in English and philosophy from Luther College in 1985 and a master's in counselor education from the University of Iowa in 1989. He discovered Buddhism after his father died during his senior year at Luther.
"I was raised a lukewarm Methodist and was attending a Lutheran college," he says. "I turned to Protestantism for some support during that time but didn't find anything that felt like it would help with the grief. To be fair, no one thing would have helped at that point."
However, that experience sparked a "spiritual search," Nelson says. He began reading broadly about different religions and attending everything from Unitarian/Universalist services to Quaker meetings and Catholic masses.
A couple of years after his father passed, a friend invited him to a meditation practice.
"When the bell rang to begin the session I felt strangely settled and quiet, like I had come home," Nelson says.
He got involved with the Iowa City Zen Center, went on retreats in Minneapolis and studied with visiting Zen priests. In 1994, he moved to Los Angeles where he began shifting into a "Zen life," living and serving at centers. He was ordained as a novice priest in December 1996.
The Buddhist precepts of doing no harm, doing good and doing good for others inform his work with the Mandala Kitchens Project.
"Seeing myself in others—or not even seeing them as others—coupled with a belief that there are enough resources available for everyone to have a dwelling and food and a job has inspired me to work on the behalf of others."
Nelson chose the name "Mandala" because it represents "different energies coming together to form a whole, albeit an ever-changing, non-permanent one."
With one training class behind him, he already considers the Mandala Kitchens Project a success "in that it went from an idea inside my heart and mind to something manifest in the world."
"Its continuation—reaching more people through subsequent courses—will be a success," he adds. "Getting the trainees jobs and/or providing jobs will be a success as well."
Calling all HuffPost superfans!
Sign up for membership to become a founding member and help shape HuffPost's next chapter
This post was published on the now-closed HuffPost Contributor platform. Contributors control their own work and posted freely to our site. If you need to flag this entry as abusive,
send us an email
.