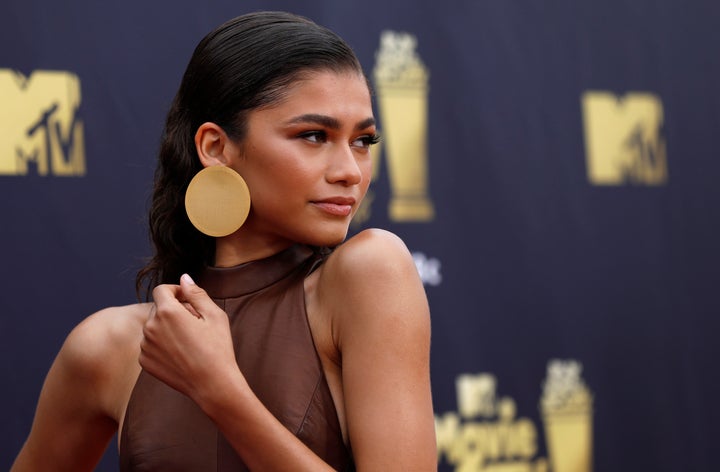 "I'm an actress. We've all experienced getting the no's, and that's okay. I always say, 'If you don't get cast, it wasn't yours to begin with,'" Zendaya told Mock of her acting career post-Disney Channel.
Zendaya explained that she's very intentional when choosing the roles she auditions for ― even if they weren't written for a black woman.
"I always tell my theatrical manager, 'Anytime it says they're looking for white girls, send me out. Let me get in the room. Maybe they'll change their minds,'" she said. "And, honestly, if there's a part that I didn't get or that I really wanted at the time, shit always ends up working out."
The actress, who started out playing Rocky Blue on the Disney Channel series "Shake It Up," has become a household name in the last few years. She made her movie debut as MJ in 2017′s "Spiderman: Homecoming," and co-starred alongside Hugh Jackman and Zac Efron in the musical film "The Greatest Showman."
Zendaya explained that her role as MJ in "Spiderman" wasn't originally written for a woman of color, but that didn't stop her from auditioning.
"I definitely went into it like, 'Hopefully they'll' ― as they call it in the industry ― 'go ethnic,'" she said. "I remember making the decision to straighten my hair. I didn't know that they were going to be more diverse in their casting. I didn't know that I was walking into a situation where they were already breaking the rules. You get so used to having to break the rules for people."
Coming from the Disney Channel was a hard archetype to break from the beginning, she said. Picking the right projects, she added, was integral to her future success.
"There was a lot of not getting the audition that I wanted and often going out for parts that weren't written for a girl who looks like me and just saying, 'Hey, see me anyway,' until the right thing stuck," Zendaya said. "Whenever I've been persuaded or trying to do something to please somebody else or because there's pressure from people in general to make a decision, it always blows up in my face. So I have been in this zone of only doing shit because I want to do it and because it feels right all the way through."
Popular in the Community